How to Afford NYC
A StreetEasy series on how real New Yorker make ends meet and afford housing in one of the nation's most expensive cities.
See the full series
Welcome to How I Afford NYC, a series that looks at how New Yorkers manage to get by in this crazy-expensive city. Today, we're talking to Sonya, a real estate agent who lives on the Upper West Side with her husband and daughter. She works on commission, he works at a bank, and together they make it work. They'd love to buy a place in Manhattan, but even with their combined incomes, that goal seems far off.
The Basics
Name, age, occupation: I'm Sonya and I'm in my mid-40s. I work as a real estate agent with a brokerage in Manhattan.
Living situation: My husband, 10-year old daughter and I are currently renting a 2-bedroom co-op on the Upper West Side. It's a large, post-war building with an elevator and doorman but no other amenities. We rent from the sponsor.
Annual salary: My annual salary is about $60,000. My monthly paycheck amount varies since my job is commission-based. It depends on how many sales and rentals I've done that month and the sale or rental price of the homes. My husband is an auditor at a bank and makes $380,000 annually.
Financial goal: Right now, I am focused on keeping on top of my credit card bills. Someday, my husband and I hope to be able to save enough to buy a place in Manhattan.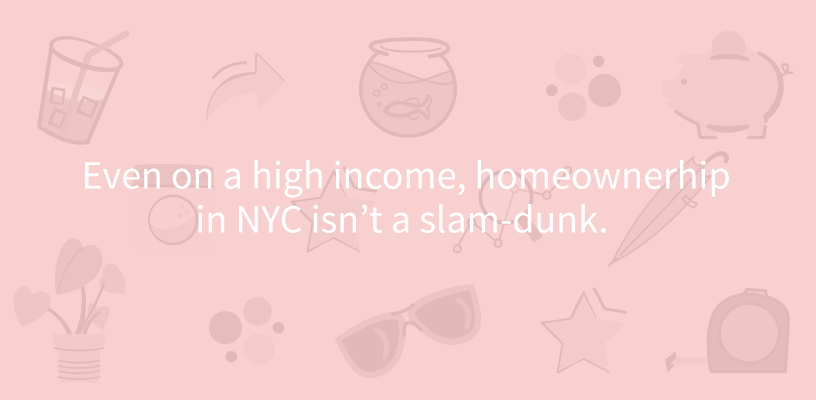 My Monthly Fixed Costs
Rent $4,950. My husband and I have a shared bank account which we use for rent.
Groceries: $800. My go-tos are Fairway, Citarella, Trader Joe's and Whole Foods. We are foodies and have to go to multiple grocery stores to get what we need to cook at home.
Transportation: $100, split between Metrocards, cabs and Via. We don't own a car.
Childcare: Between after-school programs and extracurriculars, it averages about $500 per month. Our daughter goes to public school and takes the subway to and from on her own. Being a real estate agent allows me to set my schedule around my daughter's schedule and be her primary caregiver.
Utilities: $600
Recurring medical expenses: $20 per month in out-of-pocket expenses for a monthly prescription.
Storage: $200 per month
My Biggest Indulgence: Mani-Pedis and Café au Lait
Every other week, I have my mani-pedi at Cindy's on Amsterdam and 84th Street. It costs about $30 with tip. I also have my coffee routine. About three times a week, I go to Lenwich for a café au lait, which is another $12. As a family, we order takeout twice a week. Our go-to is Senn Thai. It usually is about $65 for the three of us.
My Unavoidable Cash-Suck: Monthly Hair Coloring
Every month I have my roots touched up, because blond looks good on me, in my opinion, and to cover my grey hairs. I also get a haircut at the same time. I go to Tokuyama Salon on the Upper East Side, which costs me about $300 a month.
Ways I Save: Buy Only When on Sale
I try to save cash by bringing homemade lunches to work, and I only buy clothes for myself when they are on sale.
How Am I Doing? I've Reined in the Shopping and Am Doing Better
I've been very conscious about spending money. Without having a fixed income or monthly paycheck, I have to prioritize a lot, and think twice before I spend. For example, I used to shop for clothes a lot. I'd buy something I liked and in some time I'd stop wearing it. I now do my shopping online. I fill my shopping cart with apparel and then I just leave the site. It's very empowering to feel I can control my spending.
—
Hey, why not like StreetEasy on Facebook and follow @streeteasy on Instagram?