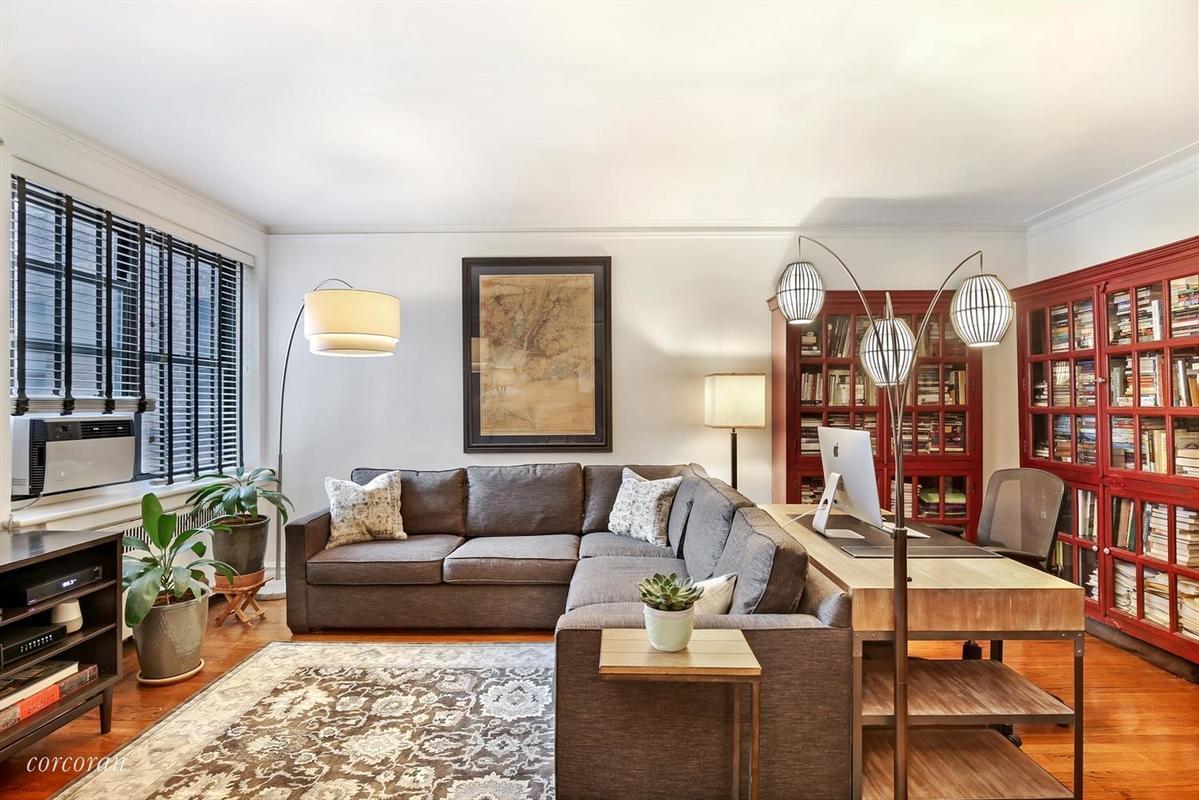 With the median price of apartments in Upper Manhattan reaching $787,000 this May, finding a home under the $500K mark has become increasingly difficult. Our Deal of the Week proves that the search can still be (very) rewarding. At the very tippy-top of Manhattan lies 45 Park Terrace West unit #4E, — a 1-bedroom with a whole lot of bang for your buck appeal.
The Price: $399,000
This apartment clocks in at $100,000 less than the median asking price for Inwood, which is $499,000, according to our latest market report. It's even more of a steal when compared to the median asking price for a 1-bedroom in Manhattan: $925,000. 
Purchasing would still be significantly more expensive than renting in the neighborhood, however, where the median rent is $1,850. Buyers putting down the 20 percent down payment of $79,800 can expect to see $1,655 mortgage payments and $747 maintenance fees, for a total of $2,402 a month.
Why You'll Love It…
Price aside, there's plenty to love about this apartment. Top on the list are the apartment's charming Deco-style details. Archways and rounded built-ins, picture rail moldings, plus a huge sunken living room, offer a classic yet updated feel. The building isn't short on amenities, either: residents have access to private storage, a live-in super, 24-hour laundry and a cat-friendly policy. Not everyone would consider cats a perk, but to each their own.
The kitchen has both open shelving and cabinetry, plus updated stainless steel appliances. (Yes, that includes a dishwasher.) And, like all the rooms in the apartment, it has a window overlooking green and spacious Inwood.
The location offers a complete retreat from city living. You'll be perched on the top of Manhattan, in between Inwood Hill Park and Isham Park. Water views are abound here, with the Spuyten Duyvil Creek to the north, the Hudson River to the west, and the Harlem River to the east.
And Why You Might Not
The conspicuously displayed Emmys are not built-in fixtures, so are not included with the apartment. Apologies to all the aspiring screenwriters out there — you'll get your in-home awards display one day!
Regardless of whether you're a disgruntled SAG member or not, you may take issue with the location of the apartment. Inwood isn't for everyone. You'll be a little further away from the hustle and bustle, and commutes downtown can be lengthy.
Without any policies for subletting, pied-a-terres, and gifting, this apartment would most likely have to be your permanent home, and isn't one for investors. But if you love life in Inwood, you won't have a problem.
Check out the listing at 45 Park Terrace West #4E, listed by Kelly Cole and Paul Cole of Corcoran.