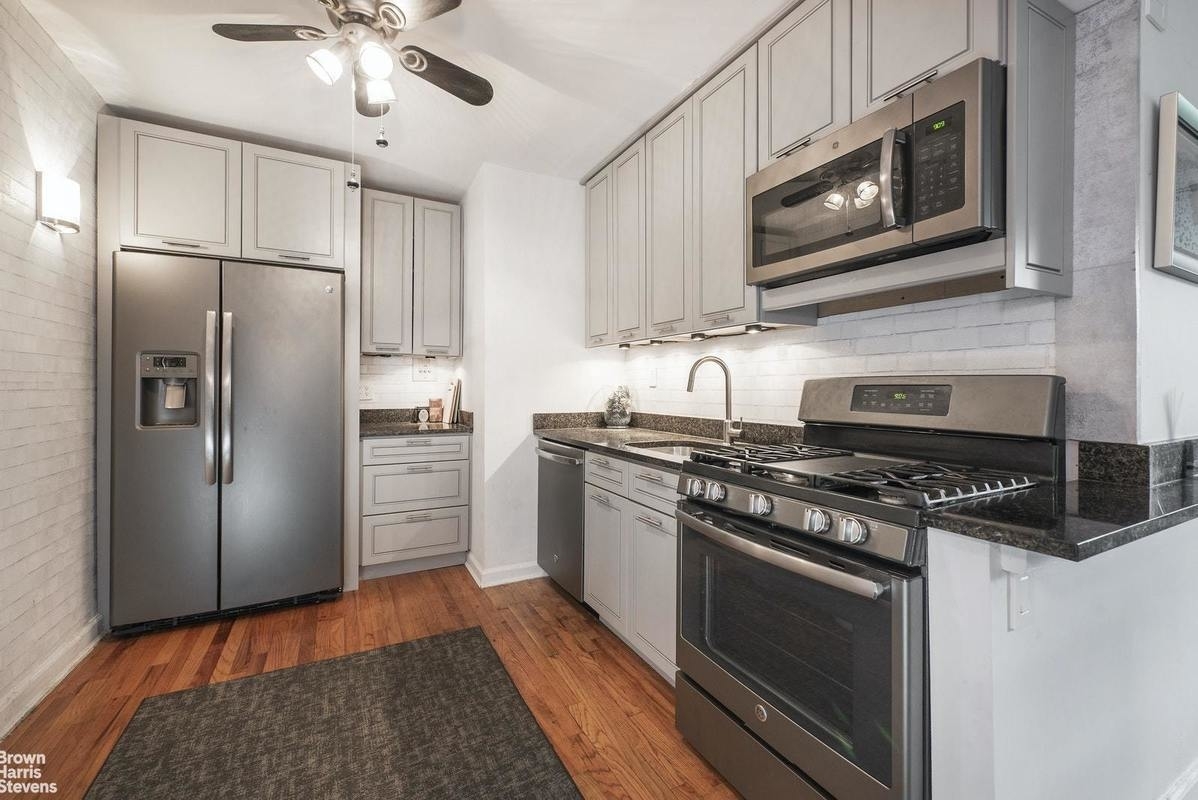 Queens has a lot of appeal, and it's only become more desirable since the start of the pandemic. After all, Queen's buyers generally get more space for a lower price than in Manhattan. And a neighborhood like Jackson Heights has the best of both worlds, with great food options and quick access to midtown. If you're looking to make an outer-borough move, check out our Deal of the Week, 34-15 74th St. #4M. This Jackson Heights 1BR offers both space and style — its renovation was featured on the "Rachael Ray Show"! — for an incredible price.
The Price: $319,000
The median asking price for an apartment in Jackson Heights is $439,000, according to the StreetEasy Data Dashboard. That puts our Deal of the Week at more than $100K below average for the area.
Buyers who put the 20% minimum down payment of $63,800 can expect to see monthly payments of $1,639. This includes a mortgage payment of $1,058 and a maintenance fee of $581 (super-low by NYC standards). By comparison, the median asking rent in the neighborhood is $1,975.
Why You'll Love It…
This Jackson Heights 1BR was renovated by the "Rachael Ray Show," and the results are great. The show's designers created a spacious and impressive kitchen, with new stainless steel appliances (including a dishwasher) and an abundance of cabinet and counter space. One wall is open to the living room, which is bright thanks to a sunny double window and has plenty of space for both a comfortable sitting area and a dining set. The huge corner bedroom has two exposures of windows and a big walk-in closet.
In addition, this unit is set in the Wilshire House co-op, a pet-friendly elevator building with a gym, a laundry room, and a common garden/courtyard. There's even garage parking (although you'll have to get on the wait list), plus there are a multitude of trains just a short walk away. The weekly Jackson Heights Farmers' Market is also right nearby.
Check out the video walkthrough on the listing to see the home's star turn on TV!
Queens Homes Under $500K on StreetEasy Article continues below
… And Why You Might Not
According to the listing, part of the reason this home was chosen for a TV renovation was to reimagine "an originally challenging floor plan." While we don't know what it looked like before, part of the layout still is a bit awkward: the bathroom. It's modern, with a luxurious glassed-in shower, but you have to walk through it to get from the living room to the bedroom. It is both bathroom and hallway. That doesn't stop this Jackson Heights 1BR from being a fantastic deal, though, with style to spare and a price tag that would be the envy of any Manhattanite.
Check out the listing at 34-15 74th St. #4M, and contact a StreetEasy Expert on the listing for more details.
—
Whether you're looking to rent or to buy, find your next NYC apartment on StreetEasy.