The late writer Joan Didion continues to make news in 2023. Didion's apartment in New York City, which she bought with husband John Gregory Dunne in 1988, was recently listed for $7.5 million. The 3-bedroom at 30 E. 71st St. #5A (the building also has an address on 70th Street) is a 4-bedroom, 4.5-bathroom that served as Didion's main residence despite her comings and goings to California. It's where she wrote numerous books, including "The Year of Magical Thinking," and where she lived while Vanessa Redgrave played her in the one-woman show of the same name. Fittingly, the place has bookshelves upon bookshelves (which are still painted blue — check out the unstaged photos) and its own library. Let's take a look at Joan Didion's apartment on Manhattan's Upper East Side.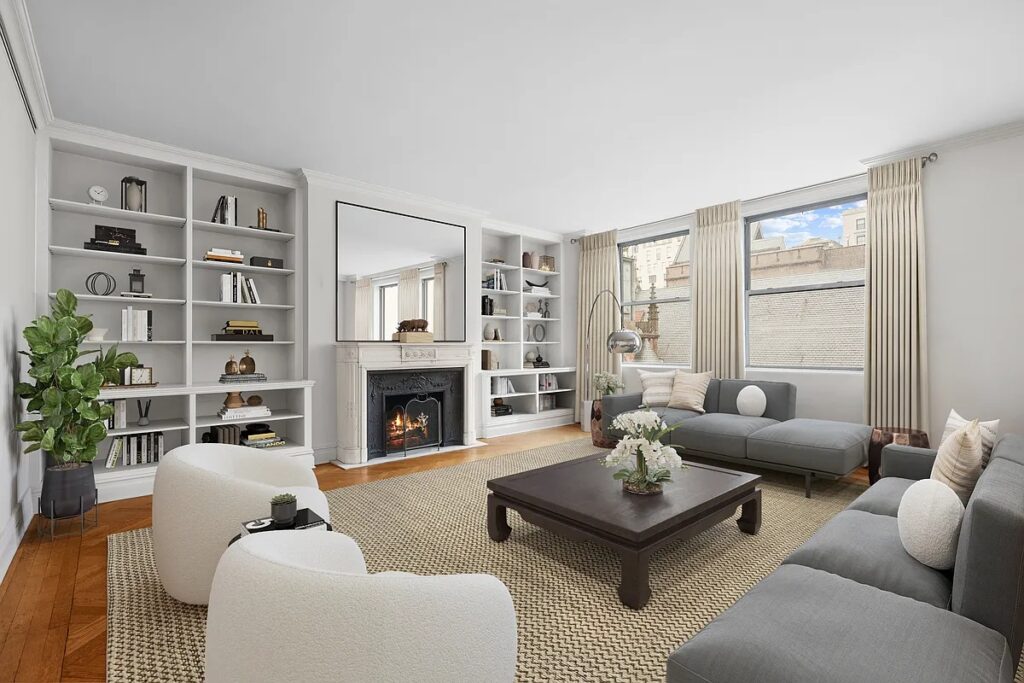 Check out the listing for Joan Didion's apartment.
View Listing
The Price: $7,500,000
At $7.5 million, Joan Didion's apartment is surely asking more than the Upper East Side's median $1.9 million. And for good reason: the place is massive, located in an iconic building, and quite literally a piece of New York City history. Only 50% financing is allowed, meaning the purchase will require a down payment of $3.75 million. The monthly maintenance fees sit just over $8,000.
Inside the Apartment
The centerpiece of the apartment is certainly the main living area, comprising a sunken space with bookshelves and a wood-burning fireplace, and a library a few steps up, complete with a wet bar. Throughout the unit, you'll find chevron hardwood floors, ample built-in storage, and beamed ceilings. The place could easily be renovated for a more modern feel, or you could keep the quirks, like the built-in desks in two of the bedrooms.
Enter Joan Didion's apartment through a semi-private elevator, then step into the foyer. A large gallery leads to the living room, eat-in kitchen, den, pantry, staff quarters, and dining room. The kitchen is incredibly spacious and includes a professional-grade double range and oven, likely due to Didion's propensity for cooking. Brick-red hexagonal tile, two-toned wooden cabinetry, and two windows round the beautiful room out.
Manhattan Homes for Sale Under $1M Article continues below
Two of the bedrooms have their own en-suite bathrooms, while the other two bedrooms share one bathroom. They all have ample storage and closet space, and one even has its own small wet bar, according to the floor plan.
The apartment features southern, eastern, and northern exposures, many of which provide wonderful vistas of the surrounding neighborhood's beautiful architecture.
And Outside the Apartment
Joan Didion's apartment is located in a limestone building built in 1928 that spans an entire city block. With state-of-the-art amenities, it's considered to be a very prestigious place — and of course it was if Didion was living there. The co-op provides 24-hour doormen, hall attendants, and a resident manager. There's also a fitness center, bicycle storage, individual private storage, and common laundry — although this unit has its own laundry room. Pets are also permitted.
The building is just one block away from Central Park and the Frick Collection, truly in the heart of the Upper East Side. There's French patisserie Laduree right across Madison Avenue and the gorgeous St. James' Church across 71st. It doesn't get much nicer than that.
Check out the listing at 30 E. 71st St. #5A, listed by Serena Boardman of Sotheby's International Realty.