Spread over two acres on the east side of Manhattan is Gramercy Park, one of only two private parks in New York City. (The other is in Sunnyside, Queens.) Few parts of New York represent wealth and exclusivity quite like this spot, which famously requires a key to enter. As much a symbol of aspiration as it is exclusion, this green space nestled between East 20th and 21st streets just east of Park Avenue South, is a sight to behold. Even from outside its gates. Here everything you need to know about the outdoor space, including how to get a Gramercy Park key.
Gramercy Park Rentals Under $4K on StreetEasy Article continues below
Gramercy Park Key — Who Gets One?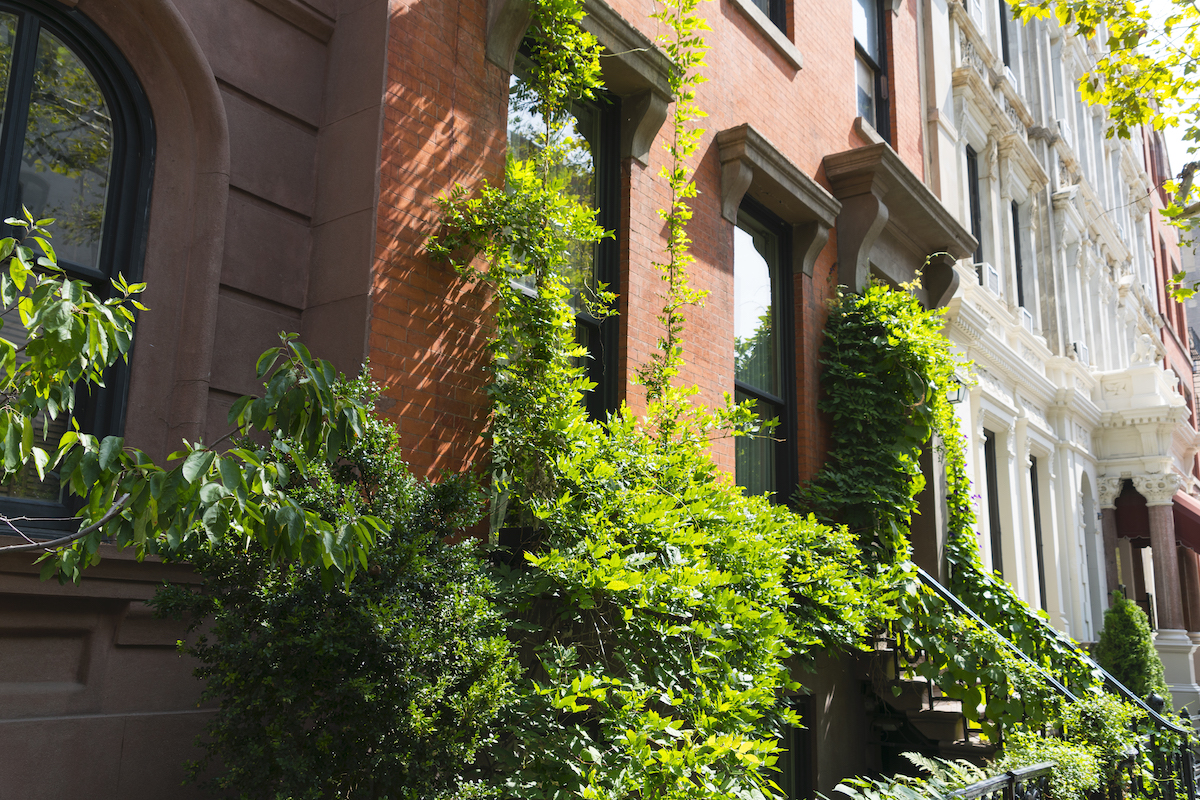 Since its gates were first locked in 1844, Gramercy Park has been accessible only to those who own a key. Those who live in its 39 surrounding townhouses, apartment buildings, and clubs hold the park in common. Each abutting unit can receive up to two keys. As of 2012, there were 383 keys in circulation; each individually accounted for. Getting one, assuming you're eligible, costs about $350.
Naturally, the cost of losing a key to Gramercy Park is steep. As of 2008, the price for a lost key ran $1,000, and a second lost key ran $2,000. And to make sure the keys don't fall into the wrong hands, the Park Trust changes the locks annually.
If you don't know anyone in the area willing to let you in, you can rent a room at the adjacent Gramercy Park Hotel, which entitles you to use of the park. But take note: When you're inside the park, you may not drink alcohol, smoke, ride a bike, walk a dog, play sports, throw a Frisbee, or feed a bird or squirrel. And you certainly may not snap a photo, especially for commercial use.
Gramercy Park Homes Under $2M on StreetEasy Article continues below
Thinking of Moving to Gramercy Park?
The park itself is ringed mostly by elegant prewar doorman buildings. (These attract their share of celebrities, including Jimmy Fallon.) But in the wider neighborhood surrounding the park, you'll find post-war and midcentury options, plus plenty of new development along Third Avenue and further east. The area has an abundance of one-family townhomes, too, notes broker Dina Cohen of Brown Harris Stevens.
Cohen lived there for 23 years (and now resides just a couple blocks north). "Home buyers should know that Gramercy is one of the more expensive neighborhoods," she says. "But deals can still be made, especially in the area's midcentury buildings, as many of the units often need updating."
That's because most owners in Gramercy hold on to their apartments for years. If you'd like to be one of them, save your pennies, because you'll need a lot of them. The median asking price as of November 2021 is a whopping $1.4 million, according to StreetEasy's Data Dashboard.
Want to rent instead? On average, you'll shell out $3,950 a month. "Renters will find that Peter Cooper Village and Stuyvesant Town, a bit farther east, are considered to be partially in the Gramercy area," Cohen says. "And they have acres and acres of lovely grounds."
How Did the Park Get Its Name?
The word gramercy evolved from the Dutch phrase krom moersaje, meaning "crooked swamp." That's precisely what that area looked like before Samuel B. Ruggles bought and developed it in 1831.
Ruggles, a developer and advocate of London-style open space, had the idea to establish a community built around a park, and locate it far north of the upper-limits of developed Manhattan. He figured that a park would incentive others to expand the livable city. He bought the farm that resided there — Gramercy Farm — and drained the wetlands, then divided the land into 108 lots, 42 of which went to the park.
People moved in around the park. The fence went up in 1833; it was locked in 1844 and has hardly been unlocked since.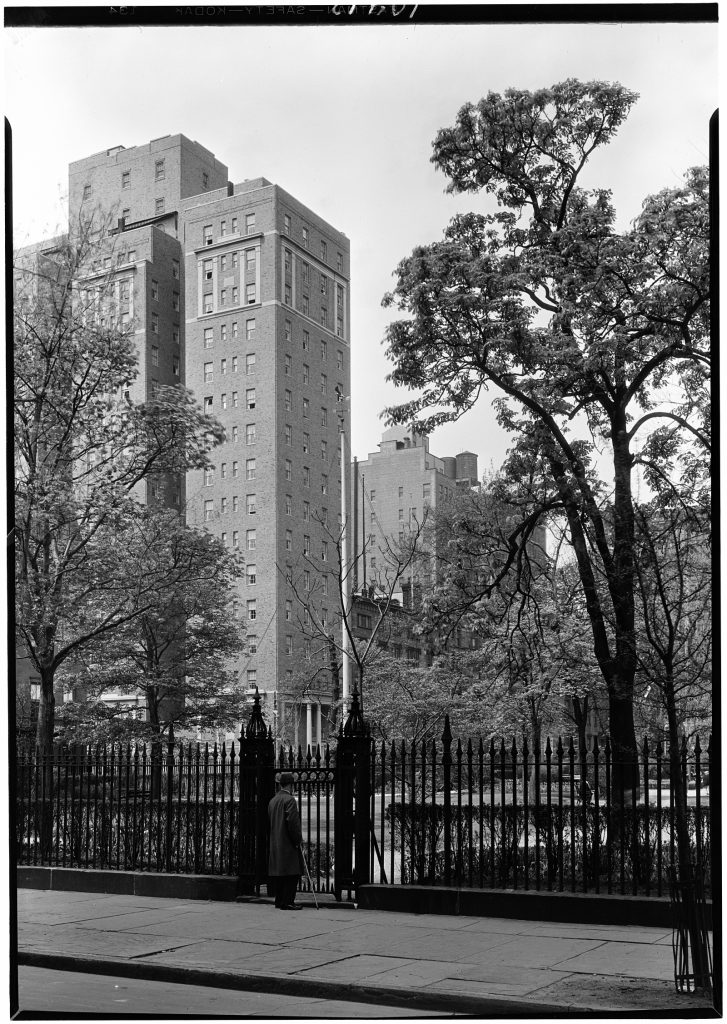 What Are the Most Famous Buildings in Gramercy Park?
There are plenty of neighbors of note. The word "storybook" doesn't often apply to Manhattan, but it does here. This area feels like it sprung straight from literature. In fact, some of it actually did. On Irving Place, just south of the park, you'll find historic Pete's Tavern, where O. Henry wrote "The Gift of the Magi." (Or so legend has it; he lived across the street.) And Irving Place itself is named for Washington Irving, author of landmark tales like "Rip Van Winkle" and "The Legend of Sleepy Hollow." (That accounts for the name of another local pub, The Headless Horseman.)
New York history buffs will enjoy strolling around the park itself to get up close and personal with its most storied addresses. Take The Players at 16 Gramercy Park South, a private club for theater and arts insiders. It was founded in 1888 by Shakespearean actor Edwin Booth, brother of John Wilkes Booth. (Yes, the guy who famously assassinated President Lincoln.) Nineteenth-century starchitect Stanford White designed its manse in 1847. Note the gaslights flickering on the exterior, a rarity these days.
Another notable address sits right next door at 15 Gramercy Park South: the nonprofit National Arts Club. It has occupied space at the 1860 Victorian Gothic Samuel J. Tilden House since 1906. It was also the first private club to admit women on an equal basis as men, in 1898.
Speaking of women! On the very same block, 18 Gramercy Park South was a ladies-only dormitory known as the Parkside Evangeline and operating from 1963 to 2008. In its heyday, some 300 tenants could enjoy breakfast, dinner, and maid service in their rooms for minimal rent. The building is now home to luxury condos.
American-history lovers will also want to head just east of the park to 28 E. 20th Street, also known as the Theodore Roosevelt Birthplace National Historic Site. At this museum, run by the National Park Service, you can tour the stuck-in-time rooms Roosevelt lived in until he was 14 years old.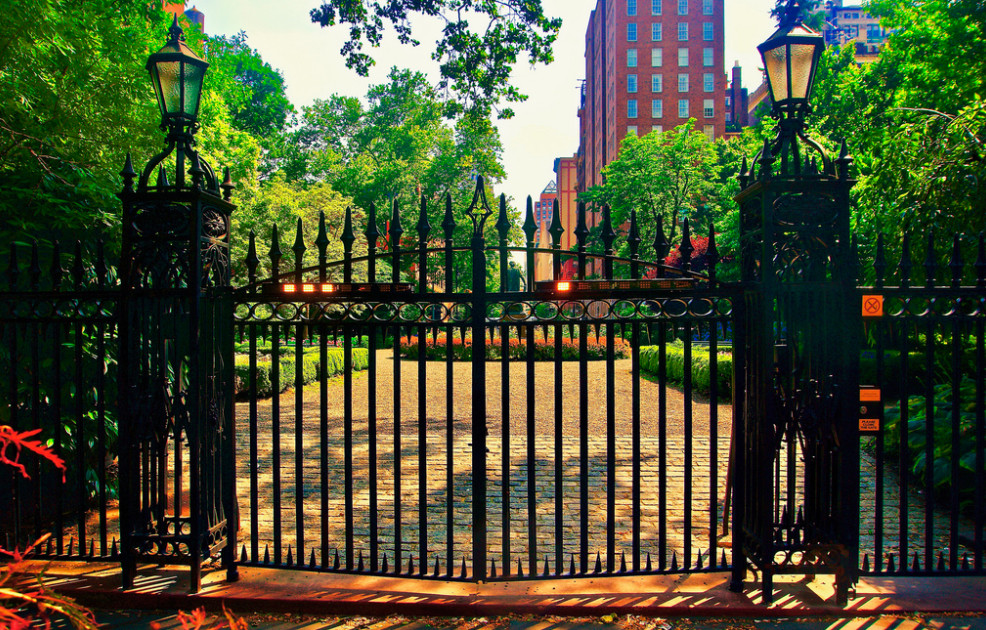 How Do You Get to Gramercy Park?
When people talk about being in "the heart of it all" in NYC, they could well mean Gramercy Park. This neighborhood epitomizes the phrase "centrally located."
"Gramercy is very convenient to everything, from Union Square and the Village to a slew of excellent restaurants and parks," Cohen says. "It used to be a sleepy neighborhood. But it's bustling now, and a wonderful place to live."
The park itself is just two blocks from the 6 train at 23rd street. And it's just five blocks to the transportation hub at Union Square, where you can catch a bounty of train lines. You can hop on a train and be in midtown in seven minutes flat. Nearby neighborhoods include the Flatiron District, a shopaholic's mecca, and iconic Greenwich Village. But there are plenty of reasons to stay in the Gramercy Park neighborhood, including the ever-popular restaurant Friend of a Farmer (don't miss Sunday brunch) and an outpost of Blue Bottle Coffee.
Does Gramercy Park Ever Open to the Public?
There have been attempts to storm the gates. They have not been successful.
In 1890, the governor vetoed a proposal that would have seen the installation of a cable car or road through the center of the park, connecting Irving Place to Lexington Avenue. Another proposal to run a street through the park came in 1912, this time defeated by the Gramercy Park Association. There have been no attempts of note since.
For a while, on the first Saturday in May, the park was open to the public on Gramercy Day. But trustees ended that tradition in 2007, saying that it "had turned into a street fair." The park does let in the hoi polloi for an hour of caroling every Christmas Eve, though.
Want more park time than that? Then you'd better start saving.
[This post has been updated and republished.]