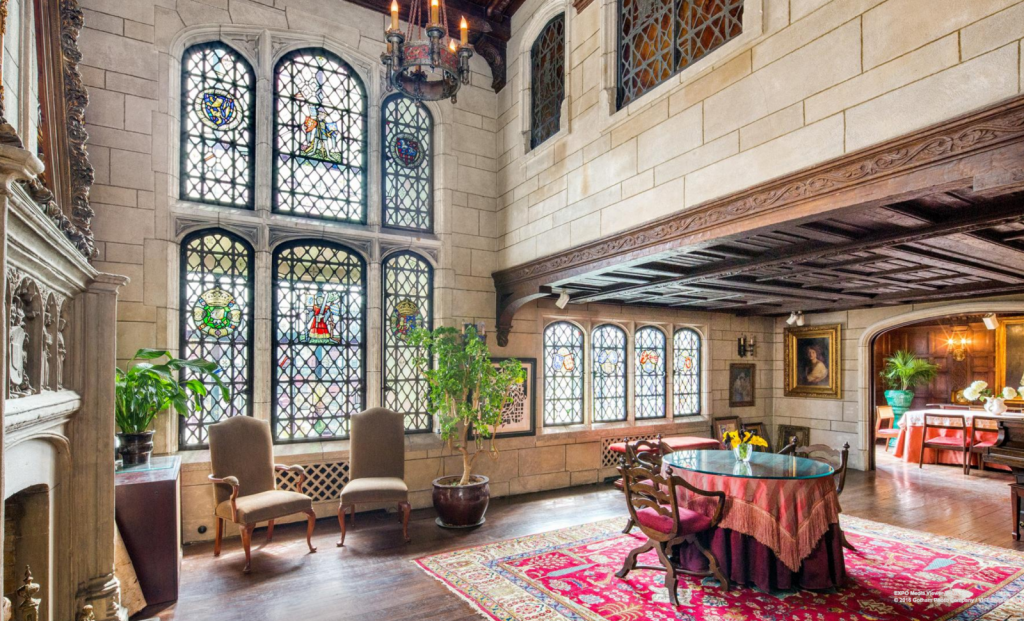 One look at this medieval-style mansion and you'd think it was straight out of the Game of Thrones. Or, at the very least, you would date it as a 19th-century Tudor Revival. But, in both cases you would be wrong. Don't let the stained glass and Gothic statuary fool you — this $6.25M three-bedroom is not even a former-church-turned-condo.  Nope, it is just a humble prewar apartment built in the 1930s.  Located at 44 Gramercy Park North, the facade of the building suggests nothing more than your typical fancy doorman/elevator co-op off Gramercy Park.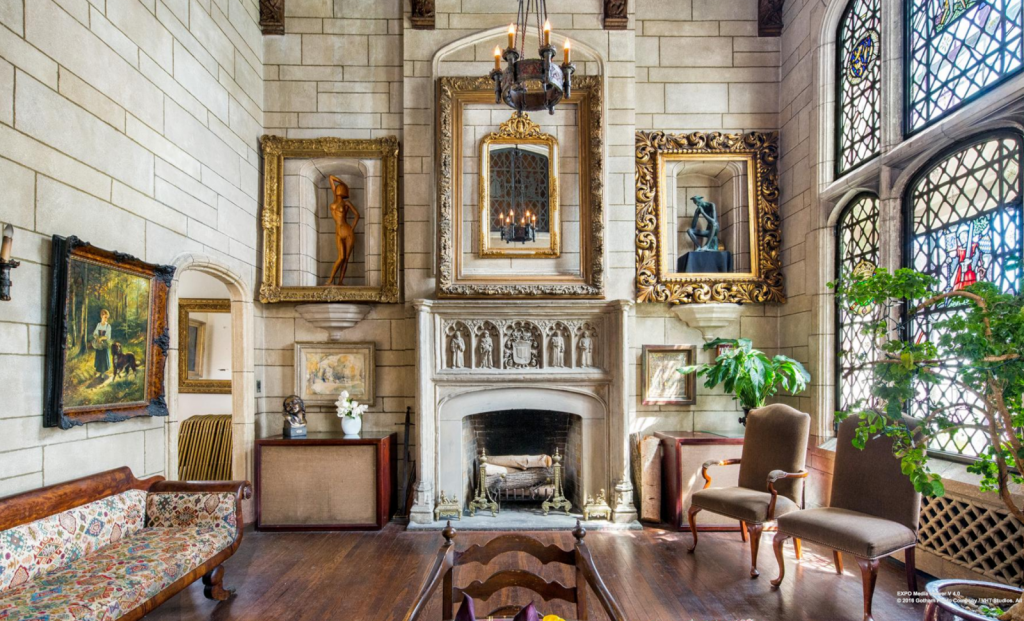 Enter the interior of this two-unit combo on the 12th floor, however, and its architectural details will awe you. The place is full of curling mahogany woodwork, elaborate crown moldings, carved statues and soaring limestone archways. All of this is the vision of the building's original owner and developer who commissioned the building's architects to create this opulent residence for him to occupy.
For the past 50 years, the sprawling 2,500-sq ft apartment has been owned and lovingly maintained by a single owner, Yanos Aranyi, a Hungarian-born financier-turned-art-collector and frame restorer, and his wife Thersea Llorente. Aranyi restored frames for the Metropolitan Museum of Art, which explains the uncanny resemblance to the Cloisters.
The apartment currently displays hundreds of examples of Aranyi's handiwork and carefully curated pieces (some of which the Metropolitan Museum of Art also has in its collection). In the master bedroom, impressive gilded frames line the walls with gold frames doubling within gold frames. In the dining room and kitchen, frames lean against the walls and are tucked in corners. Enter the cramped bathroom off the master bedroom and the tub is literally overflowing with framed works – some wrapped, some plated with glass, others simply sandwiched in among the rest, gracefully collecting dust. Peer behind a door or shutter and you'll discover unexpected delights – a intimate, Impressionist portrait, a framed antique Hungarian vest, a monochrome Moholy-Nagy inspired design.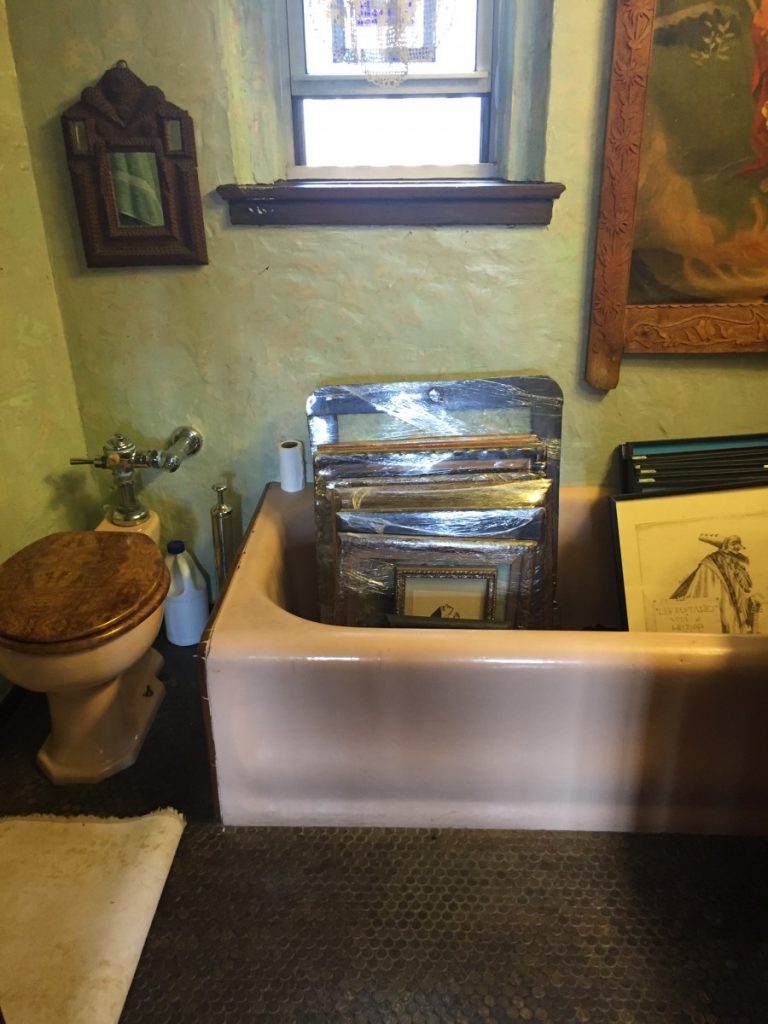 The apartment is a gem, an incredible New York City find that is truly incomparable. The south-facing wall features 14 stained-glass windows overlooking Gramercy Park depicts dragons, knights and swords. The wood-paneled walls and ceilings are intricately carved with scrolling floral motifs and medieval arabesques. The entertaining room has incredible, cathedral-like double-height ceilings, heavy wooden chandeliers and an enormous fireplace carved with a tableaux of medieval characters.
Couple Bought at Discounted Rate
Mr. Aranyi and Ms. Llorente are New York City gems in their own right and they clearly adore this apartment. The couple came into ownership of this property via a rare New York City loophole. In the 1980s, 44 Gramercy Park North converted from a rent-controlled building to a co-op and as longtime renters, the couple had the opportunity to buy out their unit at a discounted rate. At the time, they chose not to and waited nearly 30 years to purchase it. When they did, that discounted rate of $630K still held. Today, it is listed for $6.3M.
Seated at his desk in his bedroom overlooking Gramercy Park, Mr. Aranyi speaks on the phone in heavily accented English, a plume of white hair squashed around his head. Once he hangs up, he greets us, thick glasses accentuating his very bushy brows and intent eyes. He had been on the phone with a woman in Ohio who is hoping to buy his entire collection of frames and artwork.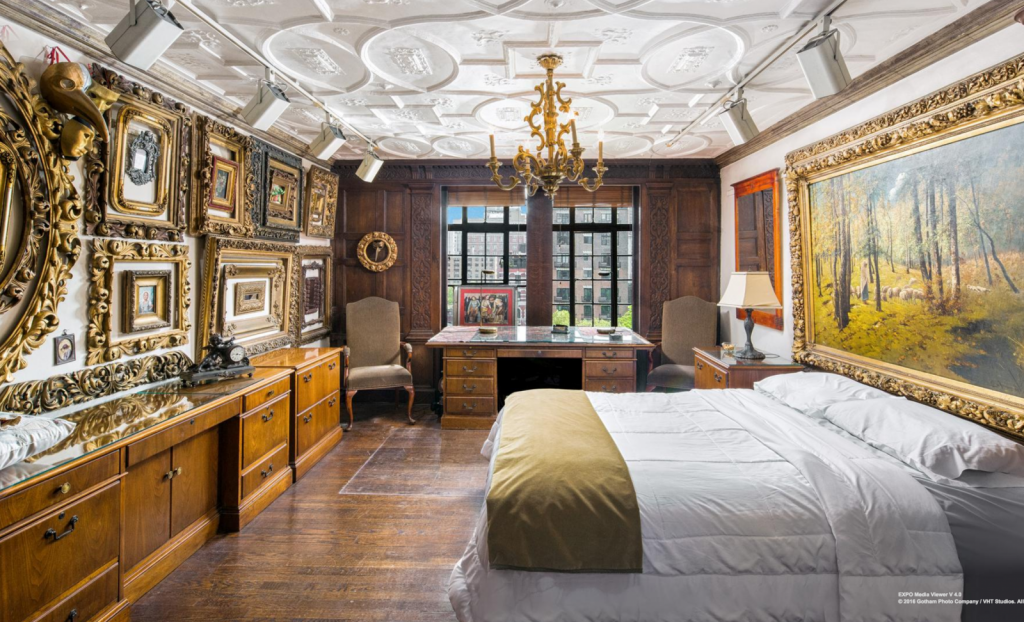 "She doesn't know what she's getting into," he mutters, "Hundreds, thousands. I don't even know how many there are. They're everywhere." Aranyi says of his amazing collection of frames. He is quick to point out his favorite works – a Hungarian folk scene depicting a rural town and its people rendered in flat perspective in bold reds and blues. He speaks ruefully of the parties and performances that were hosted in the entertaining room over the years and encourages us to return for one last hurrah. The invitation was gladly accepted.
It's hard to imagine what the space would look like without the carefully curated collection of art work and antiques, but it is clearly a concern for the current owner as well. The listing description emphatically states the current owner is "…hoping to find the right buyers who will have the pleasure of calling it home."
This much is certain: Whoever buys it will certainly have a unique property on their hands and a conversation piece that will never lack in wonder.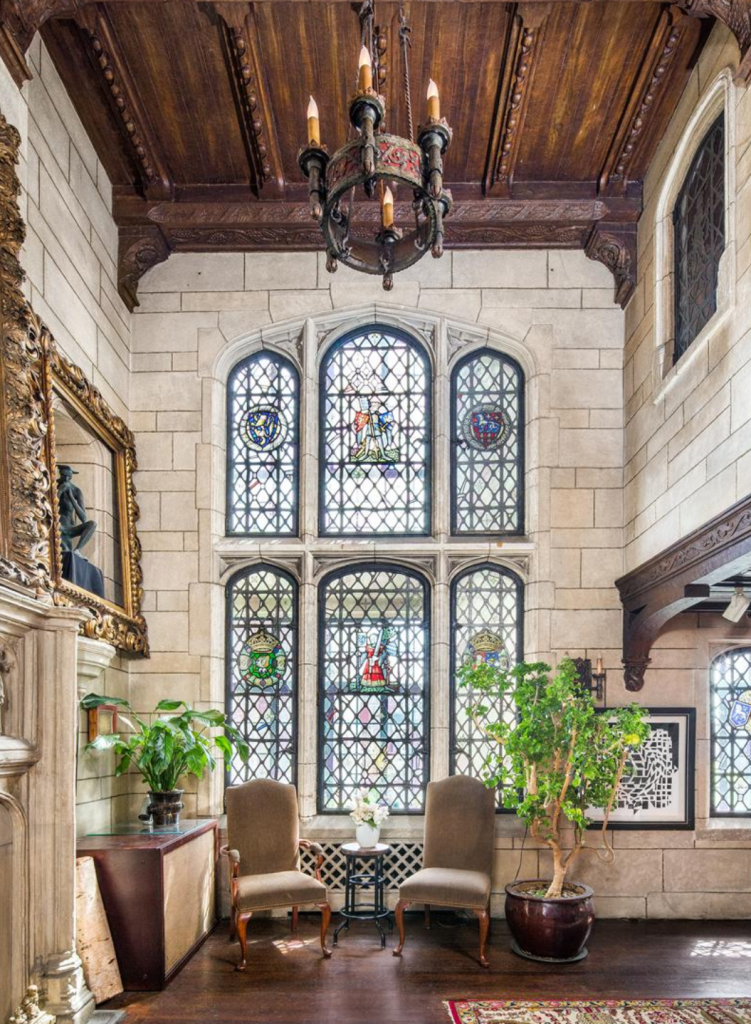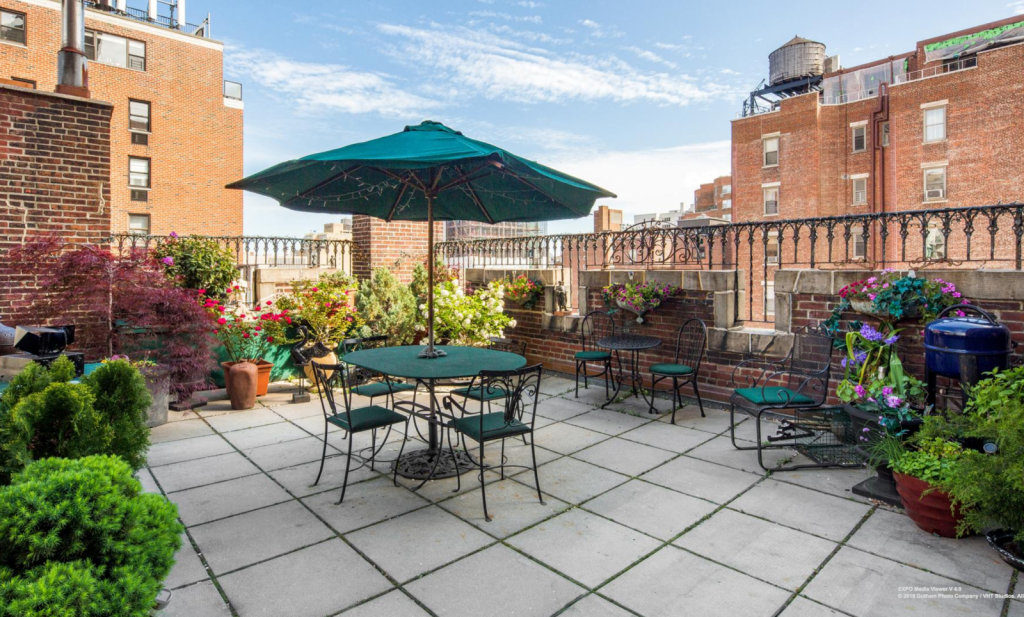 Related: