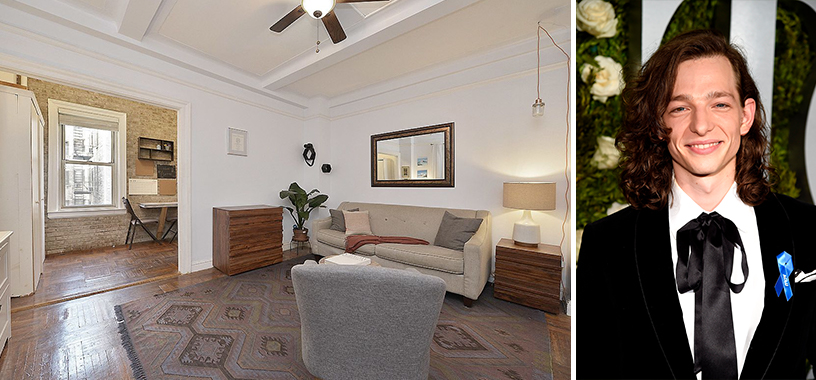 In the nine years that 27-year-old Mike Faist has lived in New York City, he's done a number of the things many New Yorkers only dream about. He's hit it big on Broadway — and even landed a Tony nomination for his role in "Dear Evan Hansen" — and bought a home. Well, actually, he's hit it big on Broadway twice, and, as of May 2018, bought two homes. And right now, he's selling his first one: A cozy but nicely renovated studio at 25 W. 64th St. #4E in Lincoln Square.
Who Is Mike Faist?
If Faist's name doesn't initially ring a bell, perhaps the name Evan Hansen will. In 2017, "Dear Evan Hansen" won the Tony for Best Musical, and Faist was nominated for his role as Connor Murphy, a supporting but pivotal character.
Faist's tenure in New York City and his Broadway success, however, predates "Dear Evan Hansen." He moved to the city in 2009 to enroll at the American Musical and Dramatic Academy, though he dropped out after two semesters to pursue auditions. The wager proved successful, ultimately leading to Faist nabbing a role in a revival of the "Newsies," which, after a stint at a local theater in New Jersey, debuted on Broadway in 2012.
Faist Makes His First Move
After coming into some luck on Broadway and a steady paycheck, Faist made a move that arguably too few cash-flush artists do — he invested in real estate. At the ripe age of 19, Faist became a property owner, purchasing a prewar sponsor unit in Lincoln Square.
On paper, the place would not seem to cater to the interests of rising teen star, but it made sense. The property at 25 W. 64th St. was listed for $299,000, but he closed at $278,000, seven percent below the asking price. After the down payment, which his parents — who are real estate agents in Ohio — helped him cover, the monthly payments were comparable to or less than what he would have paid for a rental, Faist says. The building also has a flexible subletting and pied-à-terre policy, which made relocating to Washington, D.C. for "Dear Evan Hansen" in 2015 easy.
Armed with the support of real estate-savvy parents and a wise awareness of the ebbs and flows of a stage actor's bank account, Faist thought the studio would make a good investment. Now, seven years later, he's about to find out.
A Rough Studio Gets the TLC It Needs
When Faist moved in, the apartment needed work just be habitable. There was no kitchen to speak of, just a gas hookup. And aside from the toilet and tub in the bathroom, there were no other appliances or fixtures. Just outlets.
The addition of simple, stainless-steel appliances and dark wood cabinetry made the kitchen functional. Faist then worked in some character by stripping back plaster to reveal an exposed brick wall and leaving bare concrete on part of the floor. Out the kitchen window, there's a fire escape, an inner courtyard, and a bit of open sky above, a classic New York City scene. While Faist is quick to note that the fire escape isn't real outdoor space, he gets a little misty-eyed remembering how he used to sit out there practicing lines and reviewing scripts.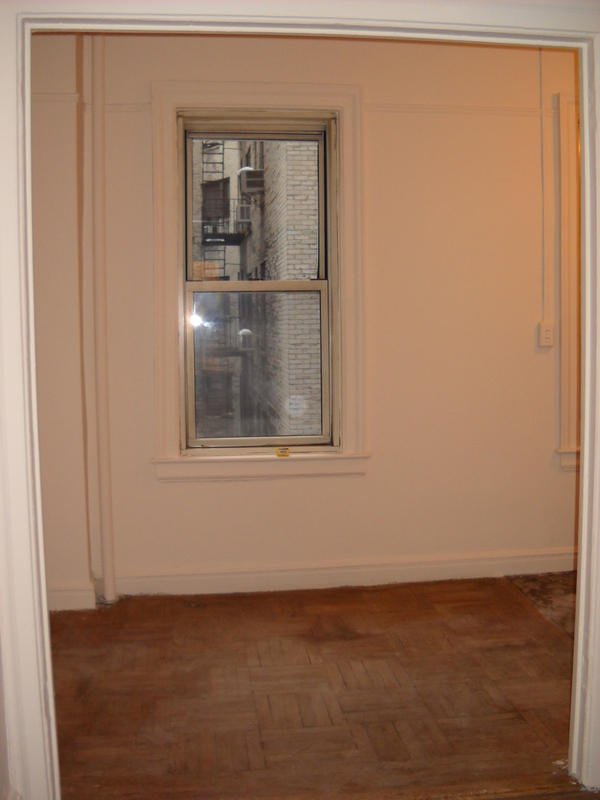 Before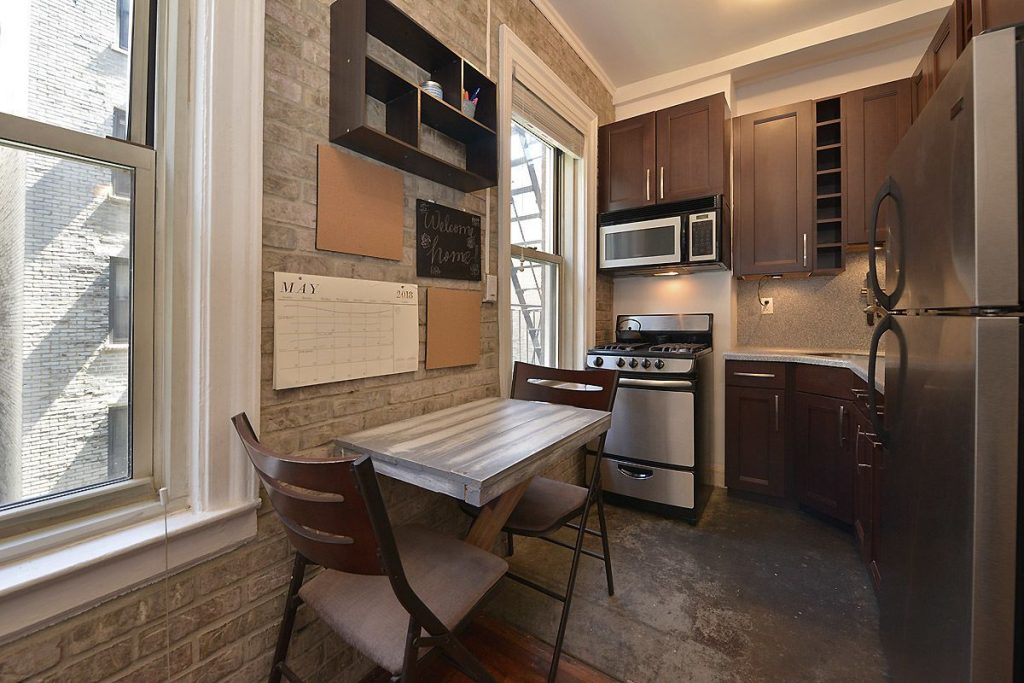 After
In the main living area, overhead ceiling fans and a trendy pendant Edison light fixture add a contemporary vibe. Crucial to making the small space work was the addition of a Murphy bed. When you sit down in the living room, you don't for a second think it's a studio. I left wondering where the bedroom was, until Faist sheepishly pointed to the Murphy bed in a corner of the kitchen.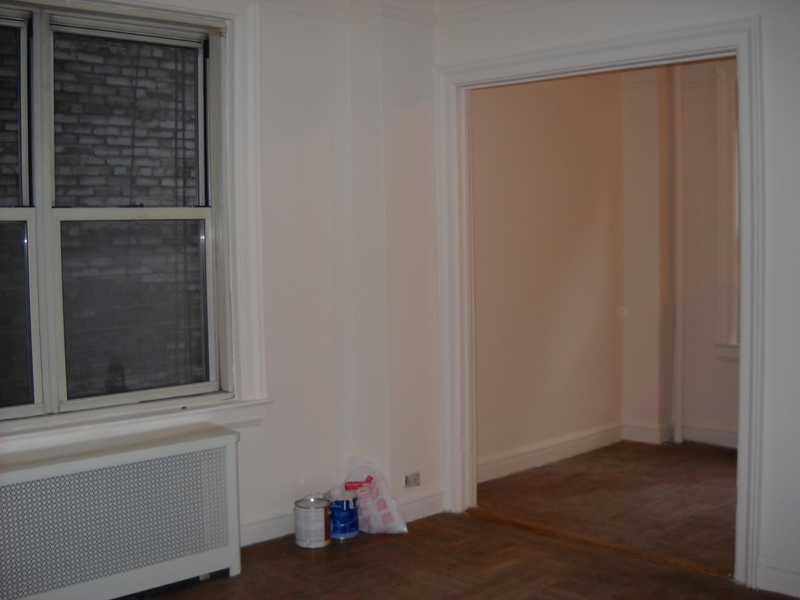 Before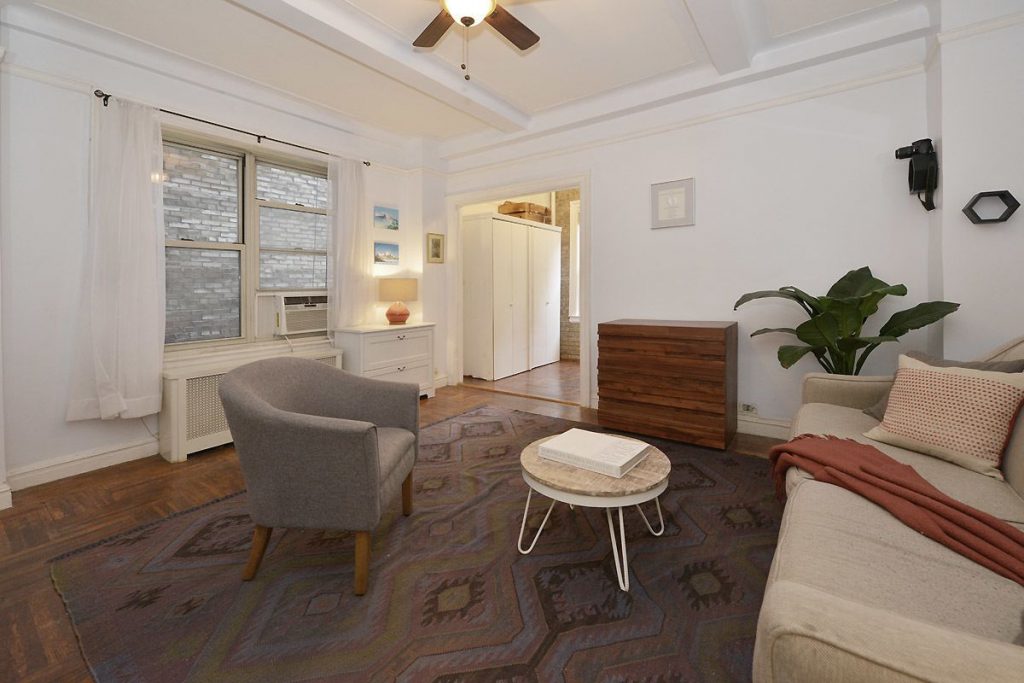 After
Now, after lots of hard work, the apartment has a classic Manhattan studio appeal, with an ambiance that'd be appropriate for the setting of a one-act play.
A Man for all Seasons
In addition to Broadway star, teenage home owner, and DIY-interior renovator, Faist can also add armchair real estate expert to his resume. He'll offhandedly mention the perks of buying a sponsor unit — "you know, none of the co-op board hassle" — the value of pied-à-terres —"great for actors and musicians" —  and the density of income-restricted HDFC units in Inwood — "impossible to buy up there." Not only did this insight come in handy when he initially bought back in 2011, but it has also helped him identify his next purchase.
Long-limbed and spindly, Faist's youthful look belies his mature approach to real estate. He considers himself a lifer in New York City, so when it came to make his next move, he ended up where many New Yorkers go when seeking more space and distance from the bright lights: Park Slope.
—
Hey, why not like StreetEasy on Facebook and follow @streeteasy on Instagram?