The StreetEasy Monthly Cheat Sheet is a recurring feature that looks at the New York City for-sale market over the last four weeks, highlighting a combination of market data, StreetEasy user behavior and topical trends. This is the report for April 2017.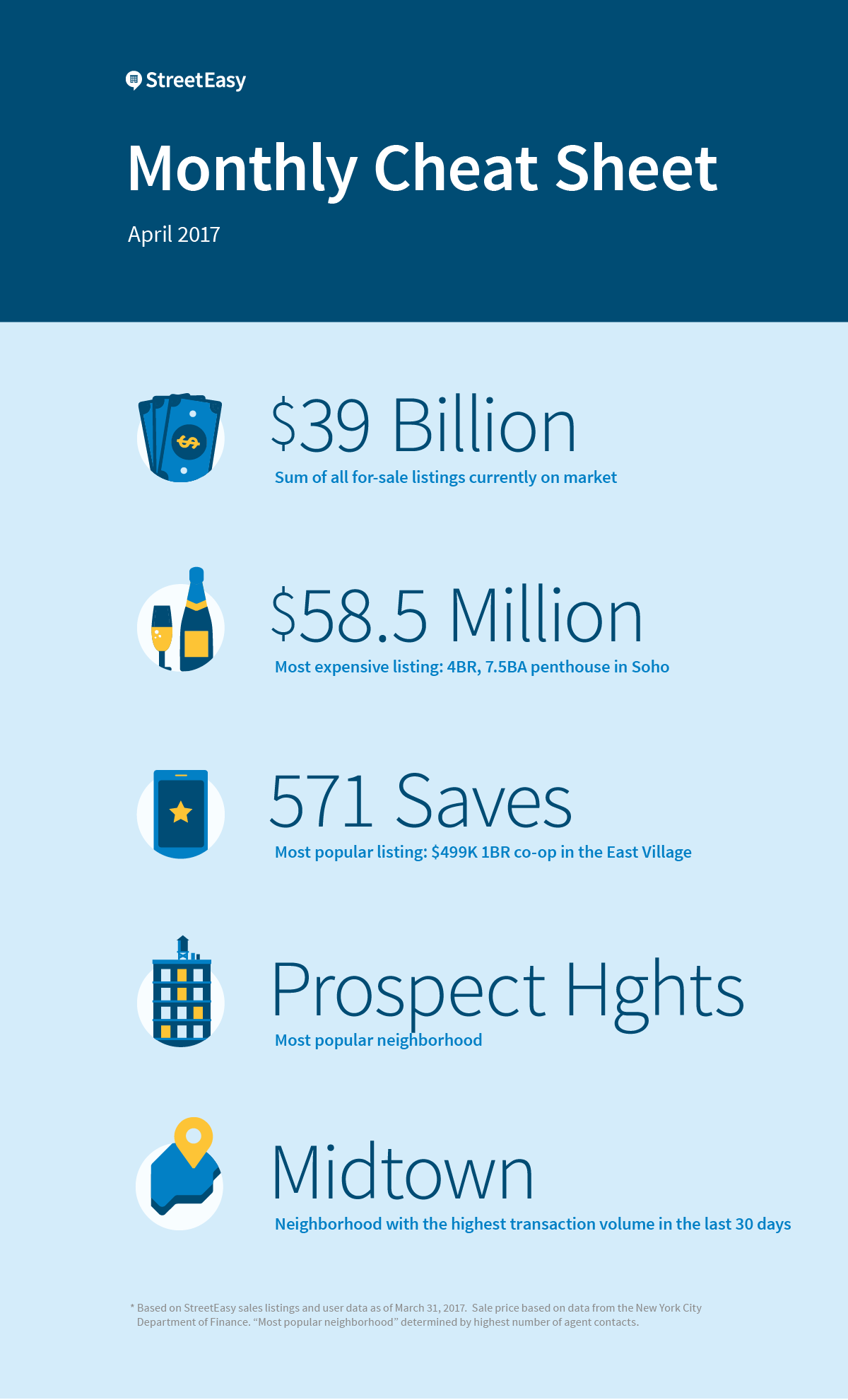 Value of Listings: $39B
If you tallied up the prices for all the for-sale listings on the New York City real estate market as of April 30, 2017, you'd get $39B, up 12.7 percent from last month's findings. This represents 14,773 listings, a 3.7 percent increase from last month.
Priciest Place You Can Get: $58.5M Penthouse
The most expensive listing to hit the market in April was a $58.5M penthouse at the Puck Building, arguably one of Downtown Manhattan's most iconic buildings and the site of several memorable scenes in "When Harry Met Sally."
The four-bedroom penthouse loft offers a totally different look and lifestyle compared to March's most expensive listing, which was a $65M co-op in Lenox Hill oozing with dark woods, heavy pendant lighting and old world opulence in every form. By contrast, this duplex is all about open floor plan living offering huge entertaining spaces (indoor and out) and maximum natural light with a wall of floor-to-ceiling windows, multiple skylights and wrap-around views. The outdoor space spans two levels and offers a spa, a putting green and views of the Empire State Building.
What You Loved in April: $499K East Village Gem
Nothing like charming historic details, a great price and a great location to win the hearts of StreetEasy users. Such was the recipe for success for April's most popular sale, which garnered 571 saves over the course of the month. The one-bedroom co-op is listed for $499K – an incredible deal by Downtown Manhattan's standards – and it gets the whole Bohemian chic aesthetic down cold. We're talking exposed brick, stripped wood and stain glass. The real kicker? There's an in-unit washer-dryer.
The Place to Be? Prospect Heights
The most popular neighborhood among StreetEasy users in April was Prospect Heights, a classic BK neighborhood with great bars and restaurants and a mix of traditional brownstones and large walkup-style apartment buildings. The neighborhood has been seeing a ton of new development in recent months, offering buyers ever increasing options when it comes to for-sale listings.
Where the Action? Midtown
Midtown might not be on anyone's list of up and coming neighborhoods, but in April the neighborhood saw the highest transaction volume with 72 closings.
Related: