Every week, we share the most popular sale listing of the week in NYC, as selected by you, our StreetEasy users. The most popular sale for August 28 is a Carroll Gardens 1-bedroom with a semi-private roof deck.
Carroll Garden 1-Bedroom With Semi-Private Roof Asks $650,000
Location: 443 Court Street #4R, Carroll Gardens
Saves: As of this writing, the most popular sale for August 28 has been saved by 173 users.
Price: $650,000. Assuming a 30-year mortgage and a minimum down payment of 20% ($130,000), StreetEasy estimates total monthly payments at $4,213. The total includes an estimated mortgage payment with a 7.1% interest rate ($3,495) and maintenance ($718).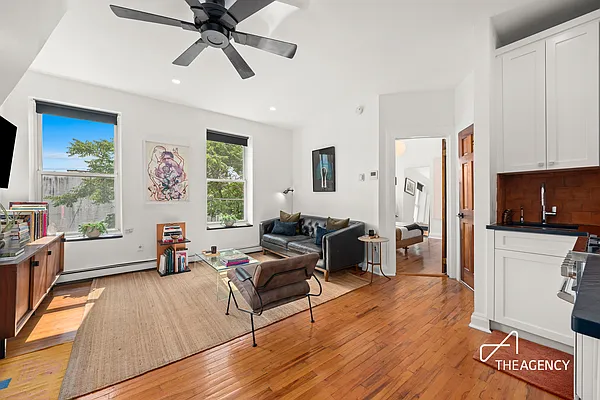 Why It's So Popular
Discover the charm of 443 Court Street, nestled in Apartment 4R. This Carroll Gardens 1-bedroom gem, complete with a private rooftop, is genuinely the haven you've been seeking within a meticulously maintained building of just eight units. As you meander through this residence, you're greeted by sunbeams dancing through expansive windows adorning both your living and sleeping spaces. Set toward the back, this dwelling promises serenity and tranquility.
Just a short climb up, you're presented with an enchanting rooftop deck. Here, panoramic vistas of Manhattan and Brooklyn stretch before you, making the thought of leaving quite unthinkable. The rooftop sanctuary is shared with just one other unit, beautifully landscaped to ensure your very own secluded paradise.
Brooklyn Homes Under $1M on StreetEasy Article continues below
The allure doesn't end there. Every corner of this home oozes elegance, from its polished hardwood floors and efficient ductless mini-split system to its artfully rejuvenated kitchen and bathroom, blending timeless grace with contemporary flair.
Situated in the heart of Carroll Gardens, this pet-welcoming, prewar co-op is a testament to meticulous upkeep, offering added storage and remarkably low overheads. After a 3-year wait, you can sublet with the board's nod, and integrating a washer and dryer is possible upon their consent. With the Carroll Street subway station (serving F/G lines) just three blocks away and renowned eateries such as Ugly Baby, Court Street Grocers, and Frankies 457 within arm's reach, convenience is truly at your doorstep.
*Editor's Note: This home has gone in contract since this article was written.
Browse More Homes in Carroll Gardens on StreetEasy