Every week, we share the most popular sale listing of the week in NYC, as selected by you, our StreetEasy users. The most popular sale for February is a modern Midtown studio with a loft. Let's take a look inside!
Midtown Studio with Loft Asks $950,000
Location: 529 West 42nd Street #2G, Hell's Kitchen
Saves: As of this writing, the most popular sale for February 6 has been saved by 27 users.
Price: $950,000. Assuming a 30-year mortgage and a minimum down payment of 20% ($190,000), StreetEasy estimates total monthly payments at $5,918. The total includes the mortgage payment ($4,620) and maintenance fee ($1,298).
Why It's So Popular
This is a true gem of a live/work building, a rare and vibrant sanctuary that blends the best of both worlds. Amid the bustling energy of Hell's Kitchen, it offers a downtown loft-like apartment that exudes character, style, and sophistication.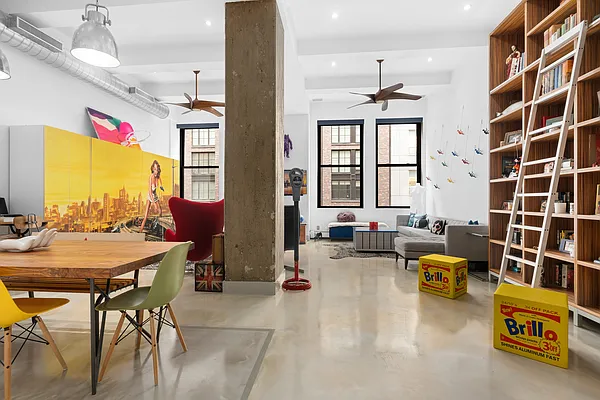 Neighborhood
Hell's Kitchen
This stunning residence boasts over 1,100 square feet of living space, complete with high ceilings that soar to nearly 13 feet and fitted with custom shelving and storage throughout.
At the heart of this versatile design lies a unique style that combines the ruggedness of industrial aesthetics with the warmth of pre-war architecture, making it a standout in the urban landscape. Sunlight streams through the three expansive windows on the main level, illuminating the open-concept living, dining, and kitchen area with an inviting glow. This vast space can easily be transformed into a traditional one-bedroom abode, yet it remains a flexible canvas that can be customized to fit one's individual needs and tastes.
As you step through the door, you are greeted by a charming foyer that serves as a mudroom, mini-gallery, or extra storage space. A hallway of closets awaits, leading to a pristine bathroom that has been thoughtfully designed and outfitted with the finest materials. The open kitchen, a true chef's delight, boasts a classic white aesthetic with stone countertops, top-of-the-line stainless steel appliances, a stove with an industrial range hood, European glass cabinets, and a custom wine vault. Adjacent to the kitchen, a large pantry provides ample storage for all your culinary creations.
Manhattan Homes for Under $1M Article continues below
A beautiful, solid wood floating staircase ascends to the 5'9 ceiling loft space, perfect for private sleeping quarters or a quaint and quiet home office. The loft, currently serving as two home offices, provides a comfortable and serene work-from-home environment. The rest of the home is outfitted with impressive features, such as Simex blinds, recessed lighting, custom ceiling fans, high-tech stereo surround sound, and dimmer control lighting.
Moreover, the building is pet-friendly and boasts an elevator and a full-time doorman, making it the ideal choice for various home and business combinations. With options for co-purchasing, subletting, and guarantors, this stunning home is a must-see for a unique and livable urban space. The monthly assessment for capital improvements stands at a modest $135.97.