Every week, we share the most popular sale listing of the week in NYC, as selected by you, our StreetEasy users. The most popular sale for July 24 is a Parisian-style Brooklyn Heights 1-bedroom with a shared roof deck.
Parisian-Style Brooklyn Heights 1-Bedroom Asks $1.04 Million
Location: 87 Columbia Heights #51, Brooklyn Heights
Saves: As of this writing, the most popular sale for July 24 has been saved by 109 users.
Price: $1,049,000. Assuming a 30-year mortgage and a minimum down payment of 20% ($209,800), StreetEasy estimates total monthly payments at $6,768. The total includes an estimated mortgage payment with a 7.1% interest rate ($5,640) and maintenance ($1,128).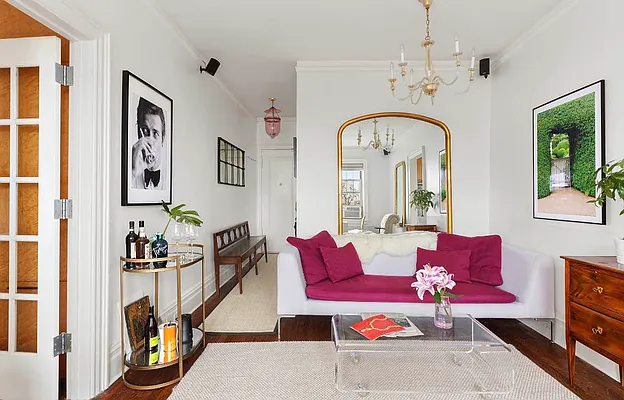 Take a closer look at our Most Popular listing.
View Listing
Why It's So Popular
Situated in the charming area near the Promenade, between the iconic Cranberry Street and Orange Street, this top-floor Parisian-style Brooklyn Heights apartment exudes the cosmopolitan charm one might associate with "Emily in Paris." The location's aesthetic is undeniably Parisian, featuring elegant townhouses, carriage houses, and tree-lined streets complemented by waterfront views.
What sets this living space apart is its impeccable design and renovation. The moment one steps in, the classic architecture, high ceilings featuring prewar details, antique glass, Murano chandeliers, and beautiful hardwood floors are immediately striking. Yet, what leaves a lasting impression is the extraordinary light streaming in from the western windows, a feature present in each room, illuminating a vista of water and sunset views.
Brooklyn Heights Homes Under $1M on StreetEasy Article continues below
This apartment is not just a home but a lifestyle. The spacious living room accommodates a dining and work-from-home space and a comfortable seating area. The large galley-style kitchen mirrors a Waterworks aesthetic, with marble countertops and high-end stainless-steel appliances. This luxury extends to the en-suite bedroom and bath, which sport a 12-foot wall of custom closets and modern fixtures.
Adding to the allure, there's a massive 1,800-square-foot rooftop deck with breathtaking views of New York Harbor, bridges, and the Statue of Liberty. This incredible outdoor space is just a few steps from the apartment's front door, shared with the other tenants.
Browse More Brooklyn Heights Homes on StreetEasy