Every week, we share the most popular sale listing of the week in NYC, as selected by you, our StreetEasy users. The most popular sale for June 5 is a charming pre-war West Village 2-bedroom with in-unit laundry and plenty of natural light.
Pre-War West Village 2-Bedroom Asks $1.095 Million
Location: 25 Charles Street #6C, West Village
Saves: As of this writing, the most popular sale for June 5 has been saved by 332 users.
Price: $1.095 million. Assuming a 30-year mortgage and a minimum down payment of 20% ($219,000), StreetEasy estimates total monthly payments at $7,269. The total includes an estimated mortgage payment with a 6.84% interest rate ($5,734) and maintenance ($1,535).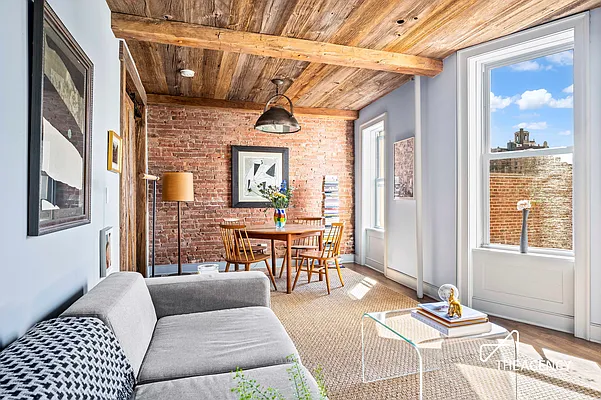 Why It's So Popular
The tasteful renovations in this pre-war West Village 2-bedroom have transformed the living space into a veritable masterpiece, effortlessly marrying contemporary elements with classic features. As you enter the open living room and dining area, abundant natural light embraces you, bathing the space in a warm and inviting glow. 
The kitchen, equipped with high-quality appliances, including a Bertazzoni oven and a Bosch dishwasher, is a dream for those who enjoy cooking. In addition, the convenience of the pass-through layout and the inclusion of a combo washer-dryer unit further enhance the functionality of the space.
West Village Homes Under $1.5M on StreetEasy Article continues below
Both bedrooms offer unique features that add to the appeal of the apartment. With its custom closets and tranquil tree-lined views, the primary bedroom provides a peaceful retreat from the bustling city streets. With its versatility, the second bedroom can be utilized as a home office, nursery or guest room, accommodating various lifestyle needs.
Furthermore, the building is well-maintained and offers desirable amenities such as a video intercom, a live-in super, and storage facilities. The co-op's flexibility in permitting financing, pieds-à-terre and pets, and its openness to co-purchasing, gifting and guarantors on a case-by-case basis adds to the apartment's broad appeal and accessibility.
And it's all situated just steps away from the finest restaurants, cafes, and shops in the area; residents have easy access to the neighborhood's vibrant and diverse culture.
Browse More West Village Homes for Sale