Every week, we share the most popular sale listing of the week in NYC, as selected by you, our StreetEasy users. The most popular sale for September 11 is an Upper West Side alcove studio with lofted storage.
Upper West Side Alcove Studio With Lofted Storage Asks $559,000
Location: 134 West 88th Street #2A, Upper West Side
Saves: As of this writing, the most popular sale for September 11 has been saved by 188 users.
Price: $559,000. Assuming a 30-year mortgage and a minimum down payment of 20% ($111,800), StreetEasy estimates total monthly payments at $7,908. The total includes an estimated mortgage payment with a 7.1% interest rate ($3,005) and maintenance ($862).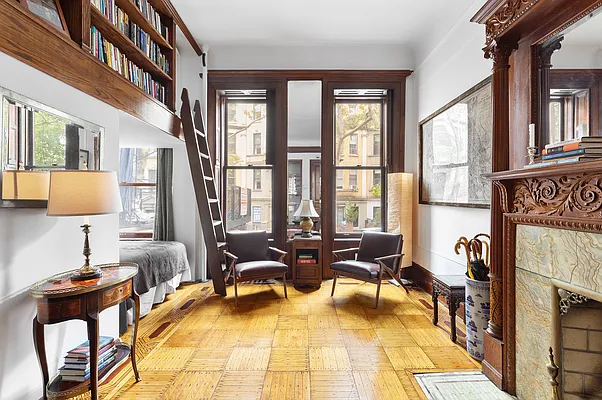 Why It's So Popular
Stepping into this Upper West Side alcove studio feels like a journey through time with its cherished turn-of-the-century features. Notably, the impressive 11'4″ ceilings, polished wood floors, and a warm gas fireplace paint a picture of timeless elegance.
Size is another luxury here. The space isn't just big; it's clever. Take the three large windows, for instance. They aren't merely windows; they are portals that let in a wash of natural light, making the room feel open and airy. And then there's the kitchen. Compact yet charming, it's all about getting the most out of every inch.
Upper West Side Homes Under $1M on StreetEasy Article continues below
Dining in this apartment is a treat. A well-placed dining area lies just a few steps from the kitchen, merging functionality with comfort. Looking for more? Look up. The loft doesn't just offer a great view of the living area; it's also a clever storage solution, ensuring everything has its place.
But it's not just about the apartment. It's also about the location. Nestled in the Upper West Side-Central Park West Historic District, the residence shares a block with a series of Renaissance Revival brownstones brilliantly designed by Neville and Bagge. These brownstones aren't just buildings; they give the street an irreplaceable charm.
Browse More Upper West Side Homes on StreetEasy