Every week, we share the most popular sale listing of the week in NYC, as selected by you, our StreetEasy users. The most popular sale for September 5 is a 1-bedroom East Village duplex loft with a private balcony.
1-Bedroom East Village Duplex Loft with Balcony Asks $1.195 Million
Location: 65 Cooper Square 3FL-LOFT, East Village
Saves: As of this writing, the most popular sale for September 5 has been saved by 124 users.
Price: $1,195,000. Assuming a 30-year mortgage and a minimum down payment of 20% ($239,000), StreetEasy estimates total monthly payments at $7,908. The total includes an estimated mortgage payment with a 7.1% interest rate ($6,425), common charges ($663), monthly taxes ($820).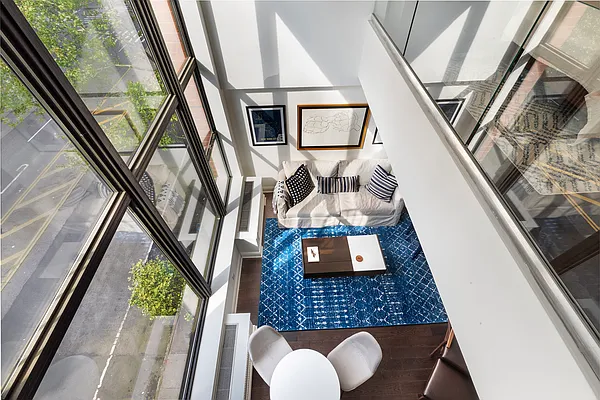 Why It's So Popular
Duplex? Loft? Private balcony? We're pretty sure that's the makings of a dream listing. But it's not a dream. This East Village duplex loft is authentic and as dreamy as it sounds. 
You'll instantly be wowed when you step into the unit, thanks to the light pouring in through the floor to 17-foot ceiling windows. And you get to enjoy that light from every inch of the first floor, from the living room to the open-concept kitchen. There's even a home office nook near the entry that gets bathed in the shining sun. 
East Village Homes Under $1.5M On StreetEasy Article continues below
Of course, there's even more dreaminess upstairs. After ascending the large staircase, you'll reach the lofted bedroom that overlooks the living room and has stunning views. A sleek white bathroom makes getting ready in the morning easy, and a little nook in the loft is perfect for an exercise bike. Imagine spinning while looking out over the treetops below. And there's not one, but two walk-in closets to provide plenty of storage. We also can't forget the private balcony overlooking the iconic Cooper Square.
Speaking of Copper Square, the location is unbeatable. You're within moments of Equinox Bond St in NoHo, members club Zero Bond, The Standard East Village, an AMC movie theater, and restaurants galore. Not to mention, there are plenty of subways nearby, making it easy to access any part of the city from this stunning retreat.
See More East Village Homes On StreetEasy