In an urban landscape characterized by soaring rents and unpredictable pricing fluctuations, an affordable apartment has come onto the market, presenting an escape route for many stuck in the rental cycle. This Jamaica, Queens apartment listed at a remarkably low price of $80,000 — the cheapest apartment for sale as of July 19, 2023 — is a beacon of financial relief for those burdened by high rent. It offers prospective homeowners the opportunity to reduce their monthly living costs significantly, as they would be much lower than the average rent in the area.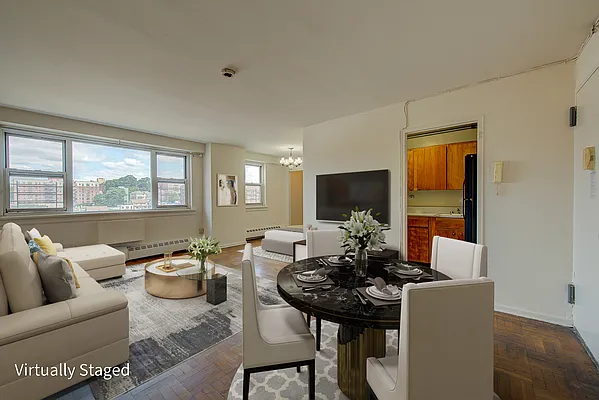 Take a look inside the cheapest apartment for sale in NYC.
View Listing
According to StreetEasy market data for June 2023, the average monthly rent for a studio apartment in Jamaica is a whopping $2,175. The estimated monthly payment on this unit is $1,060 with a 20% down payment ($16,000), $430 mortgage payment at a 7.1% interest rate, and $630 in maintenance fees.
Despite its low cost, this apartment doesn't compromise on space or quality. This expansive alcove studio provides plenty of room for innovative furniture layouts and interior design. It's ideal for aspiring designers or anyone who appreciates a spacious living environment. Moreover, the apartment is bathed in natural light, a boon for those who crave sunlit homes.
NYC Apartments for Sale Under $200K on StreetEasy Article continues below
The apartment is nestled within Avalon Terrace, a meticulously maintained residential complex that prioritizes the comfort and convenience of its residents. It offers facilities such as communal laundry, making everyday chores less of a burden, and an elevator for easy accessibility to all floors. Although there's a waitlist for the parking garage, the building's location compensates with proximity to various retail shops on Jamaica Ave, allowing residents to fulfill their shopping needs effortlessly.
Regarding transportation, the property is favorably located near the 169th St F Train Station, ensuring easy connectivity to the rest of the city. This means that despite its affordability, residents won't be isolated from the city's attractions.
What's more, the apartment is close to the main branch of the renowned Queens Public Library, making it a treasure trove of knowledge and resources just a few steps away. Adding to the appeal of the neighborhood are numerous exceptional eateries. This ensures that residents will have a variety of culinary experiences to explore without venturing far from their doorstep. 
With all these factors combined, this apartment offers an exceptional opportunity for potential buyers to break free from the rental market while enjoying comfortable and convenient living.
Browse More Homes Under $200K on StreetEasy