Sure, you can take a train from New Jersey to your job in New York. NJ Transit will shuttle you to Penn Station, and the PATH trains stop up and down central Manhattan. But doesn't taking a boat seem like much more fun? We wanted to find out what it's really like to ride the NJ ferry to NYC. So on a crisp weekday morning this past fall, we boarded the NY Waterway ferry for a ride to Midtown Manhattan.
If you're looking to cross the Hudson River to Manhattan by ferry, you're probably going to take a boat operated by NY Waterway, the largest operator in New York Harbor. The company has routes serving three main Manhattan terminals, at West 39th Street, Brookfield Place/Battery Park City, and Wall Street/Pier 11. Its New Jersey departure points are too numerous to list, but they start down in Middletown, on Sandy Hook Bay, and run up to Edgewater, just below the George Washington Bridge.
Depending on the starting and ending points, the ride from NJ to NYC can take as few as 6 minutes or as many as 50. The NY Waterway fleet consists of standard double-decker passenger ferries that can hold up to 149 people — that's what we rode — as well as newer, larger boats whose capacity runs to 399.
Our NJ ferry trip left Edgewater at 9:45 a.m., bound for West 39th Street. We bought a one-way ticket at an outdoor machine for $11.25. (Most weekday one-way fares are $9, but prices are higher for longer routes.) While some ferries run back and forth all day, ours was the last NYC-bound boat leaving from Edgewater that morning.
Initially the terminal area looked almost deserted. But as the ferry approached, and departure time grew near, more people came and formed a small line to get on.
The ferry's turnaround time at Edgewater was incredibly quick. The boat seemed loaded and ready to depart moments after it had arrived.
The vessel itself was certainly not new. Its cloth seats looked like they'd seen better decades, and perhaps had never seen a steam cleaner. Most passengers sat quietly on the main deck. The upper deck of indoor seating was largely empty, and no one but your trusty correspondent dared to brave the slicing winds on the outside deck. But there were plenty of benches out there for warmer days.
It's too bad no one went outside, because the views were magical. That clear day, we could see far up the Hudson, past the George Washington Bridge, and down to Jersey City and beyond.
One thing about the NY Waterway ferry: It does not dawdle. The ship seemed to blast away from the Edgewater pier and barrel toward New York City. It was a beautiful day to be on the water, but the trip didn't last long.
Our boat was scheduled to leave New Jersey at 9:45 a.m. and arrive in Manhattan at 10. As it turned out, we arrived two minutes early.
The West 39th Street ferry terminal has a spacious covered dock, plus an indoor lobby with restrooms and a waiting area.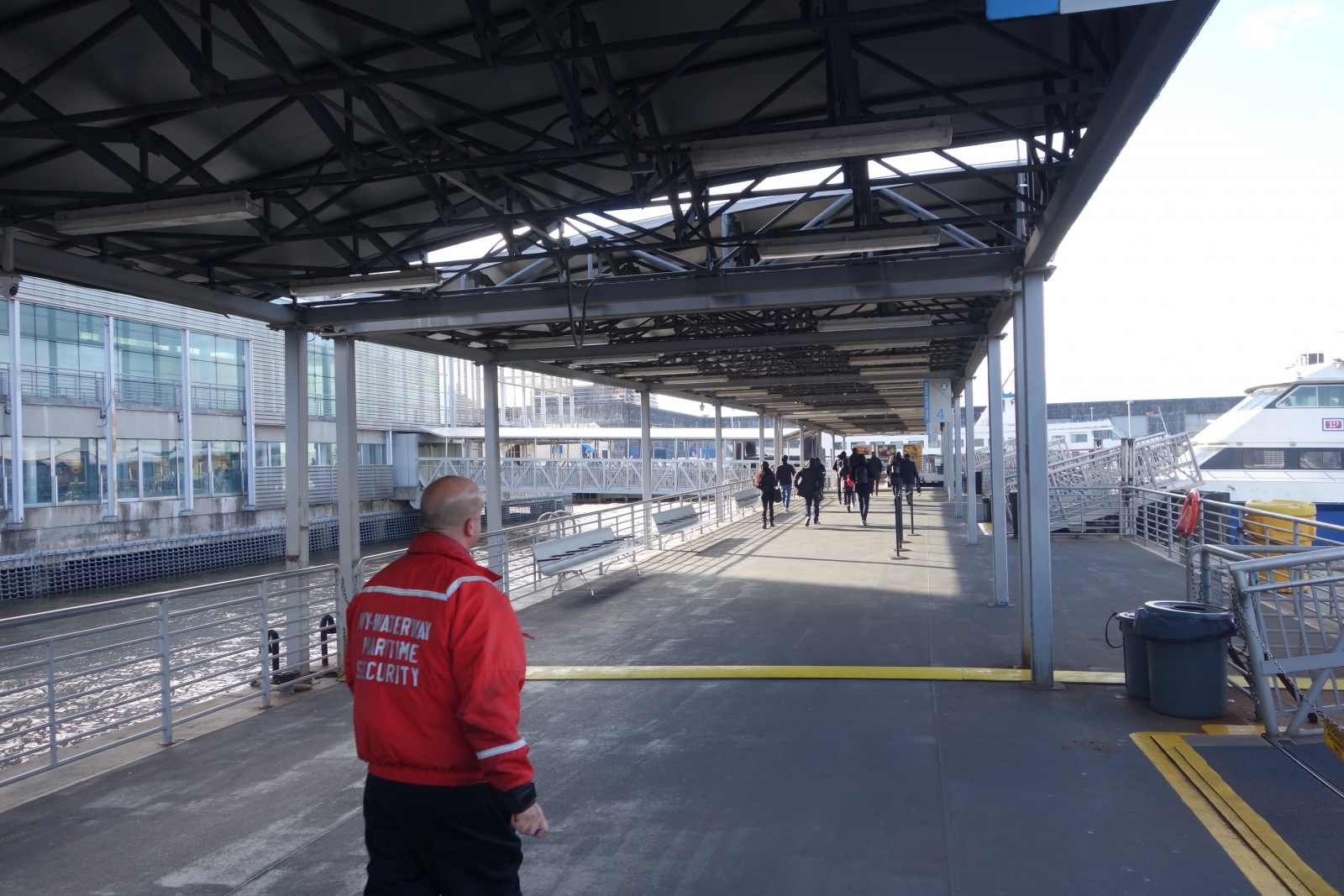 Outside the terminal, near the West Side Highway, repurposed school buses — garishly branded with ads for Broadway shows and other tourist attractions — waited to transport passengers deeper into Manhattan. The ride is included in the price of the ferry ticket.
We boarded the Downtown Manhattan bus, and spent as much time waiting for it to fill up as the ferry ride across the river had taken. Finally it departed, only to become ensnared in crosstown Manhattan traffic. After 15 minutes in that slog, we got off and walked the last half-mile to work.
Altogether, the trip from Edgewater to the corner of Seventh Avenue and West 23rd Street took us 49 minutes. It was a refreshing way to commute, especially in contrast with sitting on a crowded train in a dark tunnel. Doubtless the ride would seem less magical in worse weather and after a few dozen previous trips. But this test run impressed us with its efficiency, scenery and comfort, at least until the bus ride. As far as we're concerned, anyone who can take the NJ ferry to NYC as part of their daily routine is a lucky commuter indeed.
—
Hey, why not like StreetEasy on Facebook and follow @streeteasy on Instagram?