Depending on your sense of humor, New York City real estate can either be very funny or very upsetting. A 500-square foot one-bedroom going for over seven figures? It can either make you laugh or cry. The polarizing nature of the market makes it a difficult thing to joke about, so we're cutting the gags and just giving you great deals. See five stellar NYC apartments under $400K. No fooling.
Ditmas Park One-Bedroom With Custom Built-Ins
This one-bedroom in Ditmas Park has lots of charm. The current design makes wonderful use of all the built-in bookshelves and wall space. The place measures 700 square feet, has tons of storage and a brand-new kitchen. Plus it's pet-friendly and has super low maintenance. Oh wait — did we say it's listed for $399K? Boom.
Manhattan Dream: Two Bedroom With In-Unit W/D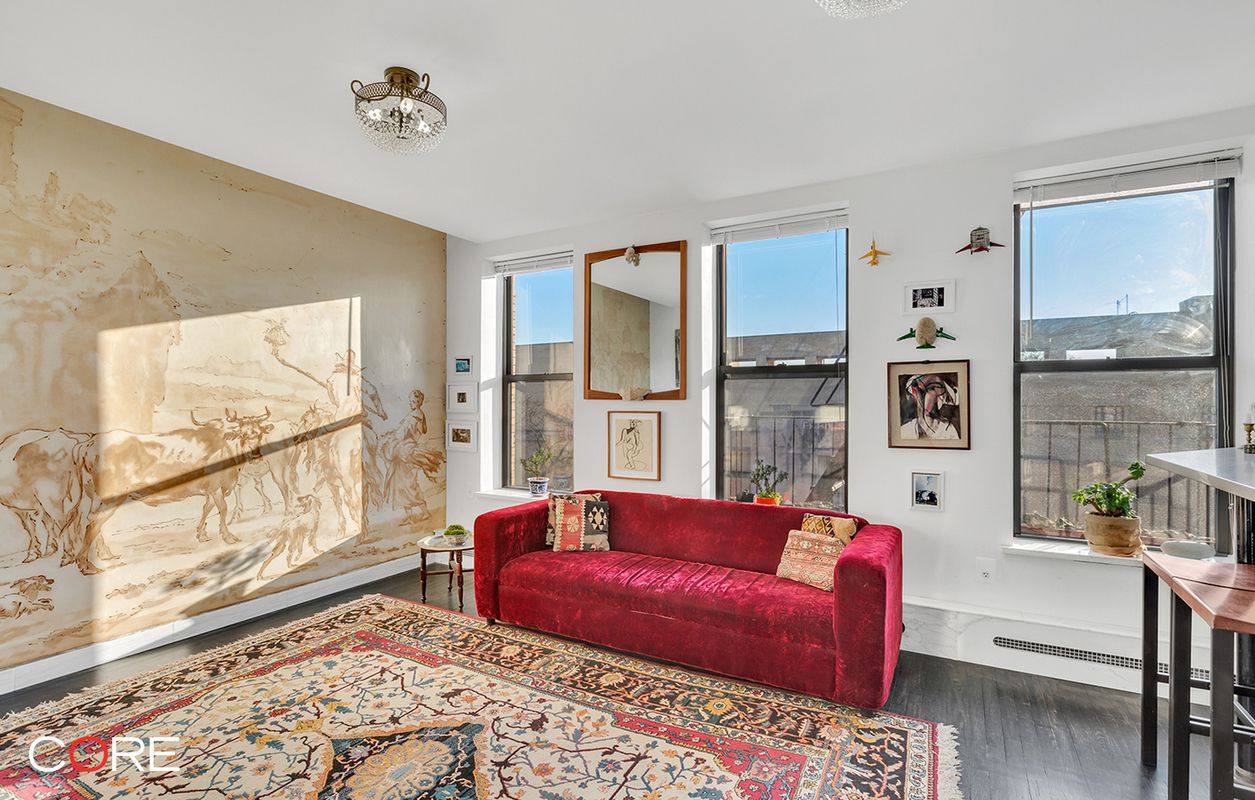 Well, well, well. They said it couldn't be done, but here it is.  A two-bedroom in Manhattan with an in-unit washer-dryer for $395K. In-unit, my friends! This Central Harlem co-op is pretty much turn-key, but before you get too excited, this is a restricted sale with annual incomes as follows: One person: $76,125; two people: $87,000; three people: $97,987; and four people: $108,750. The newly renovated kitchen has stainless steel appliances and Caesarstone countertops; tall ceilings in the living room, and Southern-facing windows with that Delacroix-inspired mural (see above).
Private Outdoor Space on UES… Private Outdoor Space!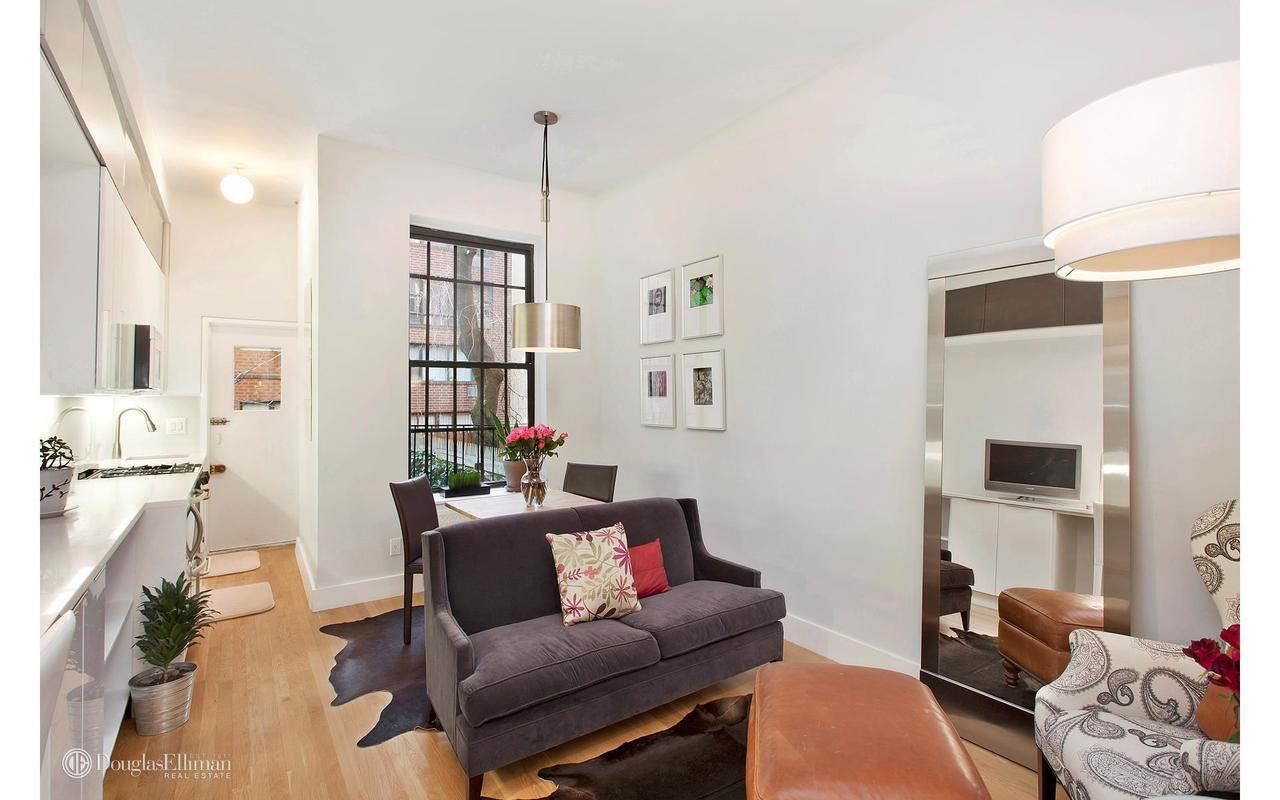 Private outdoor space means private outdoor space – no sharing with anyone, if you don't want to. And in many ways, this one-bedroom apartment is perfect for not sharing with anyone and for being yours and yours alone. For one thing, its efficient layout lends itself to solo living. On top of that, it's listed for $399K, making it appealing to buyers on a single income.
Two Bedrooms AND a Dining Room in Bay Ridge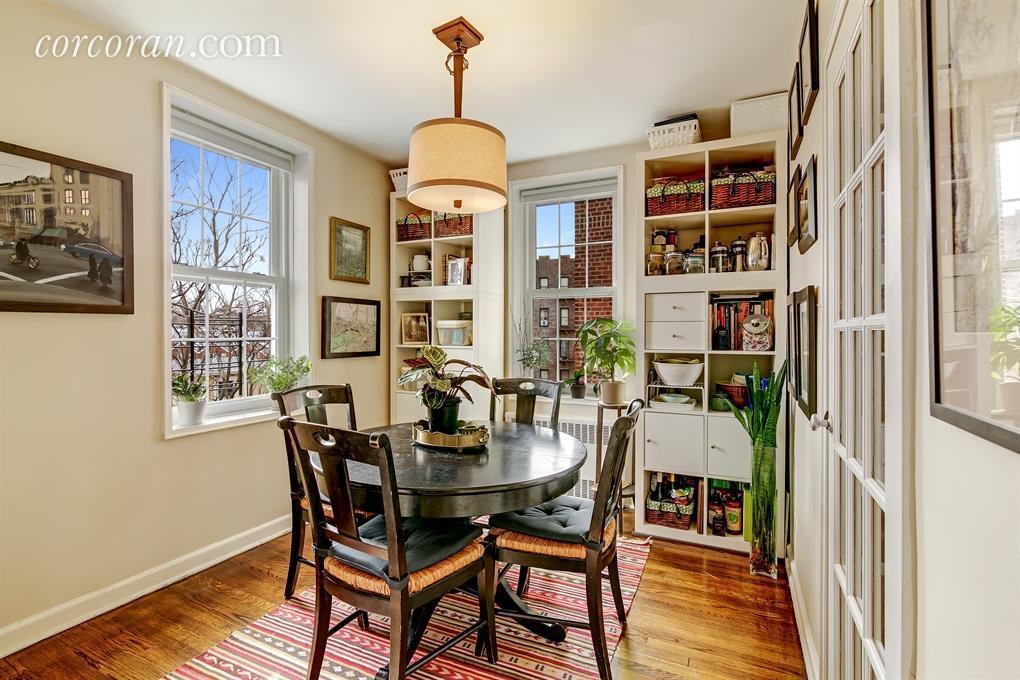 This two-bedroom co-op in Bay Ridge looks and feels like a single-family home. With a dining nook, large living room, tons of light, lovely built-in bookshelves and enough room for a piano, it's all set up for you and yours. Plus it's in a pet-friendly building with low maintenance fees and a garage.
Flatbush Two-Bedroom With Private Parking
This round-up proves that the dream of living in a place in a nice neighborhood with real bedrooms, low-maintenance fees and lots of light does come true. And not just at seven-figure apartments. Here's another great two-bedroom find in Brooklyn, listed for $399K. There are two big bedrooms, a recently renovated kitchen (with separate dining room), and super, super low maintenance fees ($475!). Do the math and with 20 percent down, your estimated monthly payment comes out to $1,908. And why are you renting, again?
Related: