Major sporting events come and go in NYC without much fanfare. The Major League Baseball All-Star Game or Kentucky Derby — who cares? Not much fazes the cynical spirit of New Yorkers. But when it comes to dogs, watch out. Yep, for all our disinterest and apathy, nothing melts our hearts more than the Westminster Dog Show, which will be taking over Madison Square Garden this weekend.
There's something about the earnestness of the dogs trotting around in concentric circles, the gravity of their loyal masters and, of course, the pure puppy zeal of the winning pooch that just gets us. Dogs! New Yorkers love their dogs dearly, but the city can be a challenging environment to raise one. To assist all the dedicated dog owners out there, StreetEasy has come up with a list of the best NYC neighborhoods for dogs and their owners.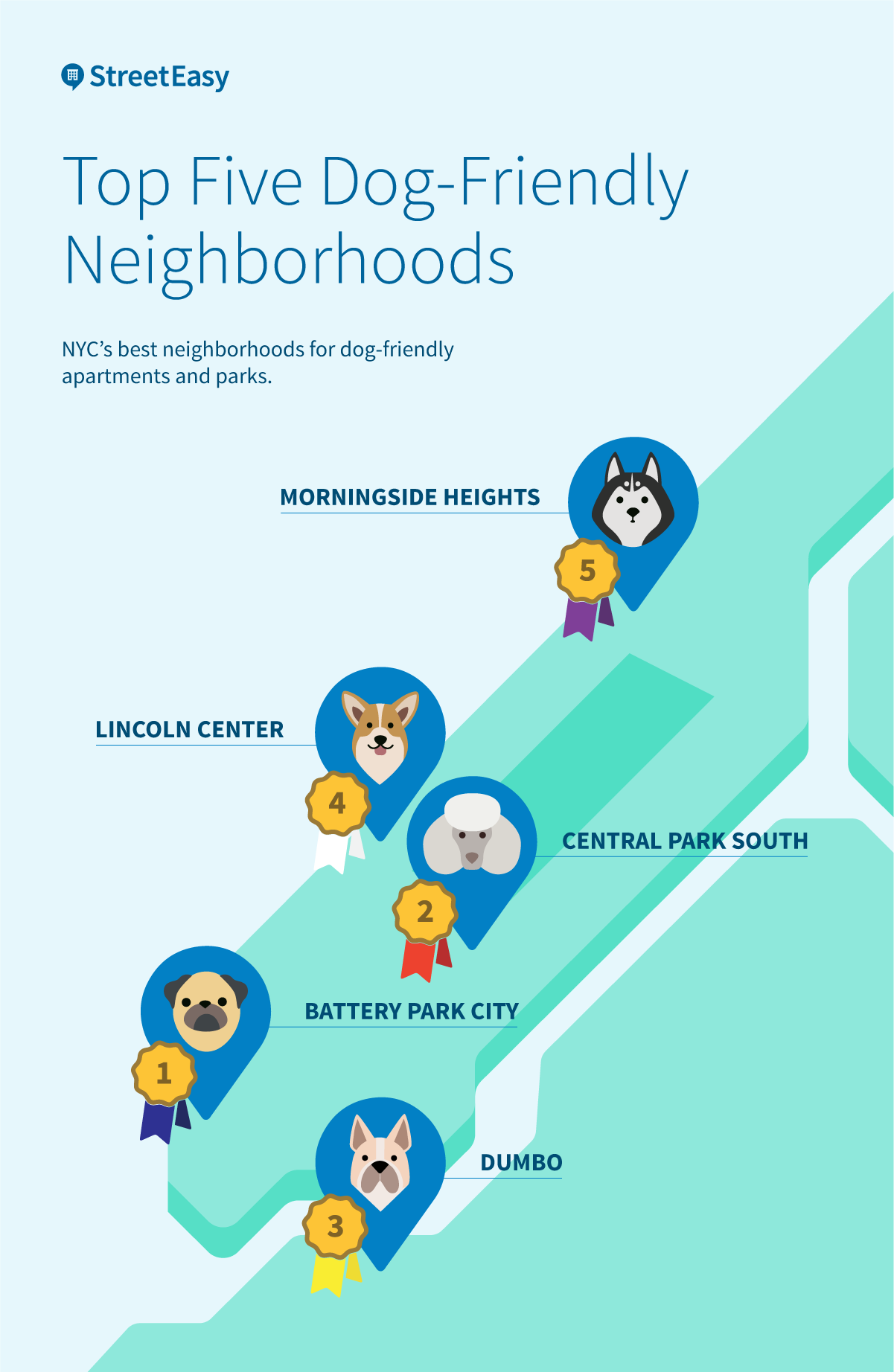 To help hone the list, we looked at neighborhoods with the most for-rent and for-sale listings that accepted dogs in 2016. To remove outliers, we made sure each of these neighborhoods had at least 200 listings. Finally, we cross-referenced these neighborhoods with proximity to local parks and green space to ensure that not only were the buildings canine-friendly, but the surrounding environments accommodate a dog's need to smell, pee, roll in the mud and chase other doge friends. Check out the roundup of neighborhoods below.

Battery Park City may be in the heart of concrete-dense Downtown Manhattan, but this sleeper dog-friendly enclave topped our list for best neighborhoods for dogs and their owners in NYC. The neighborhood offers tons of dog-friendly options for sale and rent (nearly half the total listings count in 2016) plus proximity to Battery Park Esplanade, which is great for jaunts with your favorite curly-tailed friend. The park's lawns and green space are often busy with kids on weekend afternoons so be sure to get there early if you want some toddler-less free time with your four-legged buddy. The park also offers three designated dog runs. Among other neighborhood amenities for Battery Park City is Le Pet Spa, a local pet shop and groomer on Rector Street where you can stock up on all your rubber Kong, swizzle stick and rawhide needs. Need a puppy pedicure or perm? Le Pet Spa has you covered too.

Central Park South may be best known for its luxury high-rises and multimillion dollar penthouses, but the French Poodles and their owners who reside in this exclusive enclave are fortunate in more ways than one. Many of the luxury buildings and high-rises welcome dogs with open arms and gentle, white-gloved hands. According to StreetEasy's findings, Central Park South is the second-best neighborhood in the city for dogs and their owners. Last year, over 40 percent of the total for-sale and for-rent listings on the market accepted dogs. On top of the high density of dog-friendly apartments, Central Park South offers you and your Bichon unparalleled access to the fields and lawns of Central Park. The 843-acre park offers 23 dog-friendly areas, many of which have designated off-leash hours between 6 a.m. and 9 a.m. every day.

Dumbo is the only Brooklyn neighborhood to break the top five best neighborhoods for dogs in NYC according to StreetEasy's findings. Although places like Park Slope and Bay Ridge have great access to park space, Dumbo has more dog-friendly for-sale and for-rent listings. Last year, 39 percent of all Dumbo listings were dog-friendly.
The cobblestone streets, converted lofts and artist galleries may seem better suited for well-heeled hipsters than playful blue heelers, but the area has a lot to offer by way of park space, dog runs and pet shops. Adjacent to the sprawling stretch of Brooklyn Bridge Park, you can find many pockets of dog-friendly activity. Your best bets are the dog run at Main Street just under the Brooklyn Bridge and the dog run at Pier 6 that is further south. The winding paths also make for great treks for you and your favorite Frenchie, Sancho. Just be sure to get out early when the park is still quiet and tourist-free.
In terms of neighborhood dog-friendly amenities and services, Dumbo has some high-quality options. Check out Cheeky Dog Doggie Daycare, which will be sure to keep Sancho smiling and snuffling while you're off socializing with your human friends.

Sure, Lincoln Square may be best known for its proximity to cultural institutions and its density of pied-à-terres, but for anyone who lives there, it's clear the neighborhood is perfect for empty nesters and their retirement pups. With tons of high-rises in amenity-laden condos, Lincoln Square suits the needs of selective investment owners and weekenders in for the latest show. And given the density of dog-friendly listings (nearly 36 percent, or 2,000 listings, in 2016), those buyers can bring Jasper along for their weekend in town. Plus with easy access to both Central Park and the esplanades along the Hudson River, Sunday morning strolls are a much welcomed and a much more cosmopolitan alternative to letting the old boy out back while the coffee brews at home in Greenwich.

With its wide avenues dotted with outdoor cafes and long boulevards abuzz with locals, Morningside Heights offers some of the city's best walking and people watching. Add a good-natured mutt loping along next to you and you'll be right in step with the low-key, neighborly vibe Morningside Heights offers.
The density of dog-friendly is solid at 34 percent of all for-sale and for-rent listings in 2016, but the real appeal for dogs in the Heights is the proximity to the rambling north woods of Central Park, the hilly paths of Morningside Park and long stretches of greenway and many dog runs of Riverside Park. Some pooches have even been seen riding in strollers. Add an occasional pet bird to the outing and you have a familiar, motley feel.
Sandwiched between the three parks, a dog and its owner never have to travel far to get to open green space. And even if they do, the neighborhood's overall hominess makes the trek to the park an enjoyable one. There are many pet-friendly outposts around the neighborhood including Paws Country Club kitty corner from Morningside Park and Snowball's Pet Grooming Salon on Columbus. For updates on local fauna and flora, be sure to read 'Out Walking the Dog,' Morningside Height's preeminent source of dog-centric news.
Related: