Nothing says carefree summer relaxation more than a great hammock. Add in an iced coffee, a big sun hat and a gripping page turner and you are set.
Fat chance of that happening in NYC though, right? Sure, while an apartment with a hammock in NYC is a rare gem, we've actually unearthed some places available for sale or rent. For those who prefer the out-of-home hammock experience, we've also rounded up the best public spaces where you can lounge on a hammock.
Summer in the City, Perfected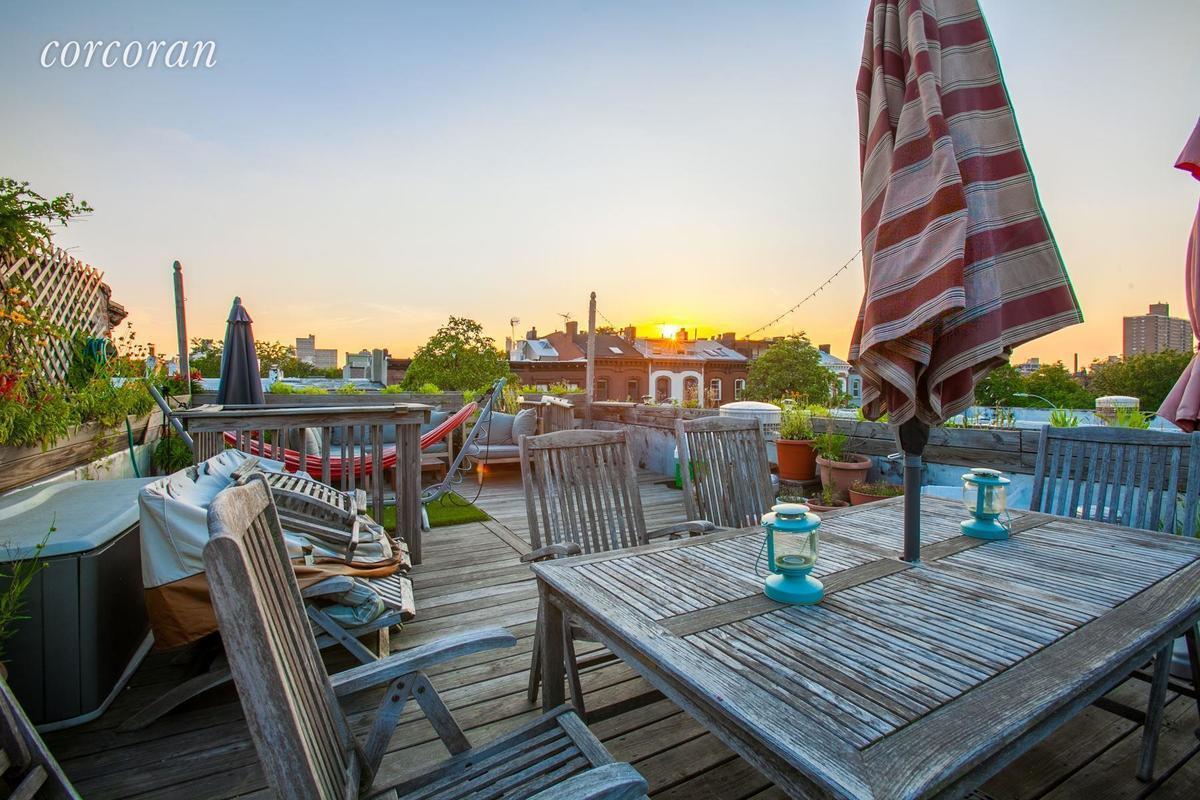 A picture speaks 1,000 words. Take one look at this pic and what more do you need to know? It's Brooklyn at its summer best. And here are the deets: this 3-bedroom duplex in Bed-Stuy offers nearly 900 square feet of roof deck tricked out with a hammock, grill and some low-key landscaping. Seems like the perfect place for summer to us!
Feeling Inspired? Get the Ultimate Guide to Sprucing Up Your NYC Outdoor Space
You'll Find Me on the Roof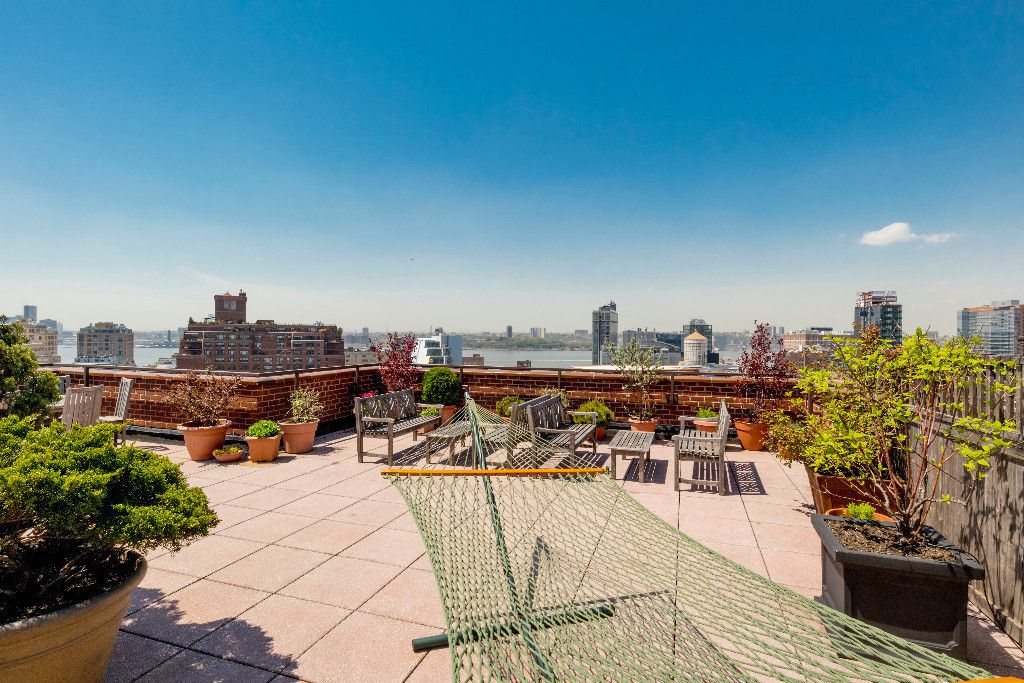 This studio on Horatio Street in the West Village is currently listed for $675K and while the apartment is nice – very nice – the real perk of the place is the incredible rooftop set-up, offering a lovely little herb garden, a blissful hammock and some incredible views of Downtown Manhattan and the Hudson River
The Perfect People Watching Perch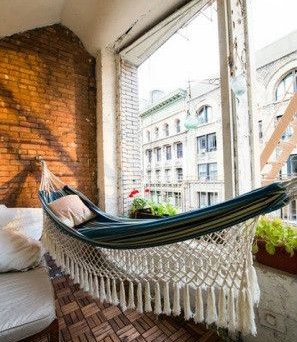 This Greenwich Village loft is currently for rent and offers a sweet little private outdoor space set up overlooking East 12th Street. From this dreamy, bohemian-inspired hammock you can take views of some classic Downtown Manhattan cast-iron buildings as well some top-notch summer time people watching.
The Williamsburg Roof Dream is Real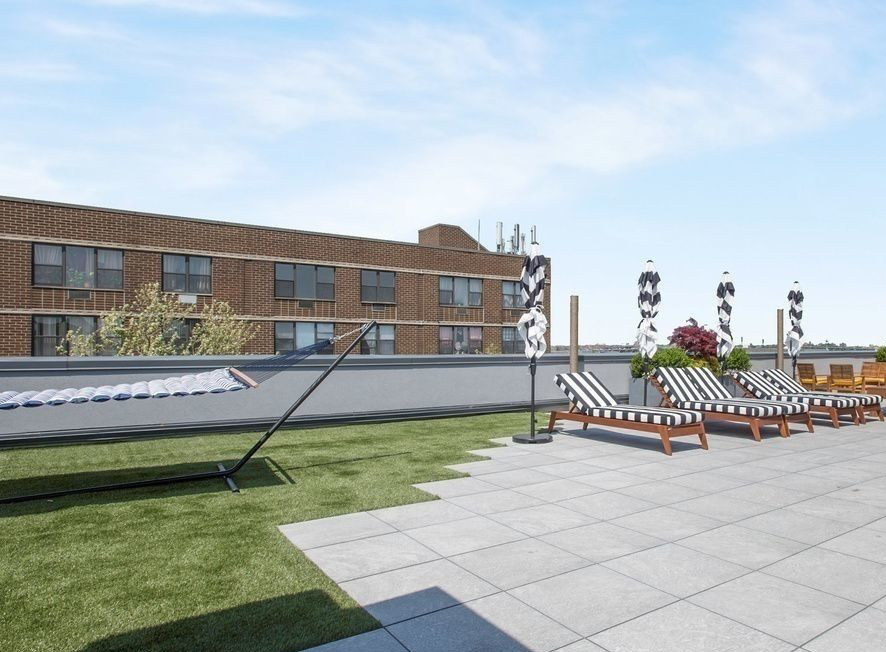 The shared outdoor space for this Williamsburg apartment features AstroTurf and lounge chairs, but the real draw is the skyline views that can be enjoyed from one of the multiple hammocks up for grabs.
Fort Greene Oasis Set-up for Summer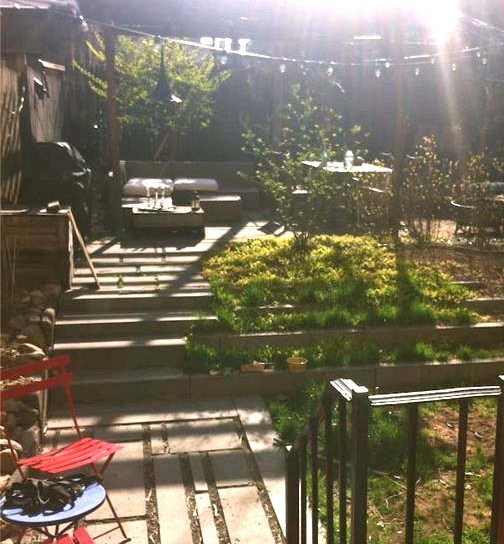 Located on Adelphi Street, easily one of Fort Greene's loveliest blocks, this one-bedroom garden apartment has access to a 1,200 square foot private back yard, complete with a pergola, a gas grill, outdoor seating area and… you guessed it, a hammock. It's currently on the market for $3,200/month and comes furnished, meaning that hammock is yours! Or, if you want your own indoor hammock, check out these vendors: Outside Modern, Hammock Town, and the Ultimate Hang.
Hammocks in Public Spaces
If these homes have you inspired, but you lack the outdoor space to set a hammock up yourself, keep your eyes peeled for hammocks in public places throughout the city.
On an Island in the Sun
Cue up the Weezer and head to the Governors Island's Hammock Grove, which opened a couple years ago. It's a great place to relax after looping the island on your bike. But get there early – competition is fierce and those hammocks get snatched up quickly. Best of all, access to the hammock grove is free.
View + Wine
Sunset at Rooftop Reds is easily one of the best Brooklyn summertime experiences. Located near the Brooklyn Navy Yard, this winery offers incredible rooftop views, locally made spirits and tons of hammocks. Sip some rosé and swing away!
In the Lap of Luxury
The Sky Terrace at Hudson New York in Hell's Kitchen is just one of the multiple great bars and restaurants at this trendy hotel. The outdoor rooftop bar boasts panoramic views of the Hudson River, as well as the Statue of Liberty. But we all know the real draw is its romantic, bohemian hammock.
Whether you're inspired to build your own private hammock sanctuary this summer or just planning on heading out the front door to score your own hammock for an afternoon, swing away, my dears!
Related: