If you've ever walked past a building and thought, "Now that is classic New York," chances are you have the Landmark Preservation Commission (LPC) to thank. As the entity responsible for protecting NYC's architecturally, historically and culturally significant buildings, the LPC grants worthy properties (or components of properties) with landmark status, thereby protecting these properties and/or elements from change.
This is great news for a city like ours, where new developments are popping up like Starbucks stores and building conversions are as frequent as G train malfunctions. There are more than 35,000 landmark properties in NYC (and counting), but we chose six of our favorite NYC residential landmarked buildings to explore a little more below.
100 Barclay, Tribeca
100 Barclay, otherwise known as the Verizon Building, is a historic loft building in Tribeca whose space is part commercial and part residential. Despite its current conversion to condos, its grand art deco lobby was designated as a landmark in 1991 and therefore is set to remain as is.
Originally home to the New York Telephone Company, the vaulted ceilings in its historic lobby depict the progression of human communication throughout the ages, with images ranging from smoke signals to the telephone.
>>>See Listings at 100 Barclay
The Dakota, Upper West Side
Designed by the same architect as the Plaza Hotel and the original Waldorf-Astoria, 1 West 72nd Street, aka "The Dakota," was built in 1884. At this time, it was one of the first residential buildings in New York to have elevators, which were operated by women in black dresses with white lace trim until the 20th century. It was a rental building until 1961, when it was converted into co-ops. The Dakota was designated an official landmark in 1969, citing its "special character, special historical and aesthetic interest and value as part of the development, heritage and cultural characteristics of New York City."
Although it was originally built and marketed to the aspirational upper-middle class, it's now considered one of New York's most coveted addresses, with current availabilities ranging from a $1.695 million one-bedroom to a $39 million five-bedroom.
Located on the corner of 72nd Street and Central Park West, the Dakota has been home to many celebrities over the years, including Lauren Bacall, Boris Karloff, Judy Garland, John Lennon and Yoko Ono. In December of 1980, John Lennon was shot dead outside of the building. Ono still lives in their apartment on the seventh floor and claims to have been visited by his ghost there.
90 West Street, Financial District
Built in 1907 by Cass Gilbert, one of the most prominent architects in New York in the first decade of the 20th century, 90 West Street was originally constructed as an office building. Its neo-Gothic design, marked by a grand mansard roof, soaring windows, sweeping arches and distinctive gargoyles, in combination with it being one of three major downtown office buildings designed by Gilbert, earned its exterior landmark designation in 1998.
Located immediately south of the World Trade Center site,  the West Street building suffered fire and structural damage as a result of the September 11th terrorist attacks. Due to the excellence of its construction and terra-cotta fireproofing, the building survived. It underwent major restoration and was converted into an apartment building.
The West Street building has a granite base, beige terra cotta walls and polychrome ornamental accents at the upper stories, culminating in a dormered three-story mansard roof. These Gothic-style elements are an early instance of their use in American skyscraper design, which set it apart from other skyscrapers and won it widespread critical acclaim.
>>>See Listings at 90 West Street
The Woolworth Building, Tribeca
Like 90 West Street, the Woolworth Building is also the creation of architect Cass Gilbert. According to its landmark designation report, this Gothic-style, terra-cotta clad tower "became the prototype for the tall romantic skyscraper that permanently transformed the skyline of New York and become the most potent image of twentieth-century urban America." Completed in 1913, the building's first floor interior and entire exterior were declared landmarks in 1983.
The Woolworth's exterior is marked by a gothic-inspired polychromatic terra cotta. This subtle use of color enhances shadows and accents the main lines of the structure, thus lending the building its dramatic appearance. Though the tower pyramid was originally gilded, it was later replaced by a green color in order to give it the effect of more height against a blue background.
The building's first floor interior is also landmarked thanks to its intricately detailed lobby, which features a grand arcade and entrance hall comprising colorful marble, bronze Gothic filigree, sculpted relief, mosaic vaults, glass ceilings, and painted decoration.
Developer Alchemy Properties is in the process of converting the top of the Woolworth Building into 33 condos. Although they are not yet available for move-in, you can check out the Woolworth Tower Residences at the Woolworth Building page here.
The Chatsworth, Upper West Side
Built in 1904, The Chatsworth was designed in a Beaux-Arts style that was popular in the early 1890s through the late 1920s. In 1984, the building's elaborate exterior was designated a landmark, thus preserving its ornate facade, adorned with garlands, quoins, keystones, human and animal sculpture, among other ornamentation.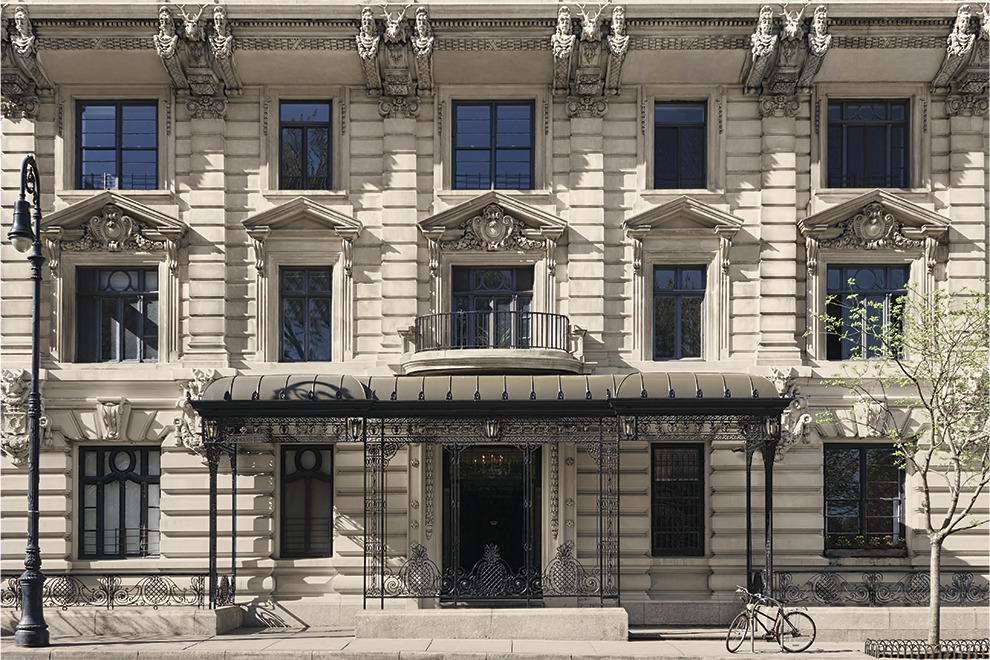 The Landmark Preservation Commission noted the Chatsworth to be an important turn-of-the-century example of the luxury apartment house, recalling "an era when wealthy New Yorkers began to forsake the practice of maintaining large houses in favor of residing in luxurious apartment buildings."
The Chatsworth began conversion from 137 rental units into 81 co-ops in 2014; 10 of its thirteen co-op units are currently in contract on StreetEasy.
>>>See Listings at The Chatsworth
70 Pine, Financial District
At the time of its completion in 1932, 70 Pine Street was the tallest building in downtown Manhattan and the third tallest building in the world. In 2011, the building's exterior and entire first floor interior were given official landmark designation, thus protecting its art deco facade and extravagant lobby from any additional changes, as alterations were made to both areas into the 1990s.
The interior's decorative grillwork, ornamental paneling, mail chutes, elevator control panels, aluminum detailing and marble patterns have been preserved following its landmark designation.
Related: