Every once in a while you stumble upon a beautiful listing that's not only totally unique, but also a total steal — so we had no choice but to feature 280 West End Ave. #A as our Deal of the Week! This Upper West Side studio is located in the former reception room of an 1880s Revival Romanesque mansion that was once home to the son and widow of President Ulysses S. Grant. They truly don't make buildings like this anymore. Although the building is old, the unit has been outfitted with modern updates. Here's everything you need to know about this one-of-a-kind beauty.
Upper West Side Homes Under $750K on StreetEasy Article continues below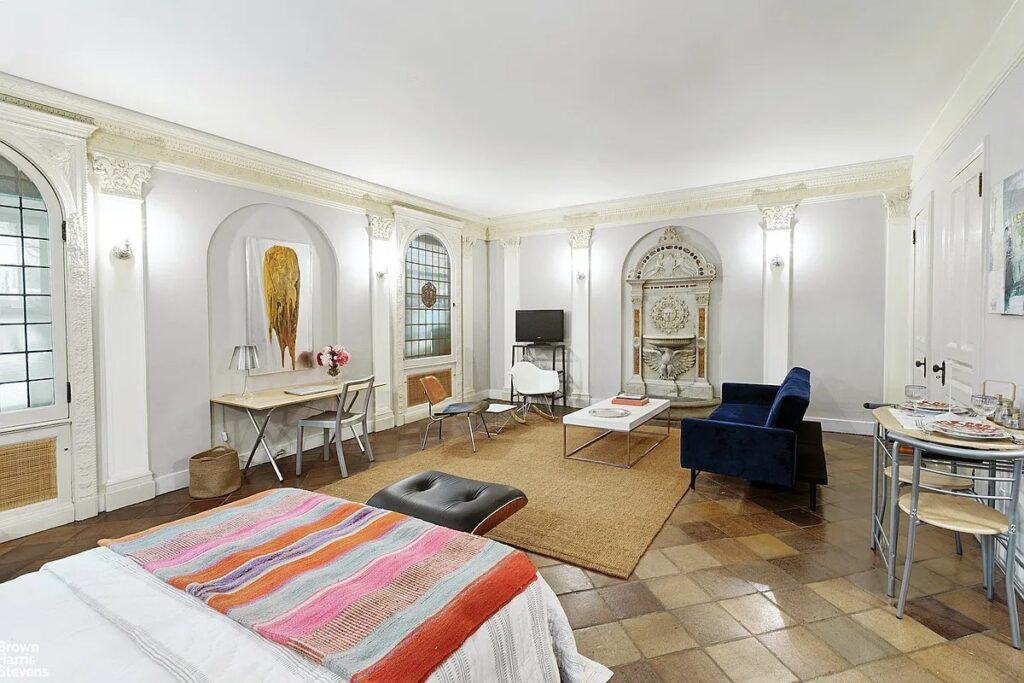 The Price: $400,000
The median asking price for a home on the Upper West Side was $1.8 million in November 2022, according to the StreetEasy Data Dashboard. That means our Deal of the Week is priced at less than a quarter of the median asking price for the neighborhood!
Buyers who stick with the 25% minimum down payment of $100,000 can expect to see monthly payments of $2,752. This includes a mortgage payment of $1,898 and a maintenance fee of $854. It's also significantly less than the median asking rent on the Upper West Side, which was $4,500 in November.
Why You'll Love It…
Where to begin? We have to address the arched windows, which feature gorgeous stained glass inlays. The inlays open up so you can get more direct sunlight from the south and west. Plus, the tiled terracotta floors and original moldings will certainly bring you back to New York's Gilded Age. The cherry on top is the antique Italian marble fountain, which still functions! Why have a fireplace when you can have a fountain?
Dimmable wall sconces throughout let you determine the lighting settings in the large 21-by-16-foot room. With that much floor space, you should have plenty of room for bedroom furniture, living room furniture, a dining area, and even a workspace. There are also two closets attached to this main space.
The unit's kitchen also functions as its entryway. Here you'll find full-size stainless steel appliances, including a mounted microwave and a dishwasher! Overhead cabinetry provides lots of storage space. The bathroom is located through a door off the kitchen and has its own window, plus a soaking tub.
The studio apartment is located in a self-managed, 8-unit converted mansion with a central laundry room, basement storage, and a pet-friendly policy. Location-wise, this place is also hard to beat: it's on the corner of West End Avenue and 73rd Street. Getting your daily dose of green space won't be hard thanks to Riverside Park being just a block away, and there's always Central Park, too. Head one block in the opposite direction and you'll find popular attractions like Levain Bakery, the Beacon Theatre, and countless other eateries and shops. You'll also have your choice of grocery stores such as Trader Joe's, Citarella, and Fairway, all within a couple of blocks.
…And Why You Might Not
The apartment is on the ground floor, which is not ideal for everyone, but at least you won't have to climb any stairs in the walk-up building to get to your unit. The bathroom is also a bit outdated in its tiling and fixtures. There aren't many lower cabinets in the kitchen — although that's the price you often pay to find a dishwasher in a studio.
If you're looking for a one-of-a-kind find on the Upper West Side, look no further!
Check out the listing at 280 West End Ave. #A, listed by Debra Weiner of Brown Harris Stevens.
---