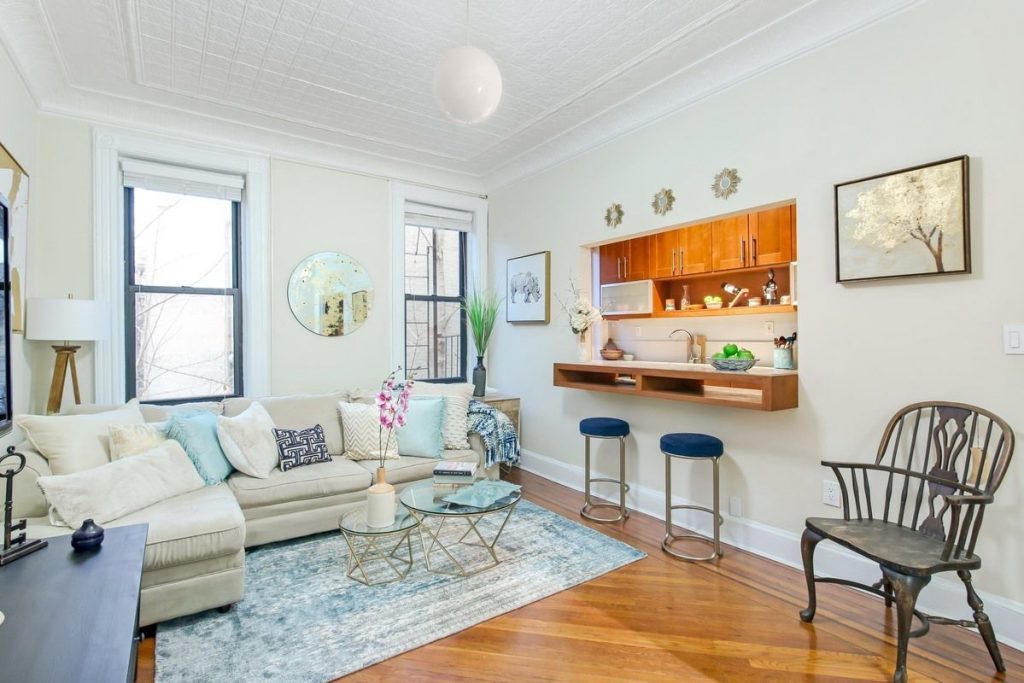 In NYC real estate, the label "junior 1-bedroom" is often a backhanded compliment. It can elevate to 1-bedroom status what really amounts to a glorified studio, or it can take a pseudo 1-bedroom down a notch. Either way, it's a term that gives potential buyers pause — for good reason. Here, however, we have a lovely co-op at 198 Seventh Ave. in Park Slope that has all the makings of a grown-up apartment, despite the fact that it wears the "junior 1-bedroom" label. It's listed by Shii Ann Huang of Compass, and it's One Block Over's Deal of the Week.
The Price: $495K
When it comes to Park Slope real estate, you can't beat this price. Asking $495,000, this co-op is priced way below the going rate in the neighborhood: Last time it was recorded, the median asking price for a 1-bedroom in Park Slope clocked in at $625,000.
If you're currently renting, this price is all the more appealing. With a 20 percent down payment of $99,000, the mortgage on this apartment would pencil out to a reasonable $2,576 per month, including the low maintenance fees of $607. That's only about $100 more than what you'd pay for a typical 1-bedroom rental in Park Slope.
Why You'll Love It …
Take a look at these images and you can tell this place is convenient, efficient and tasteful. It's far more sophisticated than the typical glorified studio. Located on Seventh Avenue between Second and Third streets, the apartment lies in the epicenter of the lovely, laid-back and perfectly mature neighborhood of Park Slope. It's two blocks from the main entrance to Prospect Park at Third Street, and right in the swim of Seventh Avenue's locally owned shops and restaurants.
The interior mixes old-school charm with a clean, recent renovation. You get historic crown moldings, tall windows, parquet floors, and tin ceilings — and you get an updated kitchen with stainless-steel appliances and a breakfast bar. Smart fixtures and finishes, like cherry-wood cabinetry, track lighting, pendant lamps, and built-in storage, up the appeal. Here are all those adult touches you'd never find in a rental.
… And Why You Might Not
About that junior 1-bedroom label: It's a fact this apartment is not a true 1-bedroom, since there's no window in the bedroom. While the bedroom area does has enough room for a queen bed and plenty of closet space, there's no getting around that it's small. That said, the current interior design seems to make it totally livable. If, however, you're not into having your only bedroom window open onto the kitchen, this place may not be for you.
Other downsides include a location right over the local US Post Office. Seventh Avenue is a pleasant commercial strip, and we can certainly think of more charming storefronts to live above. But then, maybe a downstairs post office will be convenient for all the grown-up errands you'll be running once you live here.
—
Hey, why not like StreetEasy on Facebook and follow @streeteasy on Instagram?