A brand-new residential development in Jamaica, Queens is ready for applicants for an affordable housing lottery. The Archer Merrick building at 92-61 165th St. is offering 88 units to qualified applicants. The deadline to apply is Oct. 16, 2017. Rents will start at only $494 per month, making this a truly affordable housing option in Queens.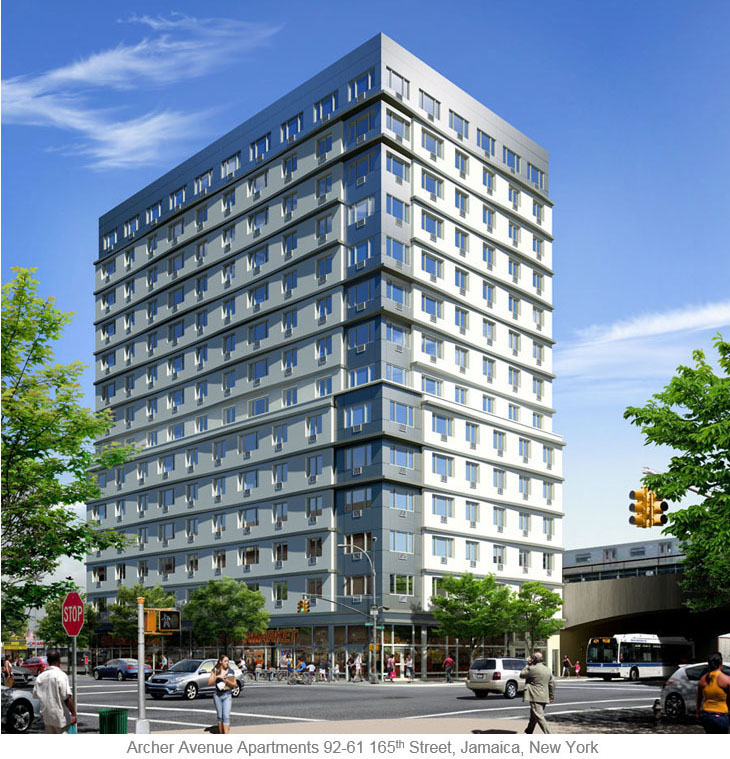 The 14-story building from NHS Development Corp., along with Arker and Slate Property Group, will offer studios units along with 1, 2, and 3-bedroom units.
Eligible applicants must earn 40 percent or 60 percent of the area median income. The range starts at $18,823 for a single-person household up to $66,420 for a 6-member household. The chart below shows salary ranges for each unit, along with monthly rental rates.

The new apartment building comes on the heels of a $8 million rehab project for the Jamaica transit hub, where LIRR commuter trains connect thousands of New Yorkers to subways and buses. There are plenty of retail shops and restaurants in this bustling part of Queens. Amenities in the Archer Merrick building include onsite laundry, bicycle parking, a recreation room and an outdoor courtyard.
To apply online, please go to NYC Housing Connect. To request an application by mail, send a self-addressed
envelope to: Archer Merrick, P.O. Box 20540, Floral Park, NY 11002. Applications must be postmarked or submitted online no later than Oct. 16, 2017.

—
Hey, why not like StreetEasy on Facebook and follow @streeteasy on Instagram?
Related: