Manhattan and Brooklyn can be beautiful places to live in New York City. However, they can also be quite expensive. This is why people searching for affordability sometimes turn their attention to the outer boroughs. Some compare the cost of living and lifestyles in Brooklyn and Queens. Others consider Queens vs. Staten Island. Are you the latter? Queens and Staten Island can indeed offer more bang for your buck in terms of both asking rents and sale prices per square foot. These boroughs are also considerably more car-friendly than Manhattan, Brooklyn, and even parts of the Bronx. So, how to choose? "It depends on who you are and your lifestyle," says Jonathan J. Bruno, a broker at Our Island Real Estate and a Staten Island native. The following aspects of each borough, plus some insights from real estate professionals on the ground, can help you decide.
Staten Island Homes Under $750K on StreetEasy Article continues below
Queens vs. Staten Island: What's Each Borough Like?
Located southwest of Manhattan, Staten Island is New York's least populous borough. It's accessible to Manhattan via the famous Staten Island Ferry, and the majestic Verrazzano-Narrows Bridge connects the borough to south Brooklyn.
"I really enjoy the community feel," says Bruno. "I feel like Staten Islanders are a little bit closer to one another than other New Yorkers."
Queens, on the other hand, is the largest borough by landmass and the second most populous borough after Brooklyn. Its neighborhoods are diverse and offer everything from suburban vibes to more compact, busy neighborhoods. Nicholas Compagne of Douglas Elliman has loved living in Queens and watching its neighborhoods evolve. He currently lives in Rockaway, which has seen new development in recent years.
"The ferry is a great way to commute, plus, it's brand new. And it's exciting to see all these new restaurants and developments coming to the neighborhood," he says. "Queen is a huge borough. It's incredibly diverse."
Queens Homes Under $750K on StreetEasy Article continues below
How Much Does It Cost To Live in Each Borough?
One of the factors to consider when deciding to live in Queens vs. Staten Island is the cost. Renters in both boroughs will enjoy cheaper rents than in Manhattan or Brooklyn, but Staten Island is technically cheaper. According to the StreetEasy Data Dashboard, the median asking rent in Queens in December 2021 was $2,300, while the median asking rent in Staten Island was $2,070. However, there are far more rentals available in Queens than Staten Island. For that same month, we found 51 Staten Island listings compared to 4,212 listings in Queens. And Queens is full of neighborhoods offering more affordable rents.
If you're looking to buy a house in Staten Island, you'll most likely shell out more cash. For example, as of December 2021, the median asking price for a home there was $699,000. The median asking price in Queens was $585,000 for the same time period. However, both boroughs are far below the median asking price in Manhattan, which was $1.5 million in December.
"We're seeing a lot of people from Manhattan move over to Long Island City and Queens in general, just because of the pricing," said Debbie Huang, real estate agent with Modern Spaces.
There's plenty of movement in Staten Island, too, especially for those who are seeking single-family homes.
"I've found a lot of young families and new families coming to Staten Island from Brooklyn or Queens because they'll have a yard space, or a driveway, or just a little bit more room to be a little bit more relaxed," Bruno shares.
Want To Buy in Queens or Staten Island?
And here's a pro tip for those looking to buy or even sell in one of these boroughs. StreetEasy can match you with a verified Expert real estate agent to help with your home journey. In our humble opinion, there is no better way to find the best person to work with based on our goals.
Queens Rentals Under $3,000 on StreetEasy Article continues below
Queens vs. Staten Island: Where Are the Cheapest Neighborhoods?
There are a wide variety of price points in different neighborhoods in Queens and Staten Island. For instance, if you want to buy in an upscale Queens neighborhood close to Manhattan, like Long Island City, you'll shell out a median of $1.1 million. That's the equivalent of the median asking price in one of Staten Island's more expensive neighborhoods, Todt Hill, the highest point in New York City.
But there are more affordable neighborhoods in both boroughs as well. Take, for example, Forest Hills in Queens, where the median asking price was $395,000 in December 2021. The median asking price in the Staten Island neighborhood of St. George was $577,000 for the same month, although it should be noted that many Staten Island neighborhoods don't record enough monthly sales to calculate median prices. So rest assured there are deals to be found in both boroughs, depending on where you want to live.
Staten Island Rentals Under $3,000 on StreetEasy Article continues below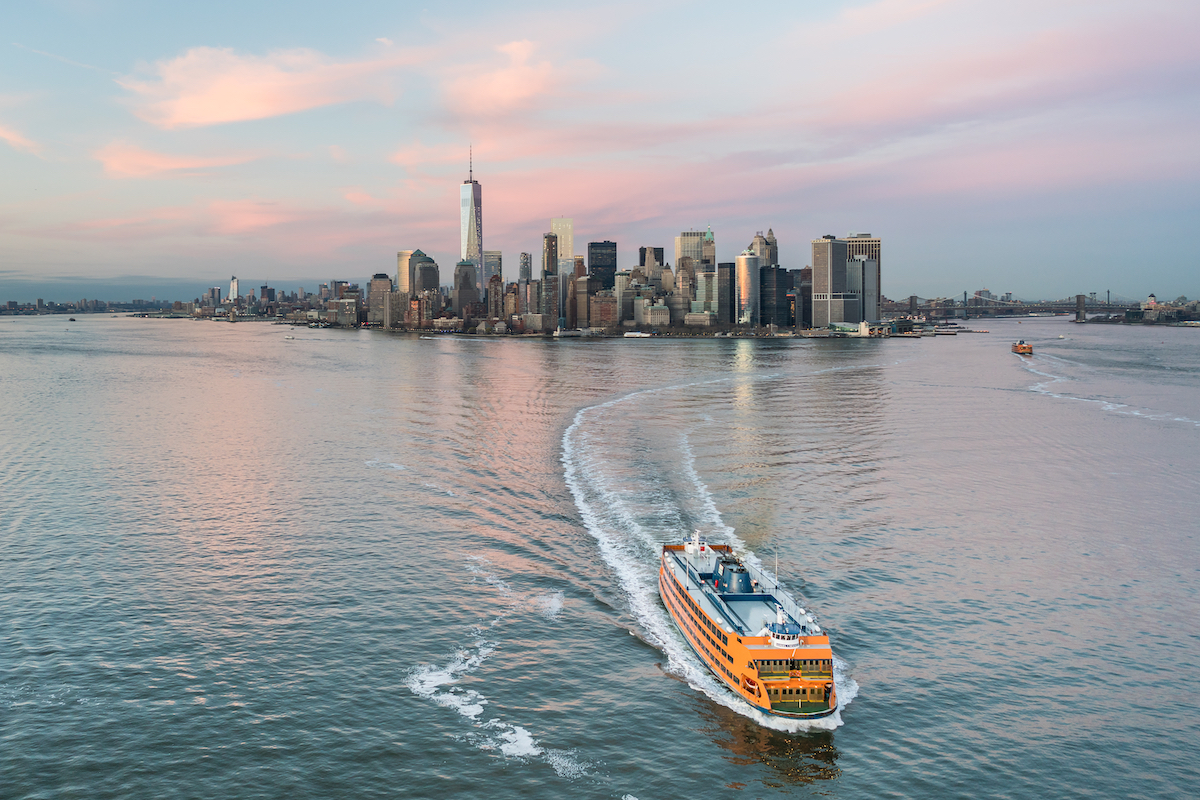 What Commuters Need To Know
Commutes might be one of the most important factors of the Queens vs. Staten Island debate. Staten Island is serviced via the Staten Island Railway — serviced by the MTA — which only runs down the east end of the island. Because Queens is so large, some parts of it aren't accessible via the subway at all, however many of those are serviced by bus.
Still, most parts of Queens are very accessible via train: the 7, G, E, F, M, N, R, and W lines all run throughout the borough and can get you to Manhattan and Brooklyn. Neighborhoods like Astoria and Long Island City are only a stop or two away from Manhattan.
However, if you own a car, both boroughs are fairly car-friendly. In general, neighborhoods further out in Queens, such as Rockaway, are more car-friendly than the neighborhoods closer to Manhattan. Staten Island is even friendlier, with lots of driveways and ample parking.
What About Ferries in Queens vs. Staten Island?
Both boroughs are accessible to Manhattan via ferry, but the Staten Island Ferry is completely free, and it runs 24/7. The boat takes off from the St. George Ferry Terminal and can get you to Whitehall Ferry Terminal in Lower Manhattan in about 25 minutes. However, you'll need to get to the ferry first, which will require living near the railway, a bus line, or owning a car.
Queens has three ferry options. The Astoria route and the East River routes can both get you to Midtown and Wall Street with stops in Astoria, Long Island City, and Hunters Point. And the Rockaway route connects the Rockaways, Manhattan, and Brooklyn, but doesn't have any other stops in Queens.
For yet another (but pricier) transit option, the Long Island Rail Road also runs through Queens, with stops in Jamaica, Kew Gardens, Forest Hills, Woodside, Long Island City, Flushing, and more. These trains offer zippier commute times to Manhattan as well as easy access to Long Island. (Weekend in the Hamptons, anyone?)
And if you fly often, Queens is home to both of NYC's airports, JFK and LaGuardia. Plus, JFK is accessible via the AirTrain, so you don't need to catch a cab to get there, especially if you already live in Queens.
Astoria Rentals Under $3,000 on StreetEasy Article continues below
Best Outdoor Spaces and Parks
Queens and Staten Island both boast tons of outdoor space and beautiful public parks. Additionally, both offer what some consider the most enviable outdoor space of all: beaches. Queens has the Rockaways, a large peninsula with miles of beaches and tons of cute shops, a boardwalk, and new housing developments.
Compagne, who lives in Rockaway, says he loves being able to surf whenever he wants. And being able to access so much open, outdoor space is a real plus, and was particularly so during the early part of the pandemic.
"Everybody had their own space, you could take a walk on the beach, you could relax," he says. "It was kind of like a mini paradise."
Meanwhile, Staten Island has tons of waterfront, most of which face the Lower Bay. The Franklin D. Roosevelt Boardwalk and Beach provide miles of sand and boardwalk. Small beaches like Cedar Grove in Great Kills Park offer more laid-back, secluded vibes.
Public Parks Abound in Both Boroughs
If we're talking leafy square footage, though, Staten Island maintains an edge over Queens. The borough contains 10,000 acres of park space, making it the greenest of all five boroughs!
"I've heard Staten Island referred to as the 'borough of parks,'" says Bruno. "And we do have a lot of nice hidden gems."
Latourette Park is home to a gold course and other green spaces and is connected to other parks like Willowbrook Park and the William T. Davis Wildlife Refuge. Plus, there is more parkland to come. Freshkills Park, which was formerly the world's biggest landfill, is set to be three times the size of Central Park once completed.
Queens has some great parks too, though. Flushing Meadows-Corona Park consists of 898 acres, making it larger than Central Park! Compagne recommends Fort Tilden, a park on the west end of the Rockaway peninsula. The former military site now hosts athletic fields, hiking trails, an arts center, and a theater.
Huang loves visiting Gantry Park in Long Island City with her dogs. The park faces the Manhattan skyline and is near lots of great restaurants, too.
Saint George Rentals Under $3,000 on StreetEasy Article continues below
What Are the Biggest Attractions?
Besides parks, both boroughs contain a wide variety of landmarks and attractions.
Queens' Citi Field is the home of the New York Mets. Staten Island has its own minor league baseball team, the Staten Island Yankees (confusing, we know), who play at the Richmond County Bank Ballpark.
Queens museums include the Queens Museum in Flushing Meadows-Corona Park, which features rotating exhibits along with its permanent collection. The Museum of the Moving Image, dedicated to cinema, is in Astoria, along with the Socrates Sculpture Park. Long Island City is home to an outpost of the Museum of Modern Art, MoMA PS1. And for the science lover, the New York Hall of Science is located in Corona.
You'll find many museums in Staten Island, too. The Sailors' Snug Harbor Cultural Center and Botanical Garden is a repurposed sailing community that hosts many attractions, including the New York Chinese Scholar's Garden, Newhouse Center for Contemporary Art, Staten Island Museum, Children's Museum, and Music Hall. Historic Richmond Town is another well-preserved community with 15 restored buildings including a courthouse and general store.
Forest Hills Homes Under $500,000 on StreetEasy Article continues below
Restaurants and Bars in Queens and Staten Island
​​You'll eat well in both boroughs, although Queens has the edge when it comes to variety and international options. Huang describes Queens as a "melting pot of cuisine," adding that new restaurants are popping up all the time in every neighborhood. If you enjoy trying lots of different cuisines, stop by the New York Food Court in Flushing. Zum Stammtisch in Middle Village is a German beer hall serving traditional German fare that's been around since 1972. Huang recommends Casa Enrique, a Mexican spot in Long Island City with excellent margaritas and refined cuisine.
Staten Island is known for its Italian fare, like Patrizia's of Staten Island and Max's Es-Ca. But there are plenty of other mouth-watering restaurants in the borough, like the Spanish restaurant Beso and the cajun restaurant Bayou.
"Everywhere you go, they treat you like family," Bruno shares. "And that's a great thing."