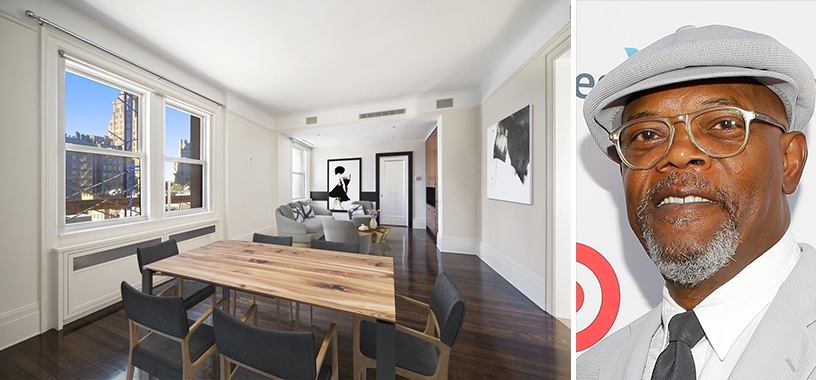 Samuel L. Jackson and wife LaTanya Richardson are selling their 4-bedroom condo at 26 E. 63rd St. in Lenox Hill. The 3,000-square-foot unit is now listed for an even $13 million. The couple has lived in the building for the last 13 years, since purchasing the eighth-floor unit back in 2005 for $4.8 million. The New York Post broke the story shortly after the property hit the market Nov. 7.
In addition to its 4 bedrooms, the property features 3 bathrooms, an eat-in kitchen, a large living and entertaining space, a wet bar and direct views of Central Park. The Leonori is a full-service, 13-story condominium off of Madison Avenue, built in 1901. Based on the photos, it looks like the property was once set up as the family home, but is now sitting unoccupied. The walk-in closets are conspicuously missing Jackson's signature collection of golf caps.
Prior to purchasing the condo at the Leonori, Jackson and his wife owned a brownstone in Harlem, which they sold in 1997 for $125,000. Twenty years later, you can only speculate what the couple would now make on the property. But rest assured, they did well on the resale, originally having purchased it in 1981 for $35,000. That amounts to about half of what monthly payments will total for their newly listed property after a 20 percent down payment.
There is no news as to where Richardson and Jackson, who will turn 70 in December, may move. If he's like the rest of Manhattan's golf-loving, septuagenarian set, our bets are on Florida.
—
Hey, why not like StreetEasy on Facebook and follow @streeteasy on Instagram?