Changing Grid is a data-driven series from StreetEasy that explores new developments or rezoning sites across New York City and examines the potential impact they've had on the real estate market of surrounding neighborhoods. The first installment, "Changing Grid: Exploring the Impact of the High Line," examines the High Line's effect on surrounding real estate values and development. This second installment takes a deep dive into the past, present and future of the Second Avenue subway.
The Second Avenue subway looms large in the city's collective consciousness. The decades-in-the-making infrastructure project has become synonymous with setbacks and delays. It has attracted the fascination and loyalty of transportation engineering wonks across the city, served as the subject of thousands of elementary school reports and inspired countless memes and metaphors expressing failure and frustration. The planned Dec. 31, 2016 opening of the first phase stands not as a culmination, but rather a first step towards a modified realization of the decades-old project. Already this projected opening date is proving tentative as recent reports have suggested further delays.
In this study, we take a look back at the development of the Second Avenue subway project, assess its current status and that of the transportation-deprived rental market along First, Second and Third avenues and will provide predictions on how the new line will impact future rent prices.
Highlights
StreetEasy focused on the area directly surrounding the planned Second Avenue subway extension – from 79th Street to 96th Street and spanning First, Second and Third avenues — to examine the current and future impact of the line on rent in the area.
Looking over the past five years, median rent surrounding Second Avenue has appreciated by 27 percent – almost double that of Third Avenue (14 percent) and significantly more than First Avenue (19 percent).
Due to this acceleration in rent appreciation, the price gap is closing between all three avenues. Third Avenue is still the most expensive with a median rent of $2,873 as of September 2016, but First Avenue ($2,554) and Second Avenue ($2,520) are close behind.
StreetEasy also looked ahead to predict rent appreciation once the first phase of the Second Avenue subway extension is completed. Based on this projection, renters surrounding the new 72nd Street station and the 96th Street station could be subjected to an increase of $462 per month, based on a commute time decrease of 14 minutes to Midtown Manhattan. Those near the 86th Street station can expect a median rent increase of $330 per month, corresponding with a 10-minute decrease in commute time.
History of the Second Avenue Subway
The project began in the 1920s in response to a surge in subway passengers following World War I. Annual ridership had already surpassed 1.3 billion when Daniel Turner, a civil engineer, published his Proposed Comprehensive Rapid Transit System, an ambitious plan for the expansion of the city's subways. In it, he outlined the development of the Second Avenue subway line as the city's pre-eminent transportation and infrastructure project. The plan, estimated to cost $98.9M ($1.4B today,) got the go-ahead, causing excitement and rising expectations around the project. According to a 1929 New York Times article, real estate prices along the proposed route reportedly increased an average of 50 percent.
That early green light, however, proved to be untimely and perhaps, too audacious. Just months after the plan was approved, the stock market crashed, which marked the start of decades of dashed expectations and setbacks. In the ensuing years, plans for the Second Avenue subway were stymied by the hard times brought on by the Great Depression, to the reallocation of funds and resources for World War II, to NYC's dark and dire days of the 1970s. Interspersed through it all were the entrenched bureaucratic inefficiencies and stand-offs between city and state that define local politics.
Current Status of the Second Avenue Subway
What is being built now is a greatly scaled-down version of the original master plan put forth in the 1920s. The current two-mile, three-station extension of the Q line pales in comparison to the expansive city-wide project of 1920s.
Review those old proposals, however, and any cynical New Yorker will sense the hubris or at the very least, Utopian disconnect in the grand ambition and scope of it all. A six-track tunnel cutting down the length of Second Avenue? New routes under every north-south Manhattan thoroughfare? Connections to lines in Brooklyn and Queens? Crossings into Staten Island? Who were they kidding? No wonder it failed!
As it stands now, the Second Avenue subway plans to open Dec. 31 and will certainly help alleviate the seriously and systemically overcrowded Lexington Avenue line. With NYC subway ridership reaching its highest levels since 1948, the new line's capacity to carry 200,000 riders daily will help absorb the overflow from Lex.
Once the Second Avenue subway is fully completed, service will extend 8.5 miles down Second Avenue from 125th Street in Harlem to Hanover Square in the Financial District. Four separate phases are planned, starting with the current Phase One, which started construction in 2007, costing $4.5 billion and adding three new stations. The segment will reroute the Q from its current last stop at 57th Street and Broadway to 63rd Street via the BMT line and then turn up Second Avenue and terminate at East 96th Street. The full line, when funded and finished, will add an additional 13 stations and 6.5 miles of tunnel, bringing the total tally up to $17 billion.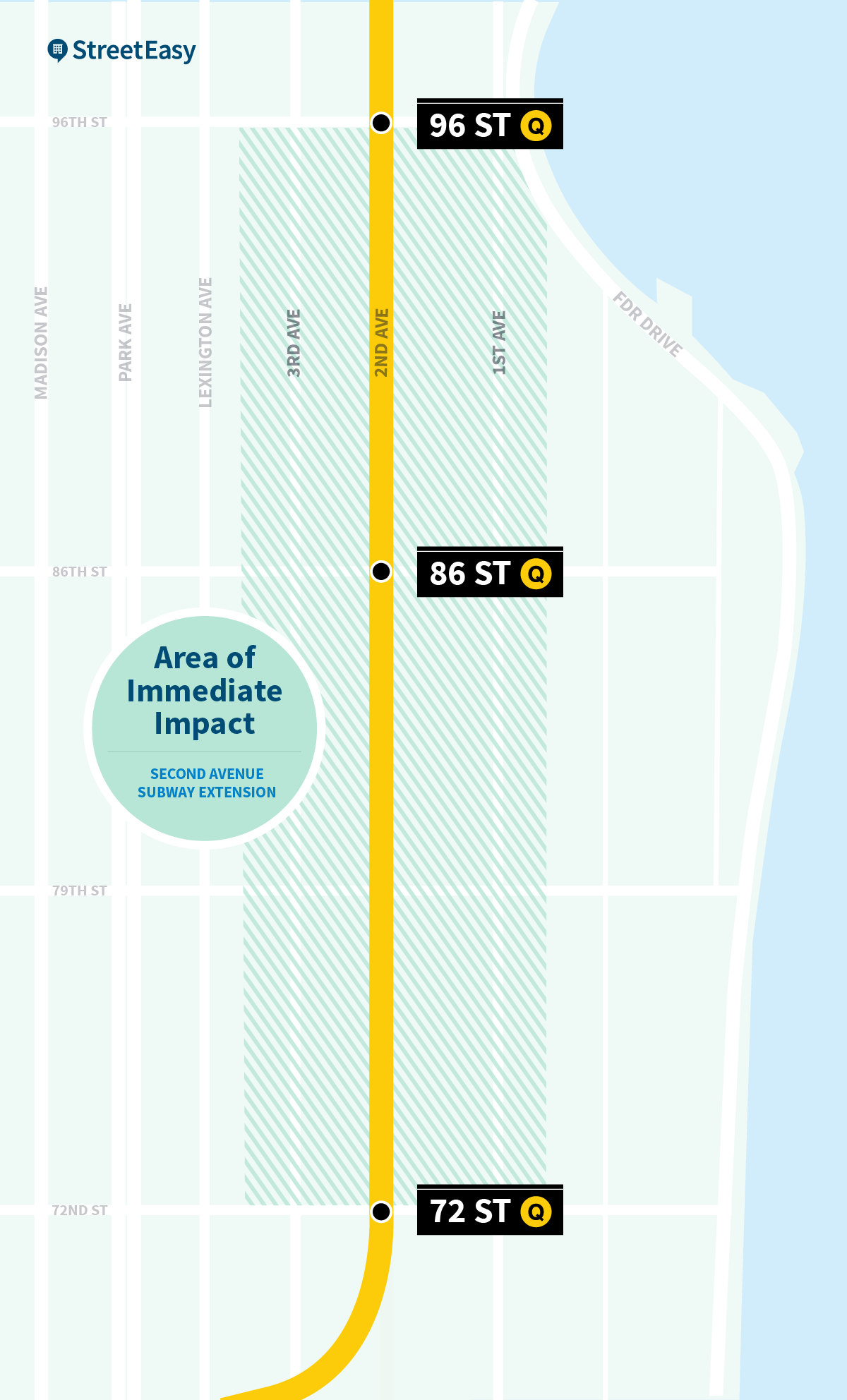 An Opening Scheduled With an Asterisk
When ground broke in 2007, Phase One was scheduled to open and operate by the end of 2013. By 2011, that deadline was pushed back to 2016. And now with a month to go, potential delays are lurking and MTA workers are likely to be burning the midnight oil to get the project completed by the Dec. 31 deadline.
Delays and dreams deferred have come to define the Second Avenue line and have even worked their way into popular culture. "Mad Men" fans will ruefully recall the episode in which Peggy Olson, riding the wave of a recent promotion, looks to buy a co-op in Yorkville in the 1960s. The real estate agent, eager to close the deal, cites that the apartment will "quadruple in value" once the Second Avenue line opened.
The coming Second Avenue subway and real estate value in Yorkville have always been in polite lockstep, with one insisting that the other go first and neither making a move. Although the gains in real estate value in Yorkville have been as slow to build as the subway line itself, there has been noteworthy change in the rental market surrounding the Second Avenue subway in recent years.
Yorkville Rental Market Heats Up as Second Avenue Subway Approaches Completion
Yorkville has never been anyone's first choice. For decades, the neighborhood has been known primarily for two things – long walks to the subway and low rent prices. But in the past five years, rental prices in Yorkville have begun to take off both in comparison to the Upper East Side and Manhattan at large.
[tableau server="public.tableau.com" workbook="2ndAveRentChange" view="Dashboard1″ tabs="no" toolbar="no" revert="" refresh="yes" linktarget="" width="600px" height="720px"][/tableau]
"Rising rents along Second Avenue could indicate that New Yorkers and landlords are finally anticipating the opening of the subway line after decades of delay," says Krishna Rao, StreetEasy data scientist.
What is most interesting, perplexing almost, is that this trend has been most acute along Second Avenue. Historically, renters could bank on Second Avenue being the most affordable section of Yorkville. In 2011, rents along Second Avenue were $1,985/month – 7.3 percent less than the median rent commanded just a block over on First Avenue and a 21.1 percent discount from the median rent along Third Avenue. Looking back, these discounts were easy to account for. Second Avenue cuts through the heart of Yorkville and offers none of the perks of the avenues to the east or west. Third Avenue is just a block from the Lex line and offers relative convenience. While First Avenue may be further from the Lex than even Second Avenue, its proximity to the water and Carl Shurz Park have been cited by residents and real estate agents as a value-add. Second Avenue can claim neither and as such has figured the least desirable, if most affordable, section of the neighborhood.
You'd think that the Second Avenue subway's nearly decade-long construction project would be the nail in the coffin for rents along the commercial strip, sealing its fate as a bastion of under-valued, undesirable apartments. One assumes the combination of jackhammers, tunnel-boring machines and unsightly construction sheds would pit the area as even less desirable than before. However, in the past five years, rents along Second Avenue increased at a rate of 27 percent compared to 19 percent and 14 percent along First and Third avenues, respectively.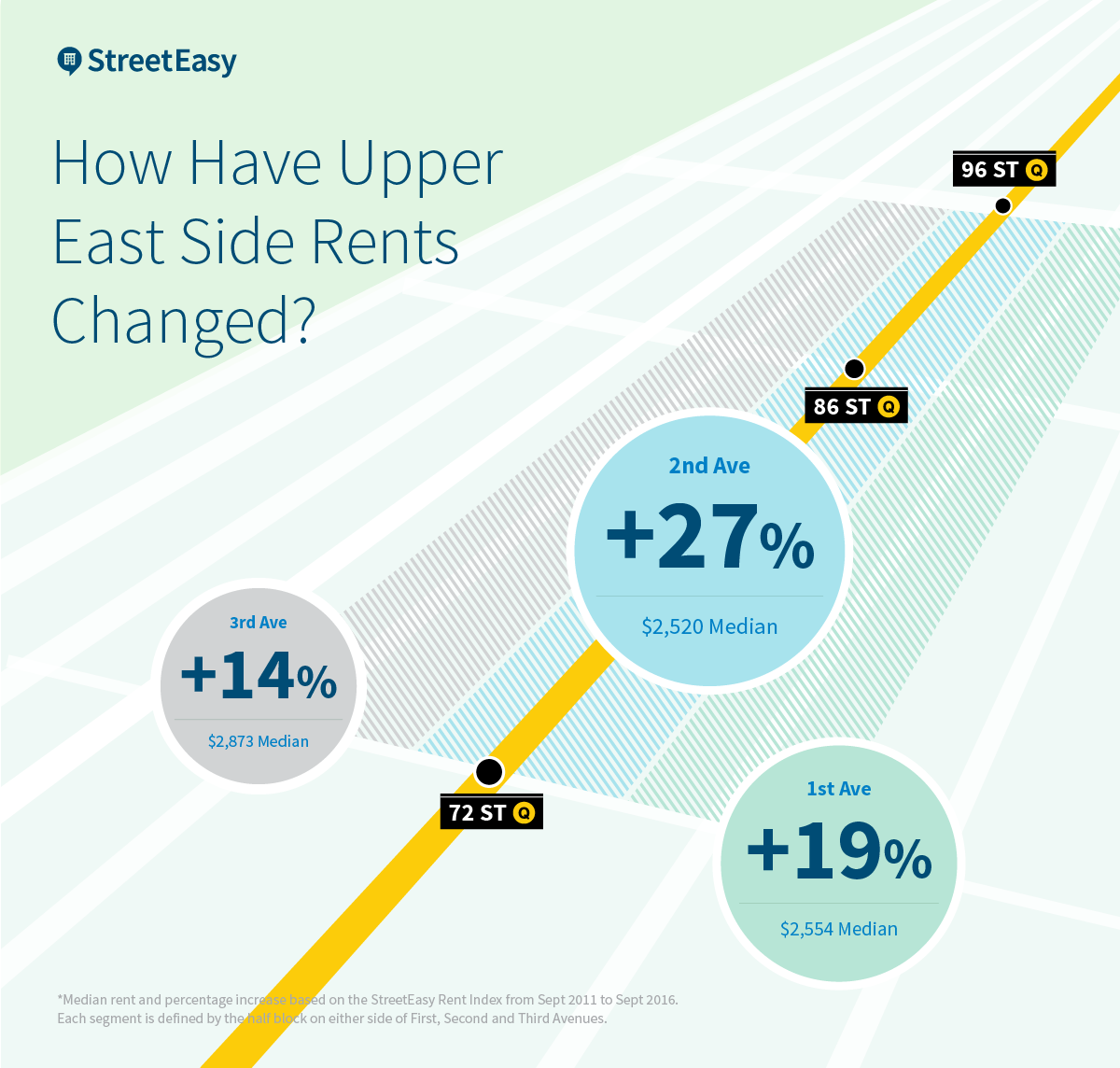 Yes, the discounts renters could count on along Second Avenue are shrinking. Five years later as the subway line comes closer to its projected opening date, Second Avenue only offers a 1.3 percent discount from First Avenue and a 12.3 percent discount from Third Avenue. Once the line is up and running, could the discounts Second Avenue once offered be a thing of the past?
Rent Increases on the Horizon as Second Avenue Line Takes Off
In the land of New York City real estate, good location translates to convenience. According to this local parlance, there are three synonyms for convenience: proximity to downtown Manhattan, proximity to Midtown and proximity to public transportation. Time is money after all.
"Public transportation can be transformative for a neighborhood, increasing value through convenience and opening up the area to people who wouldn't otherwise be able to access it easily," says Rao.
Research backs this up. Earlier this spring we did a study on how overall commute times impact rent. Using 42nd Street as the destination point, we looked at all MTA subway stations along with rent prices near those stations to determine how much renters spend per minute on the subway. The results were staggering. Renters will pay an additional $33/month for every minute they save on their commute to 42nd Street.
The negative correlation between rent and commute time is nowhere more evident than in Yorkville, easily one of the city's most well-known subway deserts. With a new subway line imminent, however, this is ripe for change. The three new stations spell greater subway access, which will also spell increases in rent if our commute time calculus holds true.
We applied our formula to the new stations scheduled to open at 72nd Street, 86th Street and 96th Street along Second Avenue. See the graphic below for the projected rent increases for apartments accessed by these new stations.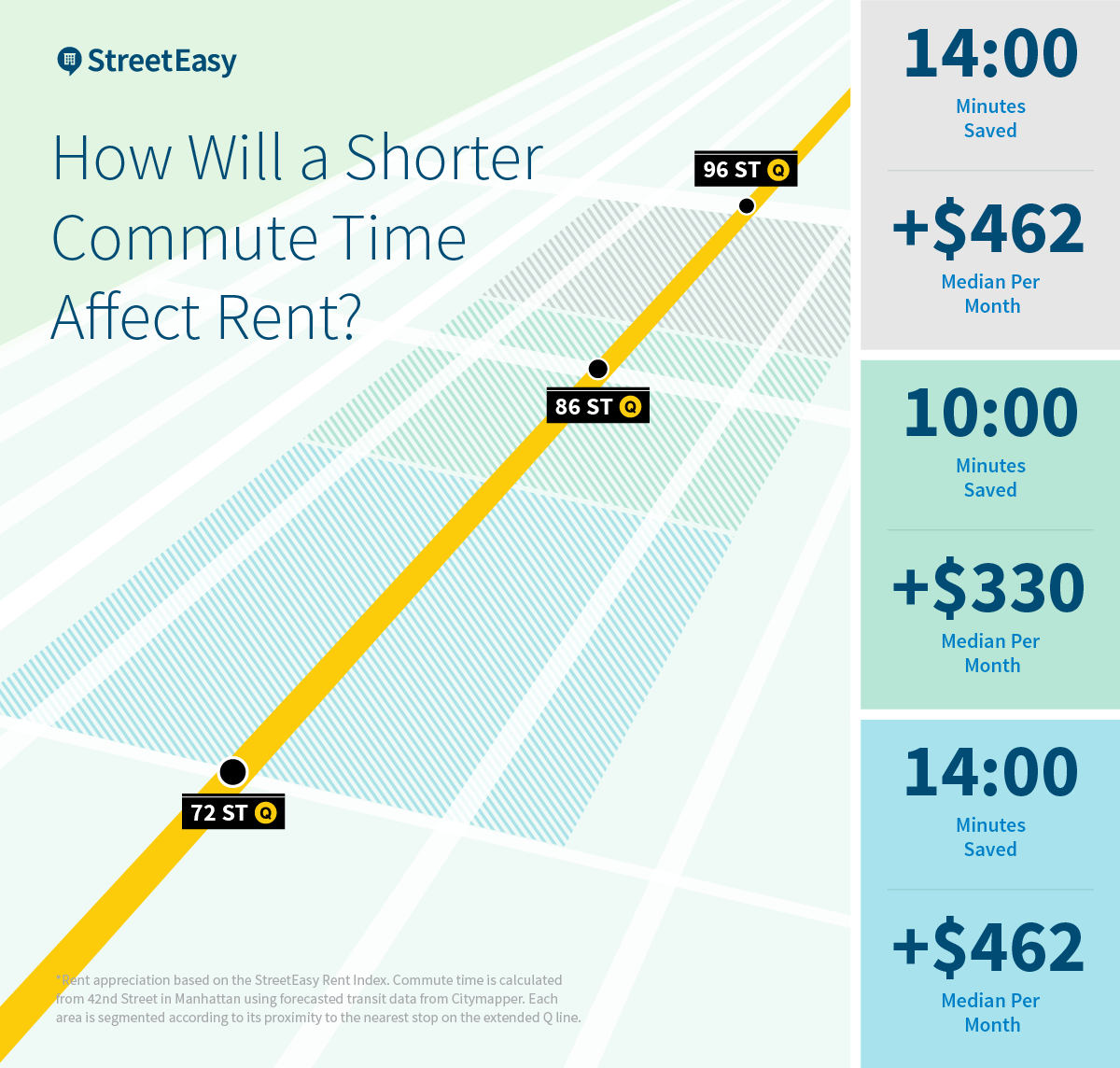 According to our findings, the most dramatic impact on commute time and rent will be at apartments accessed by the new 96th and 72nd Street stations. Renters who use these as their local stations can expect commutes that are 14 minutes shorter as well as rents that are $462/month higher. Since these areas have been farthest from the Lexington Avenue express station at 86th Street, they historically have formed the epicenter of Yorkville's transportation wasteland.
Renters who use the 86th Street station, however, are predicted to see a less dramatic impact on their commute time and rents. The new Second Avenue extension will shorten their commute by 10 minutes and raise their rent by $330/month. Residents who use the new 86th Street station on the Second Avenue line have previously had access to the existing 86th Street Lex station. As a result, they will not see as dramatic declines in their commute times or increases in their rent.
Sadly, renters who will benefit the most from increased accessibility will face the most dramatic increases in rent. An 18.3 percent increase in monthly rent could be a breaking point for many and as a result, these renters could be facing some hard decisions in the future. To find comparable rents in Manhattan, they will likely need to head uptown or to other boroughs. "There is a trade-off to every public project like this one," says Rao, "A premium on transportation is inherent in the pricing of not only Second Avenue, but the entirety of New York City."
What's Next for the Second Avenue Subway
As New Yorkers are well aware, a quick commute can be both a blessing and a burden, as there are often high premiums attached to proximity to the subway and central Manhattan. According to our forecast, Yorkville residents' celebration when the Second Avenue subway line finally opens may be short-lived as they are slammed with steep rent increases. Residents will have to decide whether the convenience of the subway and the subsequent transformation of a landscape formerly barren of transit options is worth the rapidly rising rents.
In light of this, perhaps Second Avenue residents are rooting for continued delays amid swirling rumors about whether the MTA will make their projected deadline of Dec. 31. There have been rumblings about the need for additional testing for elevators and escalators at two of the stations. Given the predicted rise in rents in the area, perhaps residents should embrace those delays and take the discounted rents while they still can. Ultimately, only time will tell the true impact the new line will have on rent costs and home values along Second Avenue with the impending completion of the subway.
Related: