The address 246 East 49th Street is one that's music to the ears of Broadway enthusiasts. The treasured abode of the late Stephen Sondheim, one of the most acclaimed composers and lyricists on Broadway, this distinguished townhouse is now on the market, priced at $7 million. A theatrical paradise imbued with rich history, architectural grandeur, and prime location in the coveted Turtle Bay Gardens, this property is as grand as a Broadway production itself. Let's take a look inside Sondheim's townhouse.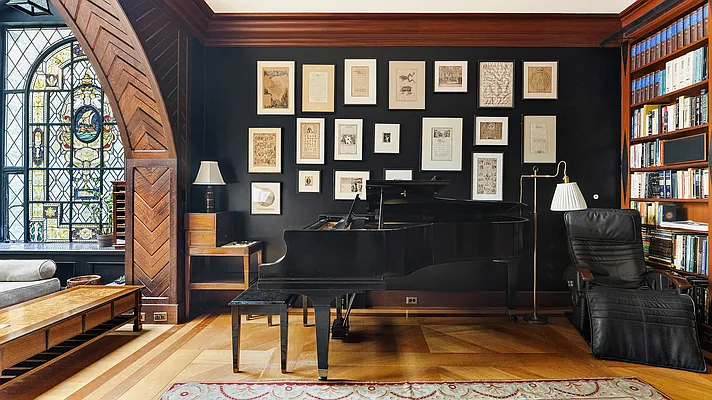 Take a closer look at Stephen Sondheim's townhouse.
View Listing
The Price
While a $7 million asking price might seem steep at first glance, Sondheim's townhouse has a rich history, architectural beauty, and an exclusive location that make every dollar spent a worthy investment. Located within the renowned Turtle Bay Gardens, the property is among 20 historic homes with a private, accessible-only-to-residents communal garden. This little-known haven was created in 1920 from a series of 1860s townhouses.
The illustrious neighborhood has been home to many distinguished residents, from Katharine Hepburn to Garson Kanin, Robert Gottlieb, and Maxwell Perkins. To add yourself to that list of names, you'll need to plunk down 10% ($770,000) and pay $5,896 per month in taxes, bringing the total estimated monthly payment with a 7.1% interest rate to $48,234.
Inside the Apartment
The townhouse's wrought-iron gated forecourt creates a welcoming aura at the entrance. A wood-paneled foyer with a midnight-blue tiled barrel-vaulted ceiling opens into a spacious, 32-foot-long living room. The grandeur of this space is elevated by chevron-patterned wood floors with mahogany inlays and back-lit built-ins, setting the stage for opulent living and entertaining.
Further exploration of Sondheim's townhouse leads to a formal dining room graced by floor-to-ceiling windows, period moldings, and French doors opening into the Garden. The first floor also hosts a renovated chef's kitchen with custom steel glass-fronted cabinetry, stainless steel counters, and an 8-burner commercial-grade range.
The second floor takes the grandeur up a notch with a music studio featuring a music library, a wood-burning fireplace, and a baby grand piano. A gorgeous solarium with a dramatic wood arch and stained-glass windows original to the house leads onto an expansive 30-foot terrace overlooking the Gardens.
Turtle Bay Homes for Sale on StreetEasy Article continues below
Each floor unfolds with distinct features, from two grandly proportioned bedrooms and a fully-renovated kitchen on the third floor to a luxurious primary suite that covers the entire fourth floor. The suite consists of a large-scale bedroom with custom built-ins, a wood-burning fireplace, an en-suite bath with a separate shower and deep soaking tub, and a generous dressing room.
The fifth floor is a marvel of its own with a floor-through studio apartment, a kitchenette, a setback terrace offering a splendid view of the Gardens, and a newly-renovated bathroom with floor-to-ceiling tiling and a large rain shower.
And Outside the Apartment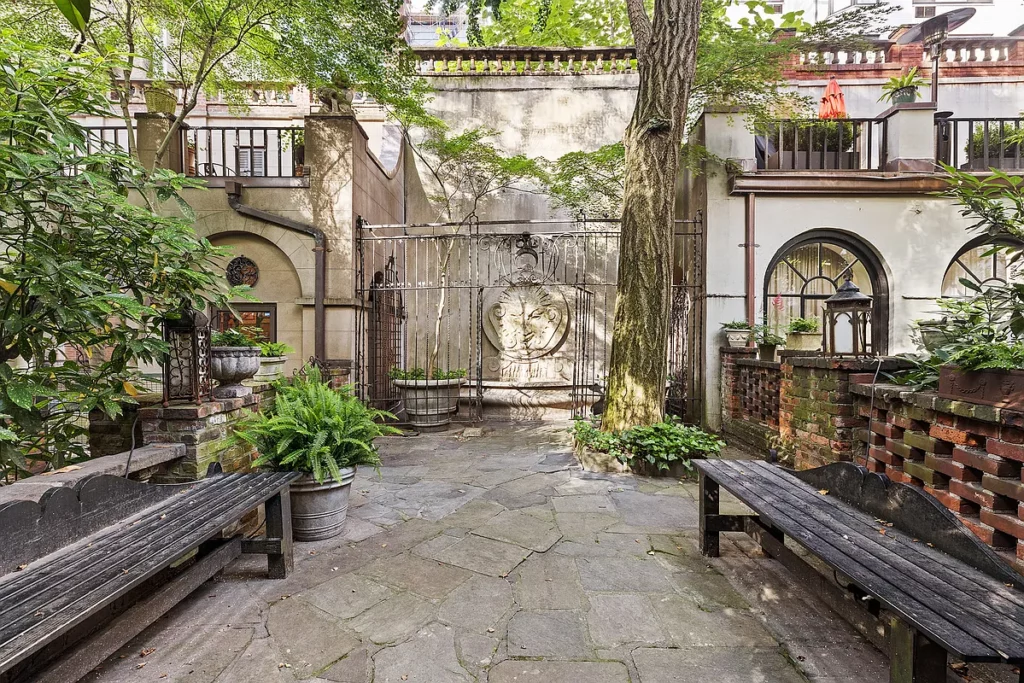 The outdoor spaces of this property are as impressive as the interiors. The formal dining room leads out into a private communal garden, an oasis of green that contributes to the uniqueness of Turtle Bay Gardens. A wrought-iron gated forecourt adds an air of exclusivity, while the second floor houses a splendid solarium that opens onto a 30-foot terrace overlooking the Gardens.
Beyond the personal outdoor areas, the townhouse's location within Turtle Bay Gardens Historic District places it at the heart of Manhattan. Its residents have access to fine dining, excellent shopping, art galleries, and efficient transportation, including proximity to Grand Central Terminal.
Browse More Turtle Bay Homes on StreetEasy