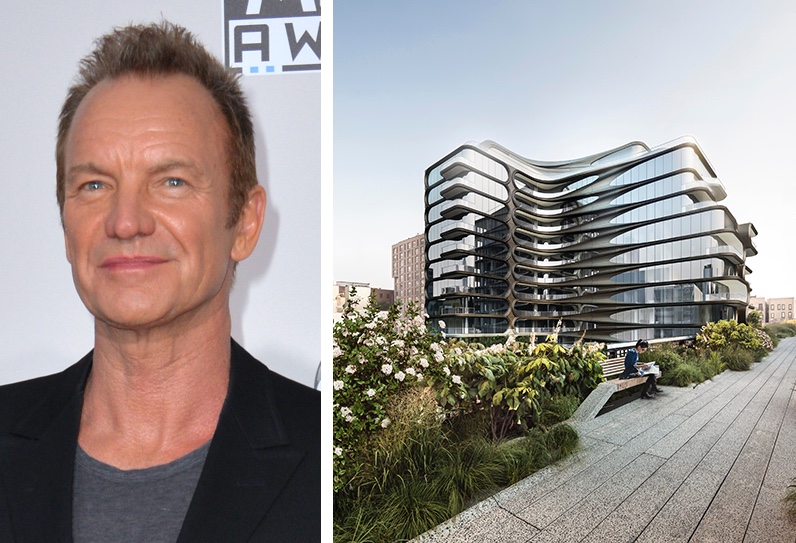 Just six months after selling their penthouse at 15 Central Park Wwest for a jaw-dropping $50 million, Sting and wife Trudie Styler have set up shop at the Zaha Hadid-designed 520 W. 28th St. A report from the New York Post indicates that the former frontman of the Police and everyone's favorite yogi and his wife are currently renting an upper-level apartment overlooking the High Line.
Rising next to one of the most popular stretches of the High Line, 520 W. 28th St. is known for its super curvy, futuristic facade and its highly visible units. Many apartments look literally right out on to the crowds of pedestrians streaming down the elevated greenway. No wonder that this undeniably noticeable singer and activist opted for an upper-level unit. The apartment Sting and Styler are renting is said to have a large amount of outdoor space, but hopefully it's perched high enough to avoid the fishbowl effect of some lower-level units at this ultra-luxury building.
There's no confirmation on how much the couple is shelling out for the rental, but two other rentals in the building are currently listed for $15,750 and $26,000 a piece. That sounds like a lot, but keep in mind that Sting just did liquidate $50 million of his assets. The building offers some pretty fine amenities to justify its price tag, including a private IMAX theater, a  75-foot saline swimming pool, and an ultra-opulent fitness center and spa. Plus, of course, direct views of the High Line — which may or may not be a good thing, depending on your floor and/or celebrity status.
See the gallery below for a sneak peak inside Sting's new apartment building.
—
Hey, why not like StreetEasy on Facebook and follow @streeteasy on Instagram?