Move over, Salem — NYC's got enough spooky spots in its five boroughs to compete with the nation's most haunted places. We're not just talking about frighteningly large rats and apartments with bathtubs in their kitchens, either. If you're looking for a Halloween spot to get your supernatural scare on, we've got you covered.
White Horse Tavern
White Horse Tavern describes itself as the second-oldest continuously run tavern in New York City. Established in 1880, the bar was originally frequented by longshoremen, but in the 1950s became a favorite of writers like Jack Kerouac and Allen Ginsburg. One evening in 1953, the Welsh poet Dylan Thomas claimed to have drank 18 shots of whiskey at the White Horse before he collapsed. He was escorted back to his home at the Chelsea Hotel, where he fell into a coma, and was taken to St. Vincent's Hospital, where he soon died. Thomas' ghost has been spotted sitting at his favorite table in the bar and helping himself to a beer and a shot. Coolest ghost ever.
Chelsea Hotel
Dylan Thomas still haunts this place, too. He's said to appear near room 205, where he was staying before he died. Both before and after Thomas' death, the Chelsea Hotel was a gathering place for bohemians and artists. The raucous residential hotel hosted Jimi Hendrix, Patti Smith, Bob Dylan, Edie Sedgwick, Dee Dee Ramone, and Andy Warhol, among others. But the hotel is perhaps best known for the night punk rocker Nancy Spungen was found stabbed to death in her room with Sex Pistols member Sid Vicious. Vicious was arrested for her murder, but died of a heroin overdose before standing trial. Some say the pair never left.
One if by Land, Two if by Sea
Located at 17 Barrow St. in the West Village, this romantic restaurant was once the carriage house of Aaron Burr, who of course killed Alexander Hamilton in a duel. As a result, Burr lost most of his New York property, including the carriage house. That certainly hasn't stopped him from visiting the place. Staff says Burr and daughter Theodosia still haunt the restaurant. Women at the bar report their earrings missing, and patrons say they have been shoved by spirits. Go for the food and ambiance, but leave your good jewelry at home.
Morris Jumel Mansion
Manhattan's oldest house is also a haunted mansion, and not of the Disney kind. Nestled in Washington Heights, the Morris-Jumel mansion was briefly home to George Washington during the Revolutionary War, and later served as headquarters for the British and their German allies, the Hessians. Twenty years later, the home was purchased by Stephen Jumel and his wife Eliza. After Jumel died by falling from a carriage onto a pitchfork in 1832, Eliza went on to marry Aaron Burr, but filed for divorce after one year. Some say she may have been involved with both men's deaths. Hordes of ghost hunters and tourists now visit the property to catch the lady of the house roaming the premises, and she's been known to shush school children who get too rowdy. A Hessian soldier who fell to his death sometimes also makes an appearance.
The Manhattan Well Murder
In 1799 the strangled body of Gulielma Sands was found in a well on Spring Street in what was then known as Lispenard's Meadow. News of the grisly murder quickly spread throughout town and fingers pointed to Sands' boyfriend, Levi Weeks. Weeks was put on trial for her murder. Luckily he was represented by Alexander Hamilton and Aaron Burr, and was later acquitted. It is said Sands' ghost still haunts the well, which is now located in the basement level of COS store in SoHo.
The Merchant House Museum
This landmarked Federal style brick home has been scaring visitors for over 80 years. Located at 29 E. 4th St., the home had been owned by the wealthy Tredwell family since 1835 and has remained completely preserved as it was in the 19th century. The youngest Tredwell offspring and last family occupant, Gertrude, died in the house in 1933 and gets most of the credit for reported hauntings. Staff and visitors report unexplained sightings, noises, and even smells. The museum offers ghost tours for the brave souls who want to experience this house of horrors up close.
St. Paul's Chapel
You may not find any holy spirits in the graveyard of this Lower Manhattan church, but you could see a headless actor roaming the grounds. Back in the 1800s, the renowned stage star George Frederick Cooke was mired in debt and pledged to donate his head to science in the event of his death to pay it off. Cooke's ghost now roams the cemetery grounds, posthumously searching for his head. Cooke's skull went on to find fame of its own, appearing in several productions of Hamlet as a theater prop.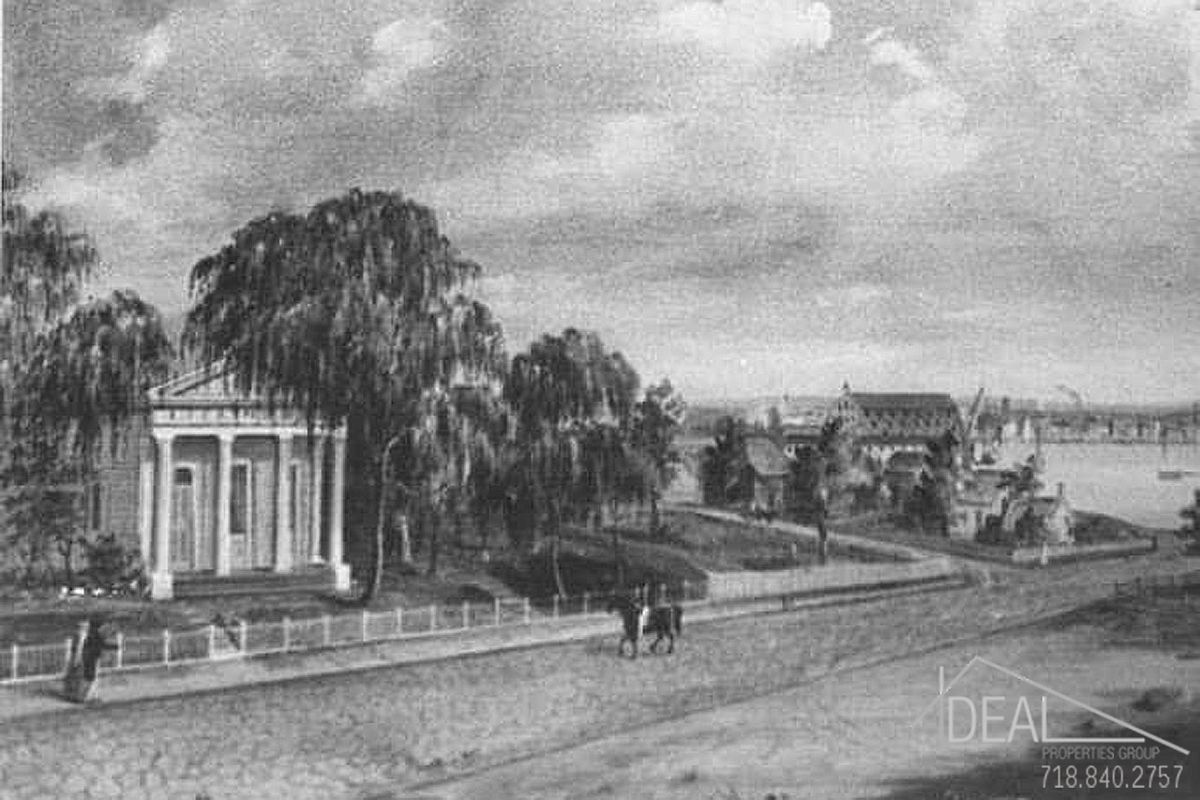 Lefferts-Laidlaw House
In the 1870s, builder Edward F. Smith lived in stately mansion at 136 Clinton Ave. in what is now Clinton Hill. According to Smith, something otherworldly was terrorizing his family. Creepy sounds emanated from the house: A persistent knocking could be heard at the door, the doorbell would start to ring without cause or explanation, and then doors would start to rattle as if someone were trying to unhinge them.
Smith went so far as to have a police team investigate, and they witnessed all the happenings Smith reported, but could find no explanation. After three weeks, the disturbances mysteriously stopped. Haunted or not, this landmarked Greek Revival home is worth quite a bit. In 2016, it was placed on market for $3.55 million.
14 W. 10th St.
Although the Greenwich Village brownstone at 14 W. 10th St. is gorgeous from the outside, it's also referred to as the House of Death — and with good reason. Twenty-two ghosts of residents past are said to roam through the space, including that of Mark Twain, who once lived at the address.
Actress Jan Bryant Bartell, who moved to the building in 1957, wrote a book about her decidedly eerie experience living there entitled "Spindrift: Spray from a Psychic Sea." In the book, she recounts how she and her husband felt a constant presence around the house. Bartell even claims to have been possessed by one of the ghosts during a séance.
After 12 years of constant terror, the couple fled. While several past tenants also met gruesome deaths, 6-year-old Lisa Steinberg's was the most tragic: She was beaten to death by her father in 1986. Despite the dreamt location, this is one property you might want to pass up.
"The Amityville Horror" House
While Amityville is about 30 miles outside of NYC, we would be remiss if we didn't mention the Long Island house, which has spawned several books and horror movies. On Nov. 13, 1974, Ronald J. DeFeo Jr. murdered his parents and four siblings while they slept in the house. Barely a year later, the home was purchased by the Lutz family for the low price of $80,000. Sadly, they only lasted 28 days in the home before cutting their losses and moving out. It's their account of terror in the home that spawned the "The Amityville Horror" movie and became the stuff of legend. The house, however, was sold in February of 2017 to an undisclosed owner for $605,000 — $200,000 below the asking price.
[This post has been edited and republished.]
—
Hey, why not like StreetEasy on Facebook and follow @streeteasy on Instagram?