When people think about the Bronx hip hop scene today, they might first consider Big Pun and Cardi B. But the musical style of rapping over breakbeats originated back in 1973. The birthplace is in the West Bronx neighborhood of Morris Heights at 1520 Sedgwick Avenue. This apartment building, where DJ Kool Herc lived, was host to a party on August 11, 1973. Now, August 11 is Hip Hop Celebration Day. (FYI, the United States Senate passed it!)
Bronx Rentals Under $2500 on StreetEasy Article continues below
DJ Kool Herc & 1520 Sedgwick Avenue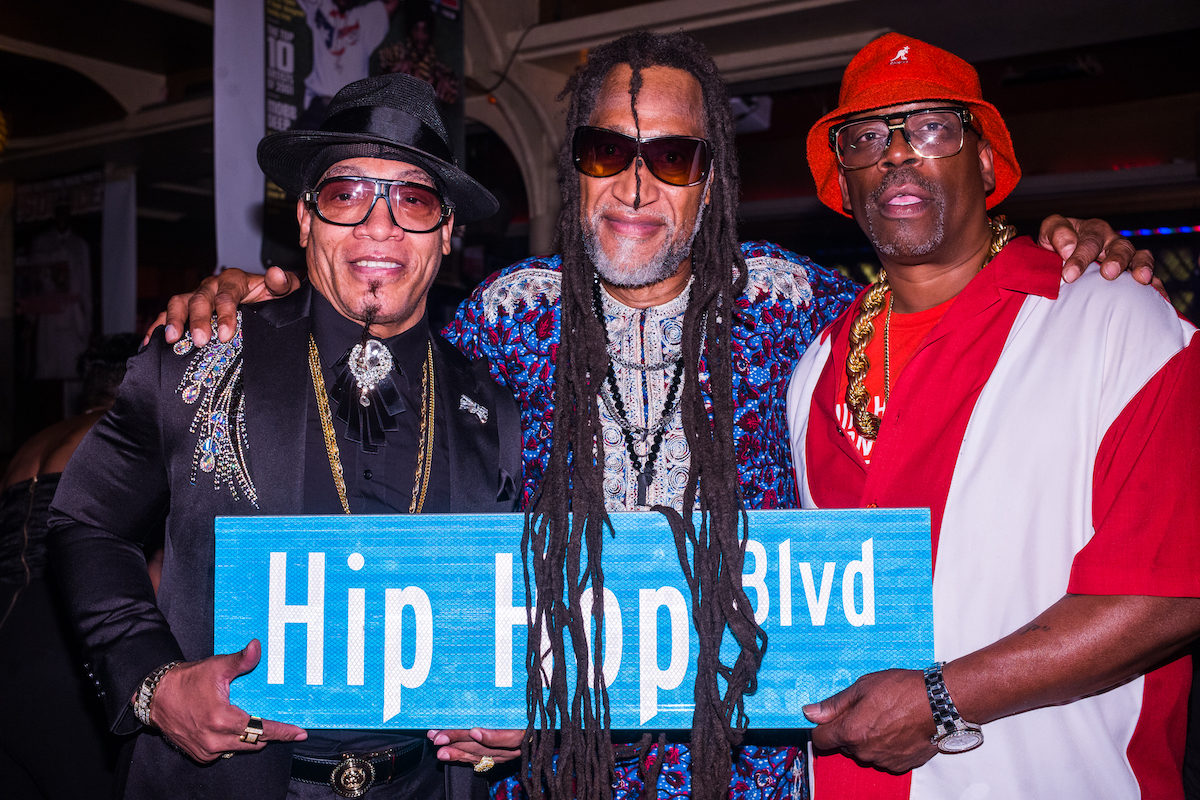 On Aug. 11, 1973, Herc — born Clive Campbell in Kingston, Jamaica — threw a back-to-school party with his sister Cindy Campbell in the building's ground-floor recreation room, drawing friends and neighbors. While spinning records, Herc showed off a method he had developed for extending the drum break in funk records. He used two turntables, with a copy of the same record on each. Doing so created a longer breakbeat for the "break boys" and "break girls," as he labeled them, to show off their dancing skills. Herc referred to those drum breaks — common sections of songs by James Brown and Incredible Bongo Band — as "the get-down part."
As Herc spun breakbeats, Herc's pal Coke La Rock started talking over the beat, shouting out friends. He did not realize that this would make him present at hip hop's creation and its first MC.
Manhattan Rentals Under $3000 on StreetEasy Article continues below
The Party at 1520 Sedgwick Avenue Influenced Hip Hop Pioneers
The style developed by DJ Kool Herc and Coke La Rock spread quickly within the South Bronx, then throughout NYC. Later, many rappers would claim to have attended Herc and Cindy's famous party in 1973.
South Bronx native Joseph "Grandmaster Flash" Saddler was one of the most important turntablists early in the scene. Saddler refined Herc's technique of mixing records and was the first to use a drum machine live.
Meanwhile, Harlem rapper Kurtis Blow inked a deal with Mercury Records in 1979. He was the first rap artist signed by a major label. But it wasn't until the Sugar Hill Gang released "Rapper's Delight" in 1980 that the genre began to go mainstream.
Bronx Homes Under $600K on StreetEasy Article continues below
1520 Sedgwick Avenue Nearly Became Market-Rate Rentals
In 2008, an investor bought 1520 Sedgwick Avenue intending to turn it into market-rate rentals. After the housing market crashed, the new owner could no longer afford the mortgage payments, and the building quickly fell into disrepair.
Although they hadn't lived in the building for decades, DJ Kool Herc and Cindy Campbell kept in touch with some tenants, who filled them in on the building's dilapidated status. Residents went months without heat or gas, upkeep of the grounds wavered, the roof leaked, and the elevators often didn't work — a major inconvenience in an 18-story, 101-unit building.
Morris Heights Rentals Under $2500 on StreetEasy Article continues below
1520 Sedgwick Avenue Is Now Home to Fair Housing Rentals
DJ Kool Herc and Cindy partnered with the tenants and the Urban Homesteading Assistance Board to help tenants stay in their homes. The hip hop pioneer's involvement caught the media's attention and eventually the city, which helped sell the building to the Workforce Housing Group in 2011.
The building underwent some much-needed renovations, including the famous recreation room where Herc made history. Under its new ownership, the units are affordable, rent-subsidized apartments for residents who meet certain income requirements.
While there aren't any available rentals listed at 1520 Sedgwick Avenue, hip hop enthusiasts can take a "birth of hip hop" tour from Hush Tours, which regularly stops by the building for photos.
Hip Hop Boulevard
Although DJ Kool Herc hasn't reaped the same financial success as his hip hop brethren for creating what has ballooned into a billion-dollar industry, the city renamed a section of Sedgwick Avenue Hip Hop Boulevard in 2017 to honor him.
The Universal Hip Hop Museum also named Herc an honorary advisory board member. The museum, coming in 2024, will be the first brick-and-mortar hip hop museum in the nation. However, the organization already hosts free concerts and other events for the public.