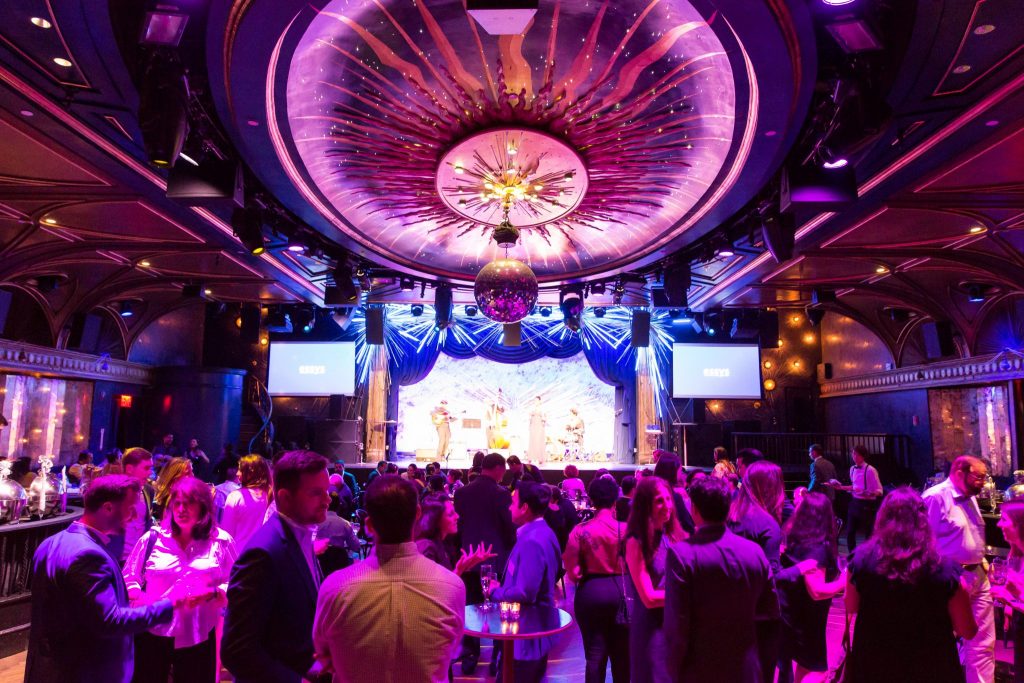 Last week, StreetEasy hosted our first-ever annual industry appreciation event: The Essys. Held at Sony Hall, the night brought together 200 of NYC's top real estate professionals from an array of brokerages and boroughs so we, the team at StreetEasy, could say thank you for the valued partnerships we've had with you this year and to celebrate the work that every agent does to find New Yorkers homes each day. Along with drinks, apps, secret rooms and tarot card readers, the event featured the head-spinningly cool mentalist and magician, Oz Pearlman, as its MC.
As part of the event, a select group of NYC real estate agents were nominated for a 2018 Essy Award – StreetEasy's first awards designed to recognize NYC real estate pros and their partners for their outstanding achievements. There were seven awards this year, including Sales Agent of the Year (re-sales), Rental Agent of the Year, Premier Agent of the Year, Premier Agent Team of the Year, Marketing Campaign of the Year (sales and rentals), and Community Champion.
To determine each Essy winner, we looked at a collection of StreetEasy data points to rank possible candidates for awards that were then reviewed by the StreetEasy Essys Committee. The Essy Awards were not based on one data point or dollar figure, which was important for us. Being a great agent is more than just the total value of real estate you've rented or sold — it's how well you know the market so you can price it well, how you work with your clients, and how you market a property.
There was one outlier to this approach: the Essy for Community Champion. This award recognized a NYC real estate agent who is involved in their local communities — in any notable way, large or small — to help improve the city they call home.
For this award, we called on the real estate community to nominate their peers and colleagues to help us find an agent deserving of this recognition. We were humbled by the submissions we received, making it incredibly hard to choose a winner. Helping clients find their way home is a full-time job. Learning more about how many agents are going the extra mile to help those who need it the most has been incredibly inspiring, and we'd like to acknowledge and amplify those efforts.
Announced at the event, the 2018 Essy Winners are:
• Community Champion: Vivian Ducat, Halstead
Honorees: Tony Mazzaro, A-Class Realty, and Heather McVeigh, Platinum Properties
• Sales Agent of the Year: Jason Sciulara, Bergen Basin Real Estate
• Rental Agent of the Year: Jordan Steiner, Bold New York
• Market Campaign of the Year – Sales: Lightstone's 130 William St – Corcoran Sunshine and Agency in Pursuit
• Marketing Campaign of the Year – Rentals: Online Marketing Group for Rose Associate's 222 W. 80th St.
• Premier Agent of the Year: Brian Rodriguez, Oxford Property Group
Honorees: Robin Tygar, Corcoran and Susan Molloy, Compass
• Premier Agent Team of the Year: Teresa Stephenson, Platinum Properties
Honorees:  Ben Willig, Anchor Associates, and Kobi Lahav, Mdrn Residential
Below are a few more of our favorite shots from the night. You can check out more photos on our Flickr page here.
Congratulations again to our 2018 Essys winners. We're already looking forward to next year!