What: Lottery for affordable rentals: $495 to $2,405 per month
Who qualifies: Annual household earners from $18,275 to $158,550
Deadline: Sept. 23, 2016
>> Learn how to apply
Strivers Plaza Housing Lottery
Strivers Plaza, located at 275 West 140th Street, is a newly constructed affordable housing project on the corner of West 140th Street and Frederick Douglass Boulevard in Central Harlem. The building was designed by Aufgang Architects, and is being built and overseen by Radson Development. It will be 8 stories tall at completion and contain a total of 53 units across 47,000 square feet. It will also feature a ground floor retail space – namely a supermarket.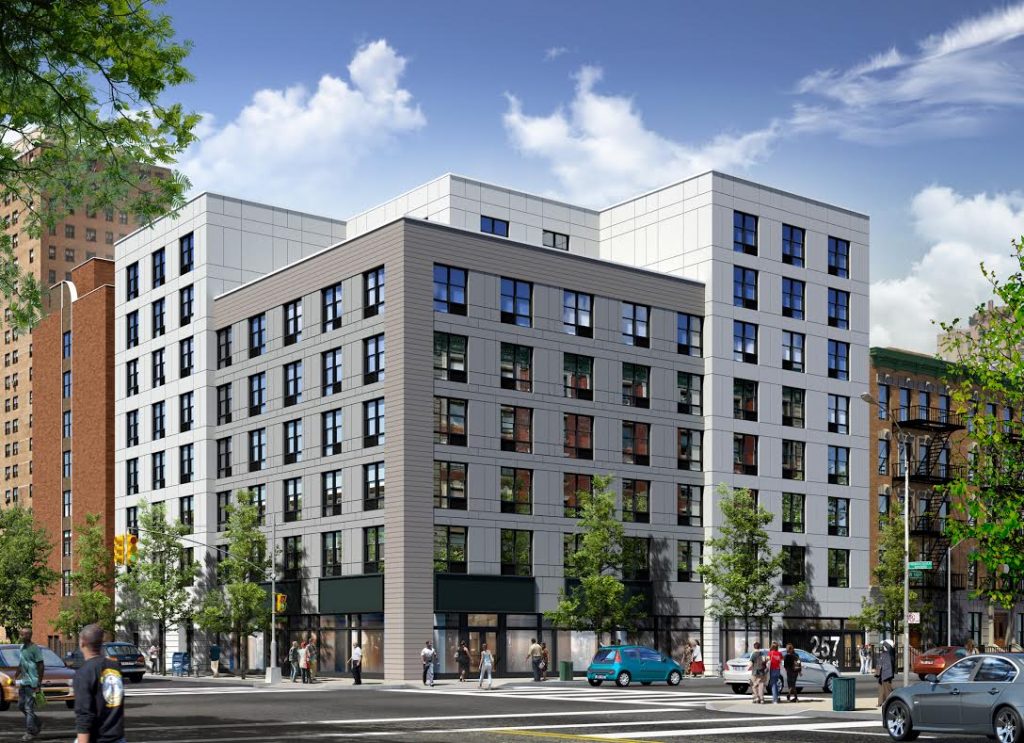 Now that the building is near to its opening, a housing lottery has opened up for all 53 of its residential units: 15 studios, 12 one-bedrooms, and 26 two-bedroom apartments. The monthly rent will range from $494 for the smallest studios to $2,405 for the largest two-bedroom apartments. In order to qualify for the affordable housing, applicants must meet the requirements for annual household income, ranging between $18,275 and $158,550 depending on the size of the apartment and the number of people making up the household. More specific information can be found on NYC Housing Connect's advertisement or view the chart below.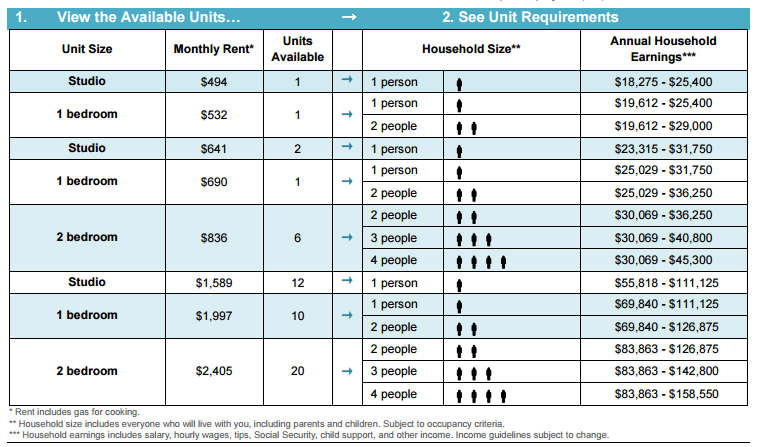 Strivers Plaza is convenient to the A, B, C, and 3 trains, as well as the M1, M2, M3, M7, M10, and M102 bus lines. The building will also offer amenities including a community room and in-building laundry, and will have an on-site super as well as security cameras and an intercom system. As with all affordable housing lotteries in the city, there is no application fee or broker's fee associated with the building.
The housing lottery is open until Sept. 23, and applicants can send in their information either by mail or online. The selected winners can expect to be contacted for more information and interviews within a few months of the deadline.
Related: