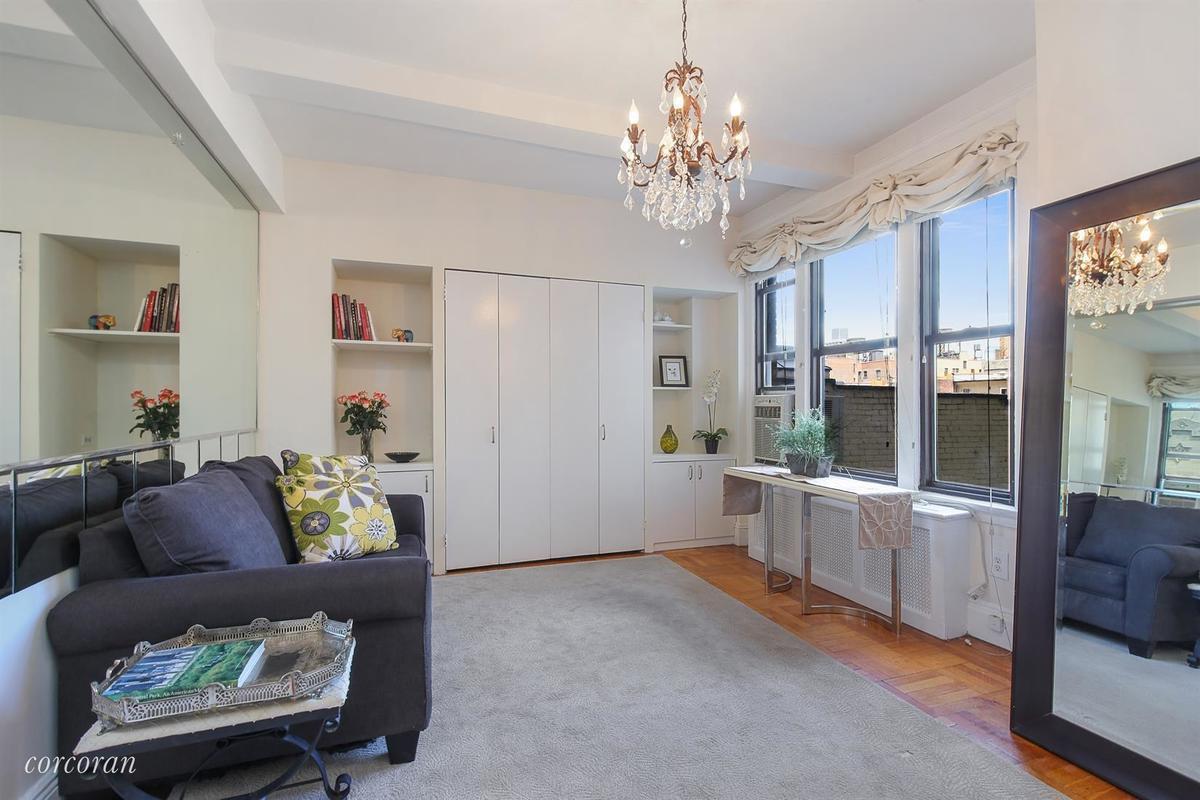 Choosing a studio can be a great way to save money on housing in New York City. But the median price for a studio in Manhattan is currently $579,000 — which might seem absurd considering that you'll be putting everything you own into just one room. That's where our Deal of the Week comes in. This studio at 225 Central Park West #620A isn't just relatively affordable. It's also on the Upper West Side, right next to Central Park.
The Price: $389,000
The Upper West Side isn't exactly known for its affordability, which is why a $389,000 studio is noteworthy. The median asking price for studios in the neighborhood is $545K — a little below the Manhattan median for apartments of this size, but not much.
Unfortunately, the building requires a down payment of 40 percent, or $155,600. But afterward, buyers can expect to see low monthly payments of about $1,921. That includes the $1,183 mortgage payment and a monthly maintenance fee of $738 — and it means that if you lived here, you'd be paying considerably less than the $2,332 median rent for a studio in the neighborhood.
Why You'll Like It …
This studio is located in the Alden, a landmarked building that dates to 1925. With a picturesque lobby, concierge, full-time doorman and a rooftop deck overlooking Central Park, you'll be living in the lap of luxury here.
Although the unit is a studio, it's made more manageable with built-in shelving and a Murphy bed. The main room is bright, with large windows, 9-foot ceilings and hardwood floors. While the kitchen might not be huge, it's certainly charming, clean and functional — no dorm fridge here. It also has a window to let in some light. According to the listing, the bathroom is in great condition, and matches the all-white design of the kitchen. And if you're concerned about storage, there are two closets off the main living area.
Lastly, you certainly can't beat the location: right next to Central Park. You'll have easy access to the Great Lawn as well as the American Museum of Natural History. And to get around, the B and C trains are just a few feet away.
… And Why You Might Not
Again, this apartment is a studio, and it's not huge. There seems to be just enough room for basic furniture, and even with the help of the Murphy bed, you might still have to move things around when it's time to go to sleep.
The building doesn't allow gifting, pied-à-terres or subletting, which is something to think about if you're buying this apartment for anything other than full-time use. The required 40 percent down payment is another big factor to consider.
And while the studio life not be the most glamorous thing in the world, it's certainly made more appealing by this apartment's proximity to the park. The chance to live in a historic, full-service co-op certainly seems worth it.
See the listing: 225 Central Park West #620A listed by Jannette Patterson of Corcoran. 
—
Hey, why not like StreetEasy on Facebook and follow @streeteasy on Instagram?