You know that Summer of Hell everyone's been talking about? The news that Amtrak needed a few months to repair the tracks at Penn Station and so commuters on Long Island Rail Road and New Jersey Transit would face delays and cancellations that would make all our lives miserable?
Well, truth to be told, it's actually been a Summer of Heaven — at least on my travels into and out of New York City.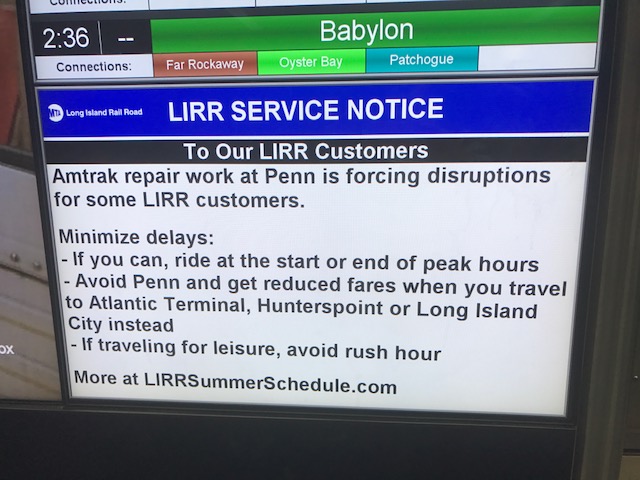 Yes, I'm one of those bridge and tunnel people who commutes into Manhattan via the LIRR. If it matters, I'm on the Port Washington line — a "great line," I'm continually told. Still, when I heard about the train situation, I braced for the worst.
To prepare, I consulted with my more seasoned and experienced train buddies. Some chose to take longer and more frequent vacations during July and August than they otherwise would. Many said they would work from home. One lawyer friend even bought a new desk and chair and prepared to WFH for several days during the week. Some riders took up the MTA's advice to avoid Penn Station and instead trained into Atlantic Terminal, Hunters Point or Long Island City to avoid the crowds and delays. Everyone seemed to have a plan, except for me. I was just going to wing it.
Day 1 of the Summer of Hell
On the day the Summer of Hell started, officials were posted throughout Penn Station, wearing neon vests and equipped with walkie-talkies, bracing to help with crowd control. Day 1 came and went without a problem. Then came Day 2, Day 3, Days 4 and 5. Nothing. Maybe it's an anomaly, I thought — let's see what Week 2 brings. Ditto. Week 2 arrived and ended with no issues.
Now we are six weeks into the so-called "Summer of Hell," and — at least on my commute from Long Island — it's heavenly. Trains in and out of Penn Station are running more smoothly than ever. The crowds of people have been greatly reduced, and the station has been as quiet as a church, relatively speaking. No crush of crowds. No mob scenes. No huge delays. No swearing, cursing or crying. No running. No pushing. No shoving. No chorus of groans when a train is cancelled or delayed. As a matter of fact, delays or cancellations so far appear to be non-existent — at least from my perspective.
Whether the MTA's dire warnings struck fear into the most die-hard commuters — who then chose to stay home — or the efforts to make things run more smoothly actually worked, I have to say that this Summer of Hell has been pretty sweet. At least for me and my train buddies, who are just as surprised.
In conclusion, I have to tip my hat to Blue Point Brewery and its cleverly named Delayed pilsner, which is being sold at the Penn Station Shake Shack. Perhaps I'll grab a pint this fall when the crush of commuters returns and trains go back to their usual delayed/cancelled status. After all, until my train is delayed, it wouldn't be accurate to drink a Delayed, would it?
How about you? What's been your experience of commuting into New York this summer? Leave your thoughts in the comments below.
—
Hey, why not like StreetEasy on Facebook and follow @streeteasy on Instagram?
Related: