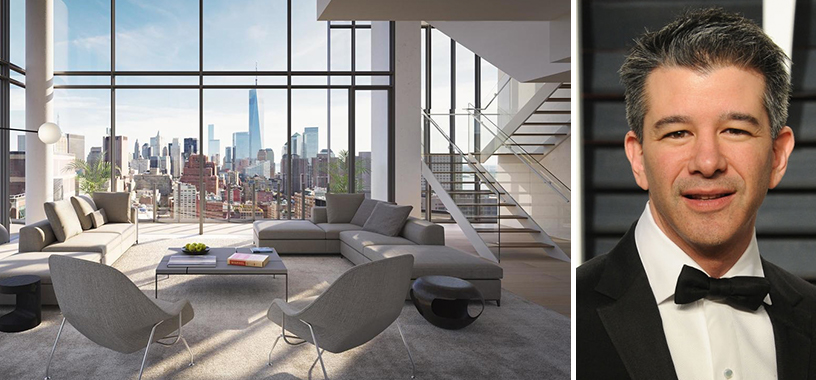 Roll out the welcome mat. Travis Kalanick, the co-founder and former CEO of Uber who stepped down last year amid various controversies, is moving to SoHo. According to the Wall Street Journal, Kalanick, whose net worth is estimated at $5.9 billion, has purchased the penthouse at 565 Broome St. for $36.5 million. Earlier this year, Kalanick divested 30 percent of his assets from Uber for $1.3 billion, a chunk of change that perhaps makes a $36.5 million purchase more palatable.  The unit spans the top two floors of the new Renzo Piano-designed tower just east of Varick Street.
The property came on the market in April for $40.5 million, asking more than $10 million above the next-most expensive unit in the building. The 4-bedroom, 4-bathroom duplex sprawls across nearly 7,000 square feet and comes with bonkers views, hotel-caliber amenities and two terraces. One terrace features a private 20-foot pool and outdoor kitchen.
Although Kalanick is a California born and bred, and will maintain his Los Angeles-area residence, something tells us he'll have no trouble settling into his first New York City apartment.
After resigning and divesting the majority of his assets from Uber, Kalanick started 10100, a venture fund focused on real estate and e-commerce investments in Asia. The company is based in California and likely takes its name from the address of Kalanick's childhood home. Maybe his next venture will be named 565 Broome? It's got a ring to it.
—
Hey, why not like StreetEasy on Facebook and follow @streeteasy on Instagram?