City officials huddled around the shovels today in the Bronx, where groundbreaking took place for the Tremont Renaissance development at 1910 Webster Avenue in the East Tremont section of the Bronx. The 256-unit mixed-use, mixed-income development will span a city block between Webster and Park avenues.
The residential building will reach 12 stories and cover more than 60,000 square feet of space — a big boost for affordable to low-income and moderate-income housing. The complex will include a state-of-the-art health and fitness center, a children's play area, an internet lounge, intimate private terraces, and multiple landscaped rooftops, as well as a separate yoga, Pilates and dance studio.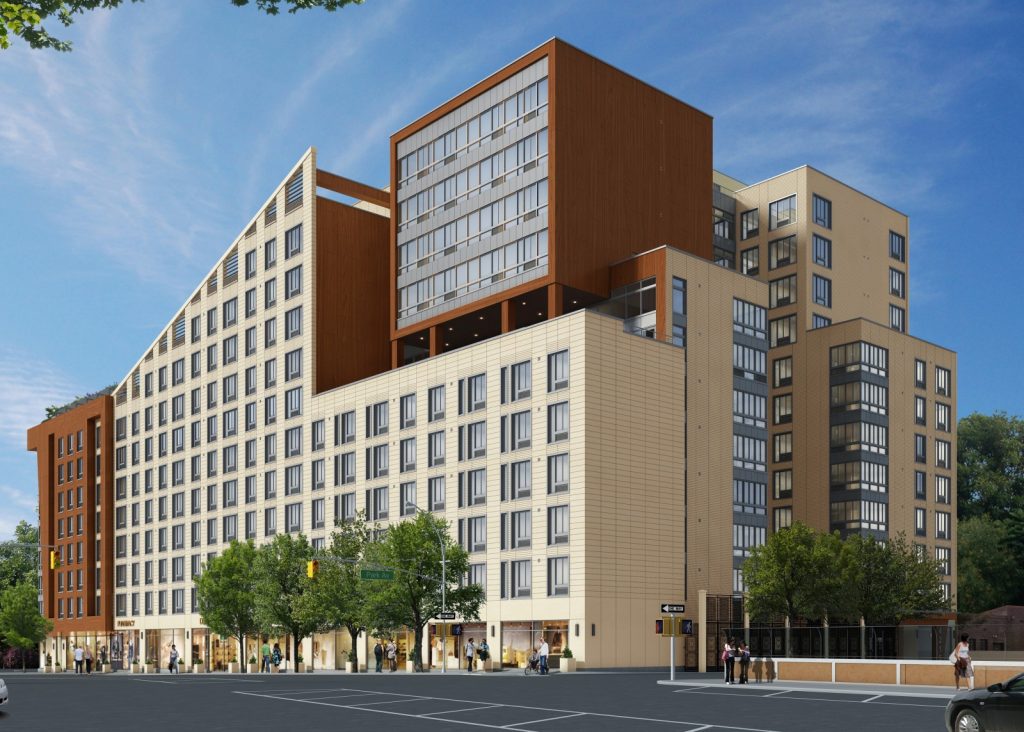 The Tremont Renaissance will bring affordable housing to the Bronx.
"Every New Yorker deserves the opportunity to live in a safe, high quality home at rents within their means," said Housing Preservation and Development Commissioner Vicki Been. "Tremont Renaissance will give more than 250 families the chance to do that, while also living in a mixed-income, and mixed-used development, which is the new face of affordable housing,"
Fifty percent of the building (129 apartments) will be geared to low-income families while the rest of the units are to be leased to moderate-income families. Three-bedroom apartments could rent as low as $1,224, and would include rents at $1,740, as well as $1,995, based on family size and income. All of the 256 apartments will be priced for low- and moderate-income families earning as little as $38,100 for an individual or $48,960 for a family of three, and up to $76,200 for an individual and $97,920 for a family of three.
City officials say that in addition to bringing affordable housing under Mayor Bill De Blasio's effort to generate 200,000 additional affordable units in the city, the project is expected to create approximately 300 construction jobs and 175 permanent jobs.
The building is also seeking LEED Silver accreditation, implementing measures that will allow it to meet 30 percent or greater than the efficiency required by the NYS Energy Conservation Code, with energy efficient, sustainable and resilient green building design features, including rigid wall insulation, additional roof insulation, windows with lower U values. All appliances, including laundry equipment by outside vendors, are scheduled to be Energy Star rated.
"Even though thousands of new housing units have been built in the Bronx, our community board, and other community districts remain with a shortage of affordable rental housing and quality retail space," stated Ivine Galarza, District Manager of Community Board #6. "This development will definitely stand out as a good example of creating housing that is affordable for all types of families in the heart of our Borough."
Related: