Turtle Bay has a lot going for it: a stellar location, prices below Manhattan's averages, and tons of cool businesses. There's a reason why it's StreetEasy's number-one neighborhood to watch in 2023! Plus, it's home to great units like 146 E. 49th St. #8C. Our Deal of the Week is a Turtle Bay one-bedroom in a pre-war elevator building with all the modern updates you could hope for.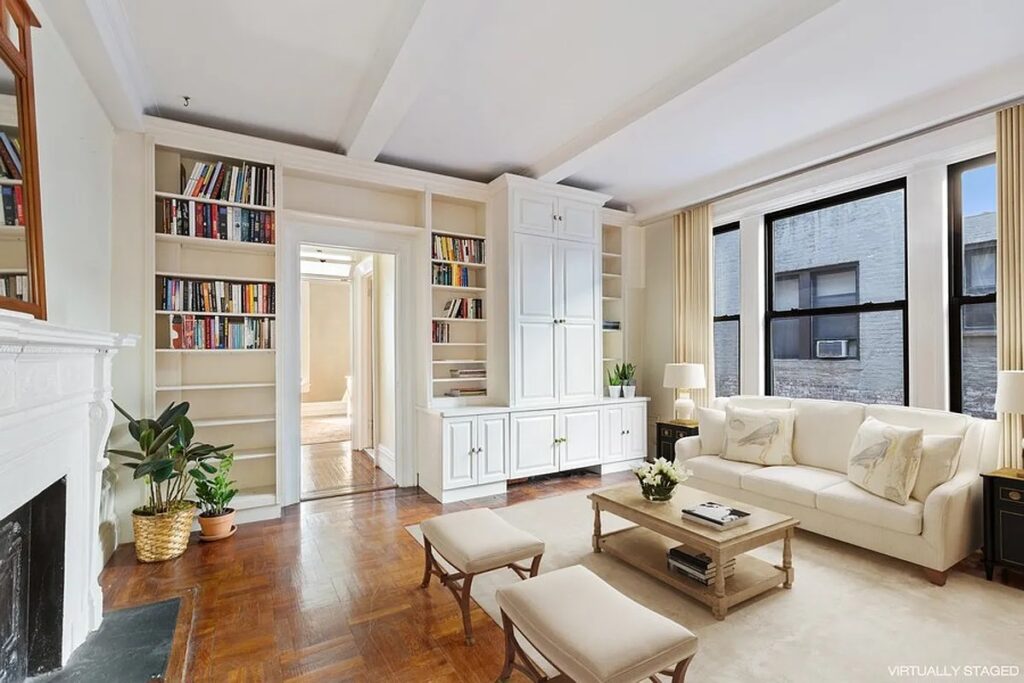 The Price: $535,000
The median asking price for a home in Midtown East, of which Turtle Bay is a part, was $980,000 this November, according to the StreetEasy Data Dashboard. That puts our Deal of the Week at a little over half the median asking price for the neighborhood and about a third of the median asking price for Manhattan ($1.6M).
Buyers who stick with the 20% minimum down payment of $107,000 can expect to see monthly payments of $3,635. This includes a mortgage payment of $2,619 and a maintenance fee of $1,016. This is also far below the median asking rent in Midtown East, which sat at $4,100 this November.
Why You'll Love It…
Enter this unit through a formal foyer complete with a closet and find ornate, oversized doorways leading into the kitchen and living rooms. Both rooms get great light from the large, west-facing windows and retain that original pre-war charm thanks to their 9-foot beamed ceilings. The unit also has its original hardwood floors!
The living room features a decorative fireplace that acts as the perfect centerpiece for the room, in addition to a plethora of built-in bookcases. There's a mix of both storage with doors and open shelving to display your more aesthetically pleasing possessions. Meanwhile, the kitchen has some of its original built-in cabinets with glass doors! Rather than hanging over the countertops, these cabinets are built into the wall for a unique look. There's also a dishwasher, oven, and full-size fridge, plus space for a washer/dryer!
The bathroom is located across the hall from another closet and features its own window, a soaking tub, and a pedestal sink. At the end of the hall is the bedroom, which can easily fit a king-size bed in addition to a desk and other furniture. Its two south-facing windows will also keep the place well-lit throughout the day.
Turtle Bay Homes Under $750K Article continues below
This Turtle Bay one-bedroom is located in an elevator building designed by Emery Roth & Sons, the firm responsible for iconic NYC buildings like the El Dorado and Warwick Hotel. There's a central laundry room, common storage, a pet-friendly policy and a live-in super who accepts packages. Co-purchasing and pieds-a-terre are both permitted, and buyers can enjoy unlimited subletting after two years of ownership.
Location-wise, the building is just a few blocks north of Grand Central and feet away from the 51st Street subway station. There's also a plethora of great restaurants nearby, like Avra 48th Street, Smith & Wollensky, Nishida Sho-Ten, and Ess-a-Bagel.
… And Why You Might Not
Although the kitchen's original cabinetry is quite unique, it doesn't match with some new cabinetry that looks like it was installed later. The room has a bit of a mismatched feel to it, although it's also cool in a vintage way. Neither the living room nor the kitchen look large enough for a full dining set either. But for a one-bedroom in Midtown, this unit does have a remarkable amount of living space and storage!
Check out the listing at 146 E. 49th St. #8C, listed by Michael Pennock of Douglas Elliman.