Renting in NYC: The Ultimate Guide
More than 65% of New York City residents are renters, so whether it is your first time searching for an apartment or the 10th, you are not alone. Our guide to renting in NYC shares everything you need to know about the ins and outs of renting, from how much rent you can afford to tips for breaking a lease (hey, it happens!). Other topics covered in this guide to renting in NYC include how to go about finding the best apartment for you (and roommates if you need them), what to expect at a lease signing, paperwork and fees you'll need to rent a place, whether you should use a broker, and much more.
Ready to search for your new apartment? Start here.
See the full series
Searching for a home in NYC is unlike any other real estate experience. There's different jargon, definitions, and financial requirements. And the same is true when trying to understand the types of apartments available. For instance, what's a junior one-bedroom versus a traditional one-bedroom? Here we decode some of the most common terms used to describe New York apartments.
Types of Apartments: What Is a Classic Six?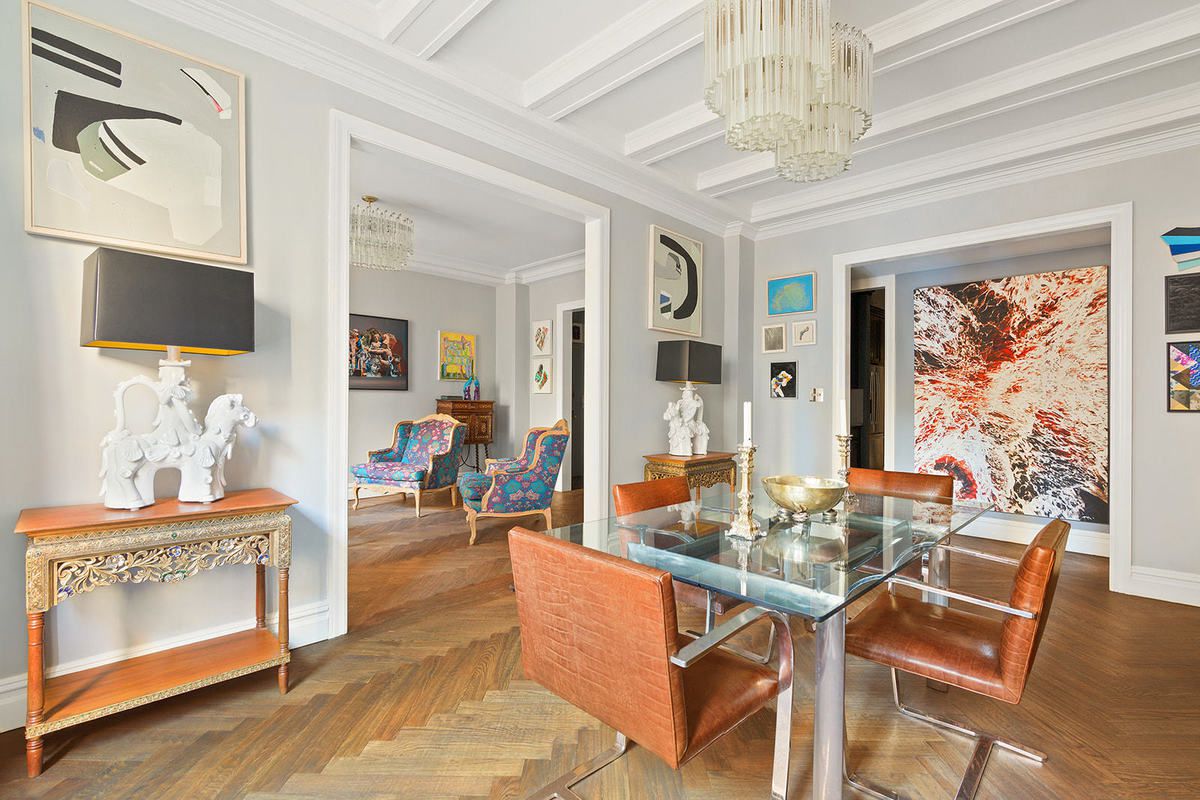 In a nutshell, "classic" refers to prewar architecture, and "six" refers to the six rooms. We're talking REAL ROOMS, not spaces that perform double duty in an open floor layout. A classic six consists of the following:
Living room
Formal dining room
Kitchen
Two bedrooms
One smaller bedroom off the kitchen (once referred to as a maid's room)
If you're wondering about the loo, have no fear. Classic six apartments usually have at least two bathrooms plus spacious closets and pantries not included in the "official" six rooms.
These types of apartments first gained popularity in the 1920s and are typically found in older buildings dotting the Upper East Side and Upper West Side. Many of these prewar buildings pack additional perks, including oak floors, thick walls, spacious rooms, high ceilings, original moldings, and, if you're lucky, a working wood-burning fireplace.
Types of Apartments: What Is a Floor-Through Apartment?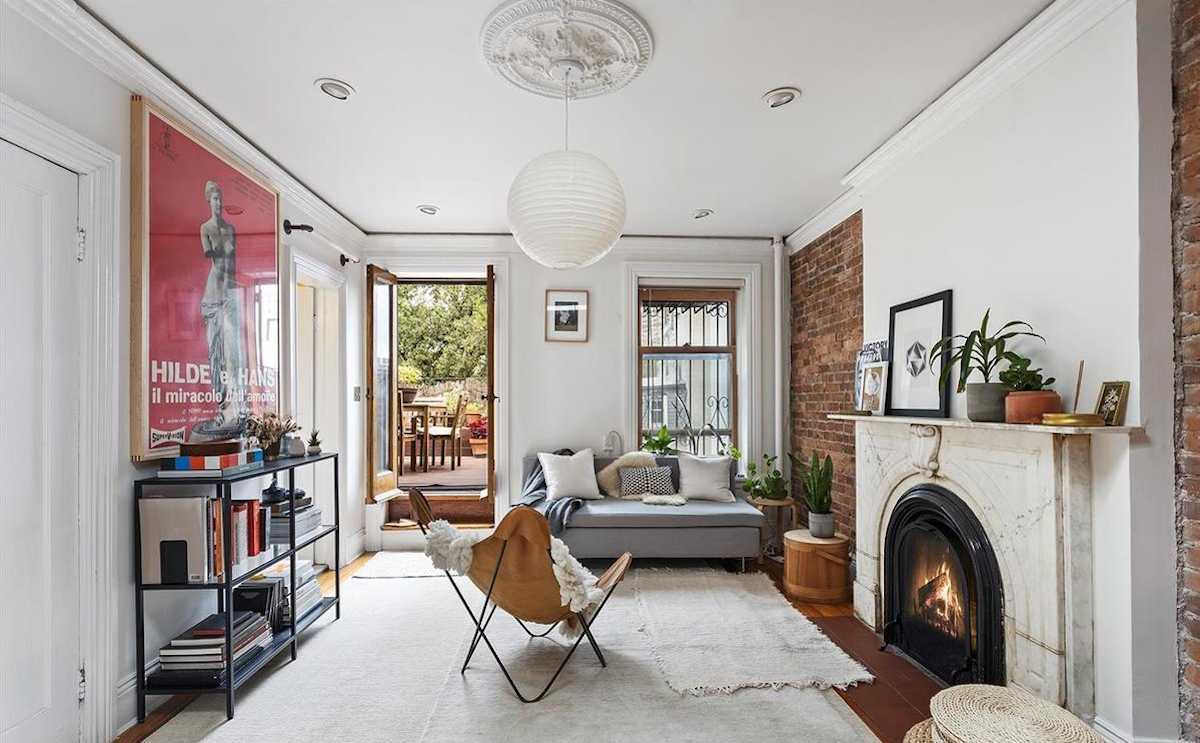 This term describes a unit that takes up the entire floor of a building. Or, at the very least, it runs from the front of the building to the back.
These types of apartments are more common in brownstones where the unit may extend from the front to the back of the building, usually with windows in both the front and the back. More recently, new developments are building floor-through apartments. They tend to give more privacy and lots of space plus allow the elevator to open right into your apartment.
Types of Apartments: What Is a Railroad Apartment?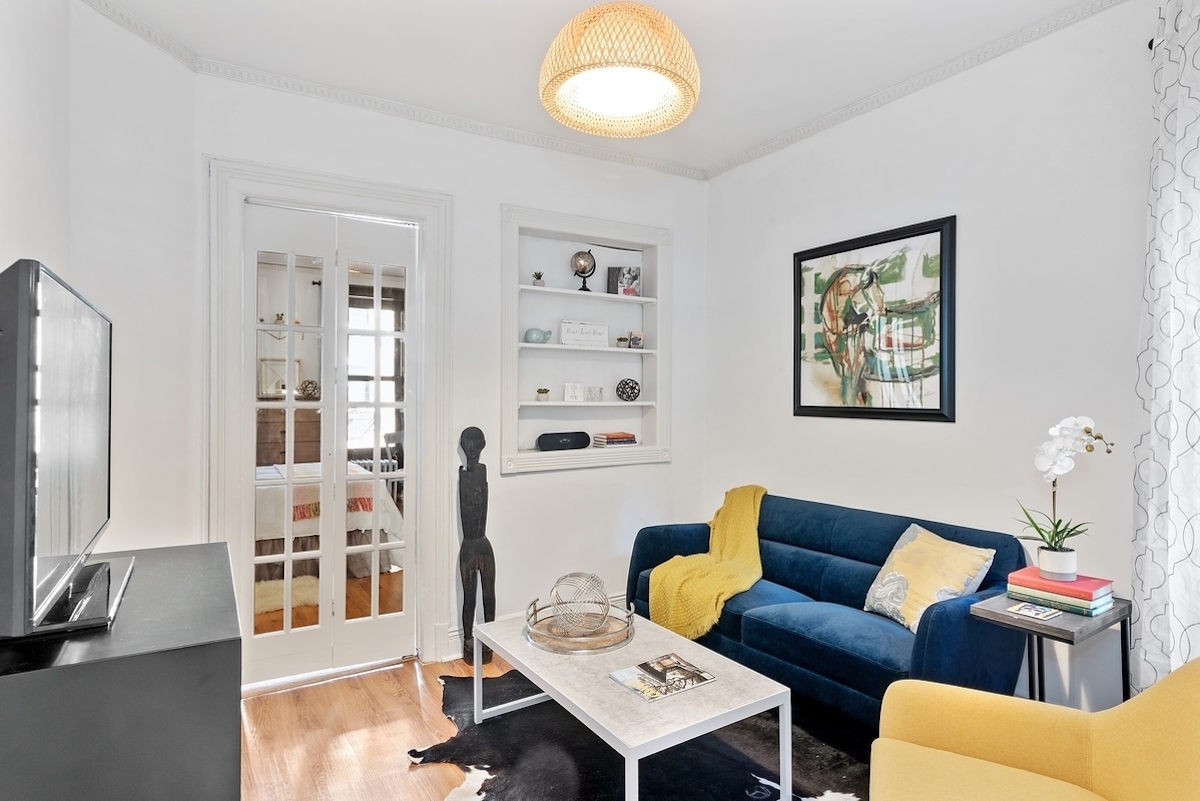 A railroad apartment is an apartment where all the rooms line up and you must pass through one room to get to the next (kind of like subway cars). Typically the bedrooms occupy the front and back rooms (for privacy), with the kitchen, bathroom, and main living area smack in the middle.
Types of Apartments: What Is a Garden Apartment?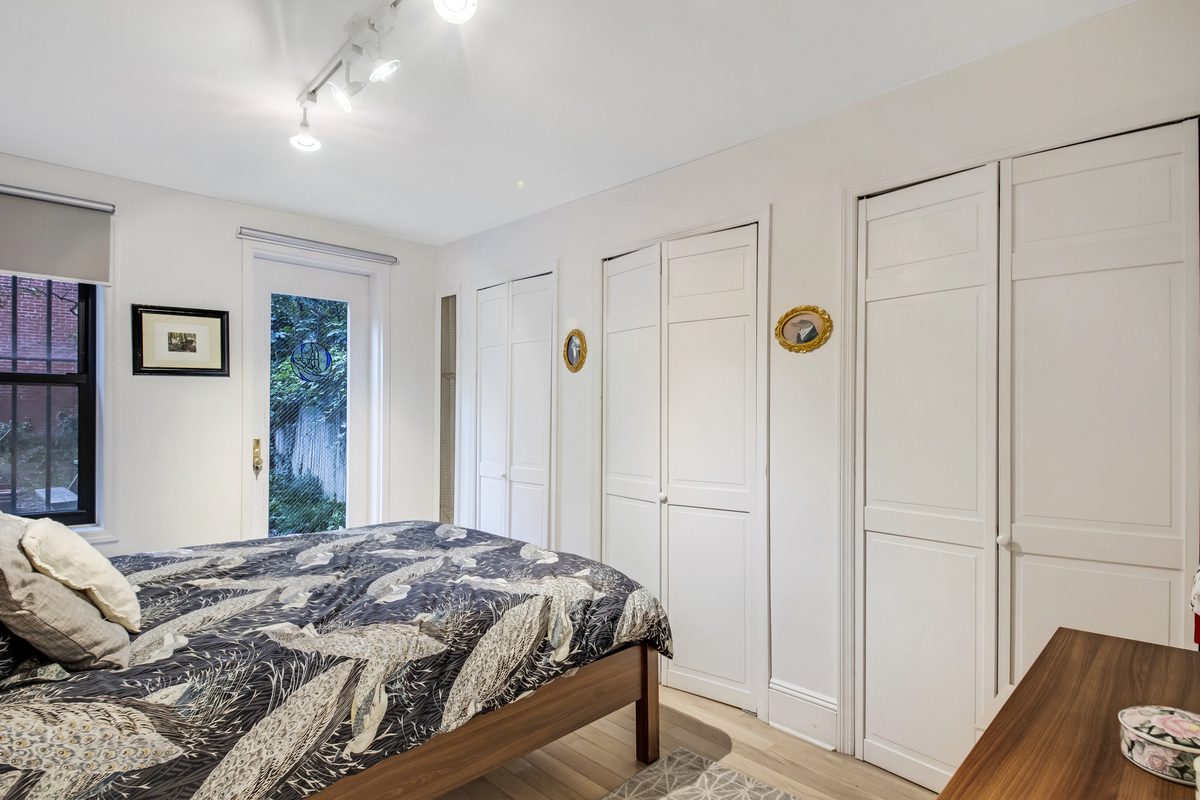 In NYC, the term "garden apartment" applies to an apartment located at the ground level that features direct access to an outdoor space like a backyard or patio. Neighborhoods like Harlem, Bedford-Stuyvesant, and Park Slope are known for tree-lined streets with rows of brownstones and pre wars, many of which offer garden apartments. One good to know, garden apartments tend to be one-bedrooms.
What Is a Junior One Apartment?
Out of all the different types of apartments, this one is arguably the most confusing. A junior one apartment is a studio that has converted some space into a designated and walled-off bedroom. It is not considered a standard one-bedroom because of its original studio floorplan.
"This is often achieved with alcove studios where there is already a designated sleeping area separate from the living spaces and can more comfortably accommodate a walled-off bedroom,'" said agent Jeremy Kamm of Warburg Realty. "Furthermore, the sleeping area might be smaller in dimension than what is considered a bedroom in legal terms."
What Is a Junior Four Apartment?
A junior four apartment is a one-bedroom apartment with four separate rooms, most commonly a bedroom, kitchen, living room, and dining room. These types of apartments are sometimes marketed as two-bedroom units, in which case the fourth room is designated as a smaller bedroom.
"A junior four apartment is a one-bedroom apartment that easily converts into a two-bedroom by transforming the dining area off of the kitchen," said Kamm.
Heads up! If the fourth room or "second bedroom" doesn't have a window, it's not legally a two-bedroom.
Types of Apartments: What Is a Loft?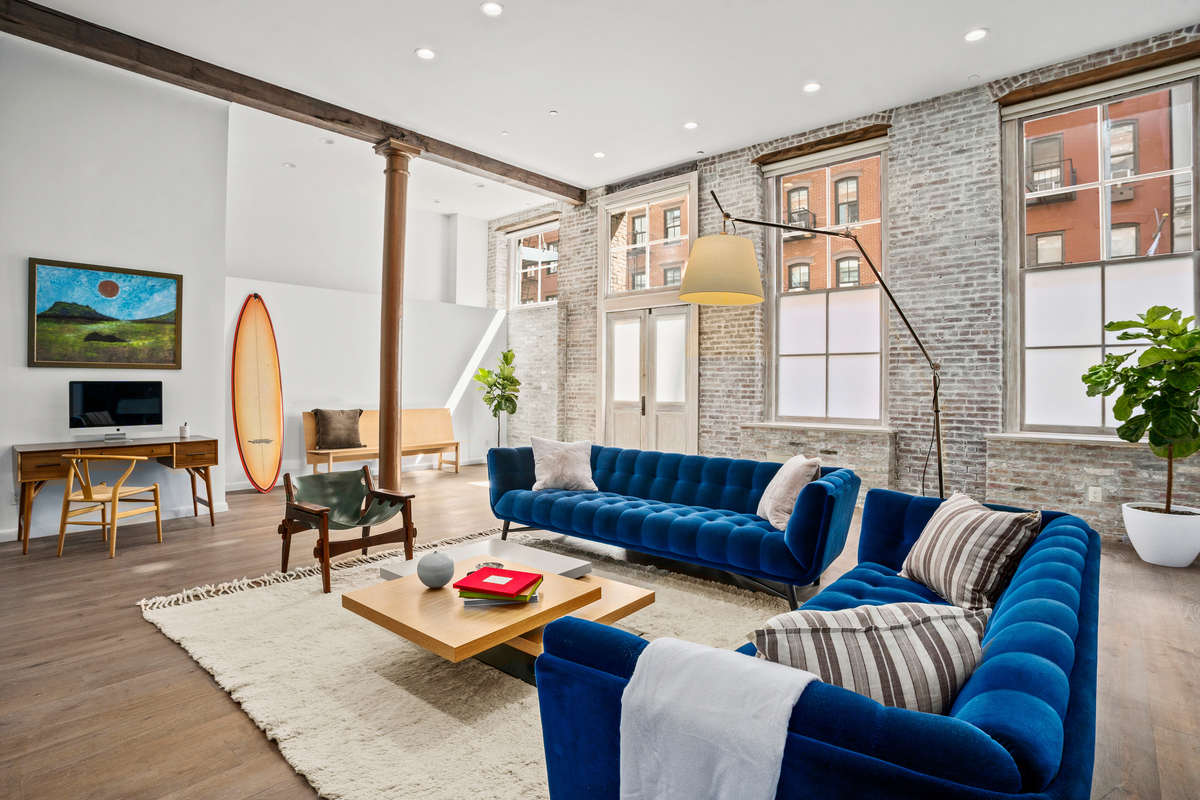 Raw lofts have open floor layouts without designated spots for a bedroom, dining room, or living room. The kitchen is also open to the entire apartment typically, and the only separated spaces with doors are bathrooms. Many renovated lofts have been subdivided into different rooms or zones with designated functions," said Kamm.
In prewar buildings, these types of apartments were originally industrial spaces for making things like clothing or even pianos. Later they became living spaces with some of their original features like high ceilings, visible structural beams, and large windows intact.
What Is a Micro Apartment in NYC?
Micro-units became a thing in NYC when the minimum square footage for an apartment was no longer 400 square feet in 2016. Small spaces like these are typically between 260-360 square feet with a sitting space, sleeping space, bathroom, and kitchen. These types of apartments officially debuted in Spring 2015 as an NYC pilot program.
According to broker Rebecca Blacker of Warburg Realty, "They often feature big windows and lots of creative storage space." Don't get these units confused with SROs, which are roughly 225 square feet with communal bathrooms.
What Is a Studio Apartment?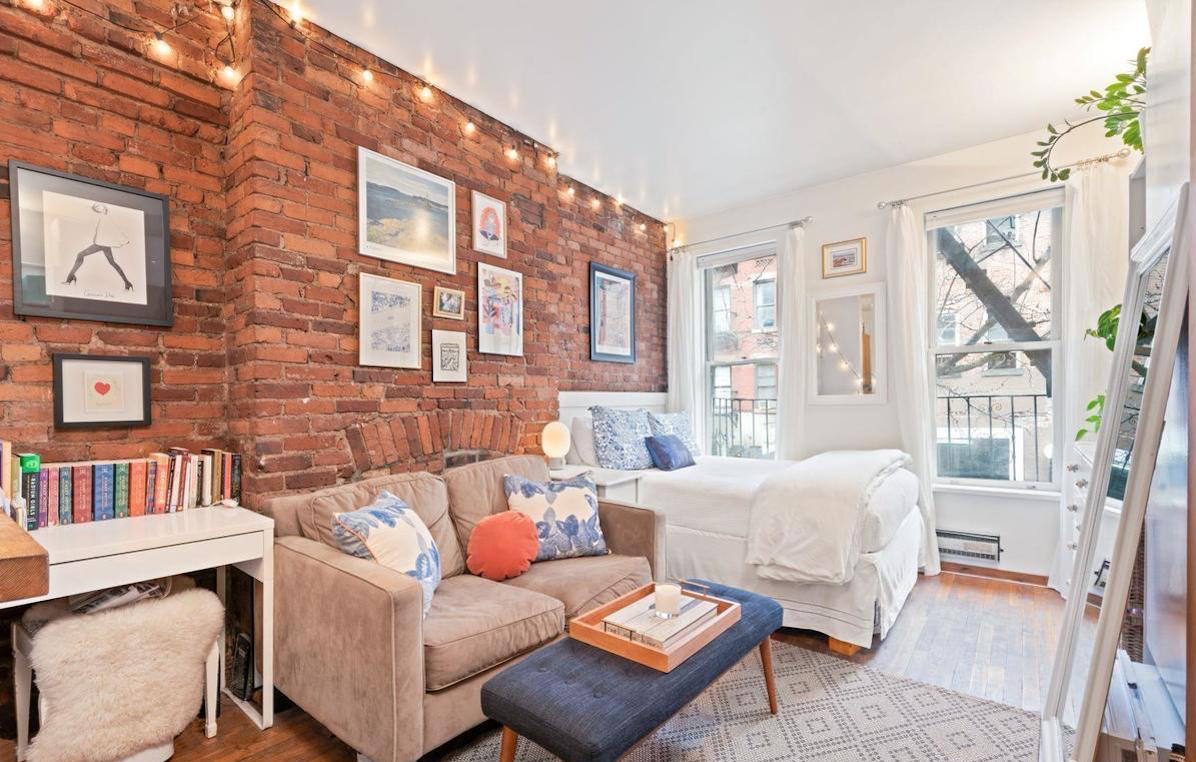 A studio apartment is usually 400 square feet or larger and has a bathroom. "Everything is in one open space: living room, bedroom, and usually the kitchen too, although there are a lot of studios in NYC with separate kitchens," said Blacker. "There are a few variations on the studio floor plan, such as the alcove studio, which has an extra nook where you can squeeze a bed or a desk."
What Is a True One Bedroom?
A real one bedroom features at least two distinct rooms with a door that separates the bedroom from the living area. To qualify as an actual "bedroom," typically, the room must be at least eight feet wide, and eight feet tall plus have a window that opens to the street, a garden, or a courtyard. The same is true for any number of bedrooms. If there's no window, then it's not a real bedroom.
What Is a Prewar Apartment?
When it comes to types of apartments, this one can be a little confusing. In NYC, a prewar apartment is an apartment built before WWII, typically between the years 1900-1939. These types of apartments tend to have decorative features like patterned floors, plaster, moldings, etc. Other features can include high ceilings, too, and sometimes larger windows.
"Some buyers prefer prewar apartments because the apartment layouts look and feel different — not the usual cookie cutter' experience where a handful of layouts define most of the apartments," said agent Mihal Gartenberg of Warburg Realty. "On the con side, prewar apartments tend to have smaller bathrooms and smaller closets. If you find a prewar with large closets and bathrooms, it's a keeper."
Types of Apartments: What Is a Walk-up Apartment?
As the name implies, a walk-up apartment is in a building with no elevator. "Living in one of these buildings means you need to walk up a flight or more of stairs to get home if you're not on the first floor," said agent Mihal Gartenberg of Warburg Realty.
These types of apartments are located in buildings with less than six floors. Buildings with more than six floors must have an elevator.
Other Types of Apartments in NYC
There are more types of apartments to know. And lucky for you, there are more explainers that dive in:
Duplex: A duplex apartment is a two-story unit.
Penthouse: A penthouse unit is located near the top floor of a building.
Pied-à-Terre: The French phrase means "a foot on the ground." But in NYC real estate terms, a pied-à-Terre means an apartment where the owner uses it as a "non-primary residence."
Happy apartment hunting!