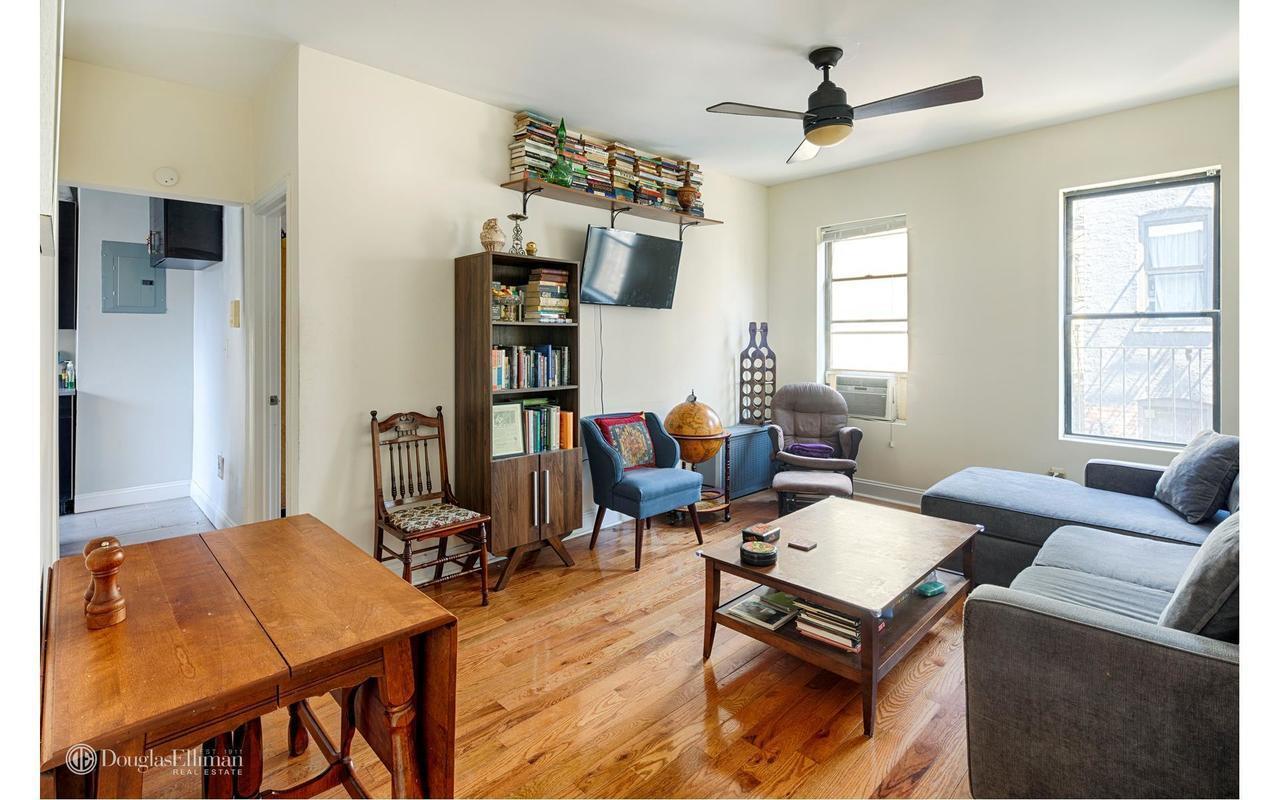 Here's a particularly elusive find in the world of New York real estate: A 3-bedroom in Manhattan for $399,500. You read that right. This listing at 715 W. 180th St. #52 is a rarity indeed. Of the nearly 7,650 listings in Manhattan currently on the market, there are only 49 3-bedrooms in Manhattan for under $1 million and only 11 under $400K. That makes this listing in the .1 percent, which, in this scenario, is definitely a good thing and is why this Hudson Heights listing is our Deal of the Week.
The Price: $399,500
By Manhattan standards, Hudson Heights, is a relatively affordable neighborhood. The going rate for a 3-bedroom apartment is currently is $962,000, less than a third of the borough price of $3,750,000. Listed for $399,500, however, our Deal of the Week knocks other 3-bedrooms in the neighborhood straight out of the water.
Buyers putting down the minimum 20 percent ($79,900) can expect to see monthly payments of $2,258, consisting of a $1,623 mortgage payment and $635 in maintenance fees. That's far below the median rental price of a 3-bedroom in Hudson Heights, which clocks in at $3,125 a month.
The only catch is that a single owner holds 75 percent of the co-ops shares in the building, which some lenders would take issue with. As such, the preferred and only lender for the building is First Meridian. Interested buyers can apply for financing with First Meridian or pay all cash.
Why You'll Love It…
Beyond the price, there's a lot to love about the apartment. The living room is sunny and spacious with room for a sectional and dining set. The kitchen has been updated with grey stone floors, stainless steel appliances (including a dishwasher) and plenty of counter space. In the bathroom, you'll find marbled tile, but more importantly, a stacked Bosch washer/dryer. And not to worry, there are no closet-turned bedrooms here. The three bedrooms are all true bedrooms with at least one window and closet each.
Located on a quiet street, the apartment is a short walk from the A train at 181st Street and the small storefronts of upper Broadway's local shopping strip. You've also got easy access to one of upper Manhattan's best kept secrets — Fort Washington Park.  What more could you want? The ability to rent it out? Sure, you can have that too. This unit comes with a flexible sublet policy.
And in case you needed another reason to impress your friends and family, the apartment once belonged to Washington Heights OG and West Side Story star Rita Moreno.
… And Why You Might Not
It's not all sunshine and roses: This apartment is a fourth floor walk-up. The stairs likely helped Rita Moreno keep her dancing figure and perhaps will keep you in fit form too.
If you're picky about banks and lending options, the mandated financing through First Meridian probably won't float your boat. But if you're looking for a rare apartment with character, history and space, you may have found your place.
—
Hey, why not like StreetEasy on Facebook and follow @streeteasy on Instagram?