Last month we explored where New Yorkers move when they leave the city, and found that they generally move to other expensive places — either nearby suburbs or other large cities. But who moves into New York? Turns out it's pretty much people from these same places. Our analysis finds that New York City essentially swaps residents with a handful of other areas across the country.
More than 264,000 people, or some 3 percent of city's population, moved to New York in the past year. Of these, 35 percent came from abroad, while the remaining 65 percent, or 171,000, moved from elsewhere in the United States.
Almost two-thirds of movers to New York are young adults between ages 18 and 34. Only 20 percent of movers are between ages 35 to 59. Few, too, are moving to New York to retire: No more than 6 percent of movers to New York City are over 60.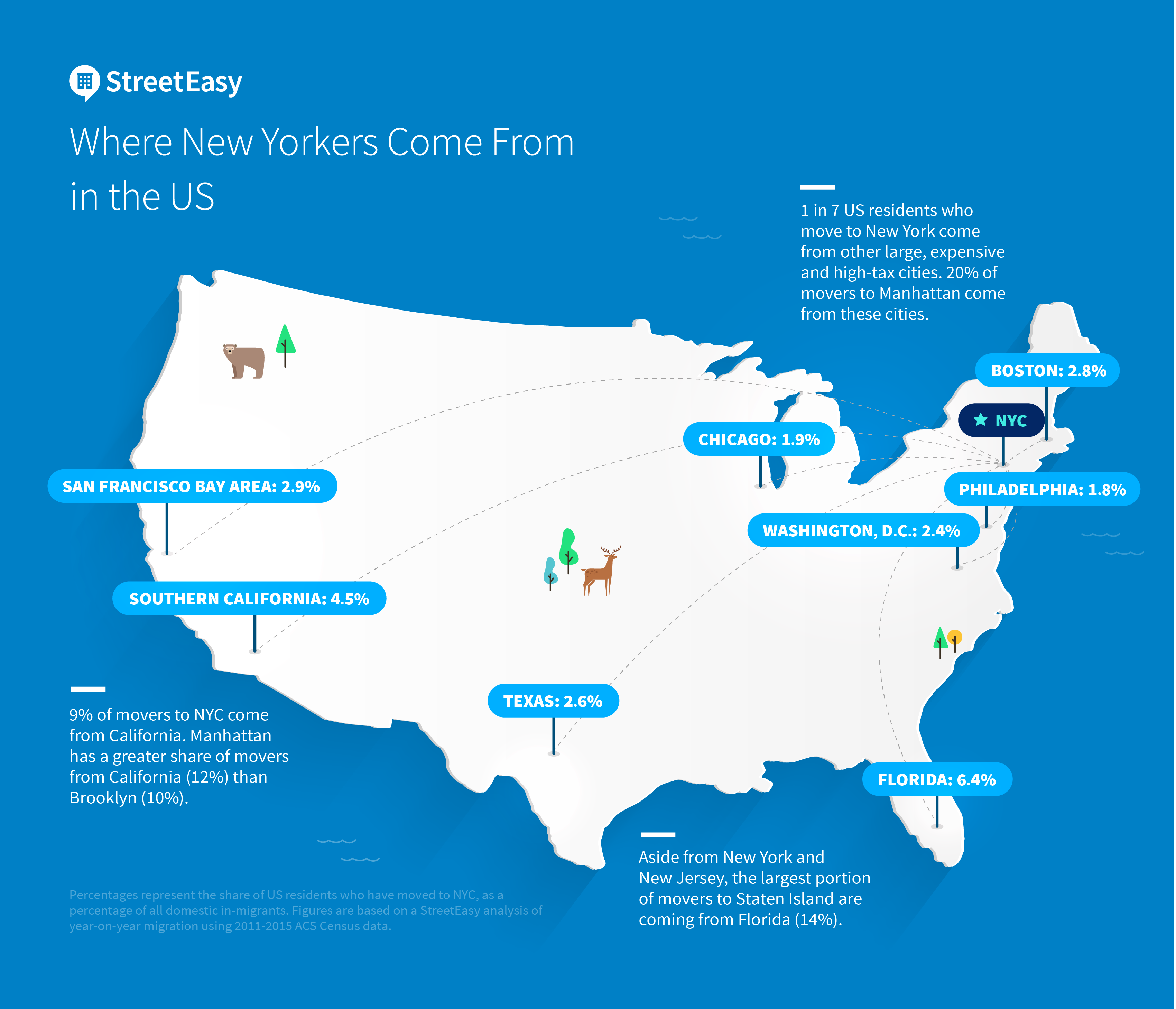 Manhattan: The Only Borough That Gets More Than it Gives
Despite Manhattan having the highest rents and home prices in the city, it's still the most attractive place for newcomers. Almost 7 percent of Manhattan's population lived somewhere else a year ago. Manhattan attracts twice as many domestic migrants as Brooklyn and Queens, and more than three times as many as the Bronx and Staten Island. Almost 30,000 more people moved to Manhattan than out of it domestically, while all other boroughs actually lost residents to other cities around the U.S.
Californians Move to New York the Most
The biggest share of domestic movers — 9 percent — come from California, especially Los Angeles and San Francisco counties. More than half of those come from the Southern California, including Los Angeles, San Diego, and Orange counties, and a third come from the Bay Area, including San Francisco, San Mateo, Alameda, and Santa Clara counties. Yet while more people from Los Angeles than San Francisco move to New York overall, Brooklyn attracts more former San Franciscans than Angelinos.
On the whole, more people are leaving New York City for California than moving in, but the ones who move either way tend to be between the ages of 18 and 34. Only 3,000 people older than 35 moved from California to New York City last year.
Floridians and Texans Trade Sunshine for City Life
More than 15,000 people, or 6 percent of movers to New York City, annually give up plentiful sunshine, single-family homes, and the absence of a state income tax to move to New York City from Florida and Texas. While the majority of people moving to Staten Island, the Bronx, and Queens come from local suburbs in the Tri-State region, more than 10 percent of domestic movers to each borough come from Florida and Texas.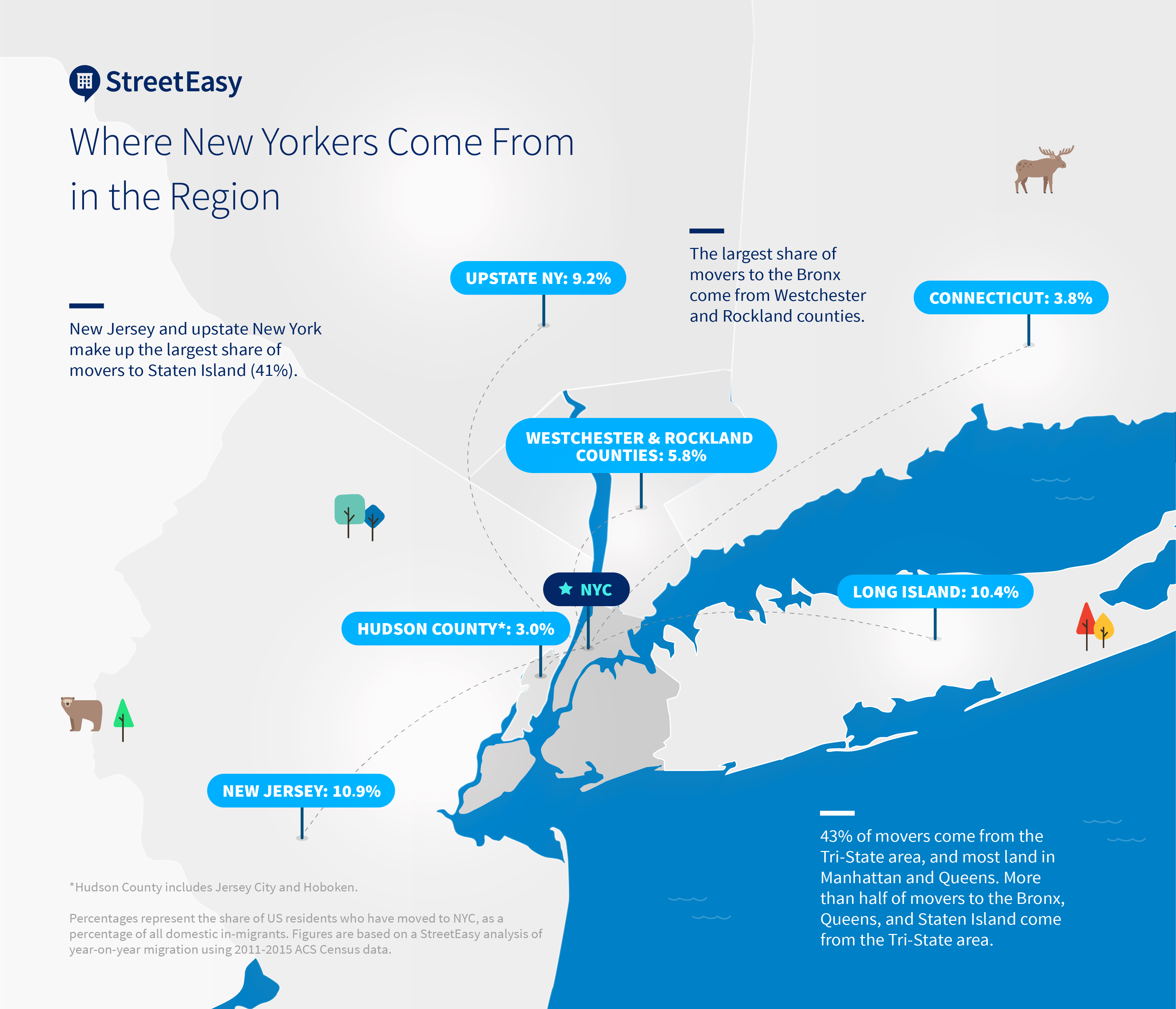 Movers to NYC Sort Themselves by Age, Income, and Lifestyle
If parts of Manhattan feel eerily similar to Los Angeles, and Brooklyn to San Francisco, it's because the people circulating between them have similar ages, income, and lifestyles. The same is true for more suburban areas and the outer boroughs. People from urban areas move to the more urban boroughs, while suburban residents move to the outer boroughs. Both groups bring with them a lifestyle, culture, and skills that contribute to the character of these areas, making Manhattan feel more similar to areas of other large cities than to its surrounding suburbs.
The biggest portion of movers to Manhattan (20 percent) and Brooklyn (17 percent) come from other big, expensive cities, such as Southern California, the Bay Area, Chicago, D.C., and Boston. Big-city residents comprise a much smaller share of migrants to the other boroughs. In contrast, more than half of people who move to Queens, the Bronx and Staten Island come from the Tri-State suburbs, while no more than a third of those moving to Manhattan and Brooklyn do.
These trends mirror the larger demographic trend of socioeconomic sorting, in which people of certain age groups and incomes move to areas with people similar to them. The median incomes and ages of out-of-state movers to Manhattan and the Bronx mirror those of the boroughs' non-movers. The income levels and age ranges of movers to Queens and Brooklyn tend to be more diverse, just like those of the boroughs' residents overall. And the cities that send the most people to Manhattan and Brooklyn also have among the highest median housing costs and incomes in the country.
How We Did It
We used the 2011-2015 ACS Census data on County-to-County Migration Inflows to calculate the aggregate in-migration to New York City as the sum of migrants whose county of residence is currently New York County, Kings County, Bronx County, Queens County, or Richmond County, and who lived in a different county one year ago within the United States. We excluded international migrants from our percentage calculations.
—
Hey, why not like StreetEasy on Facebook and follow @streeteasy on Instagram?