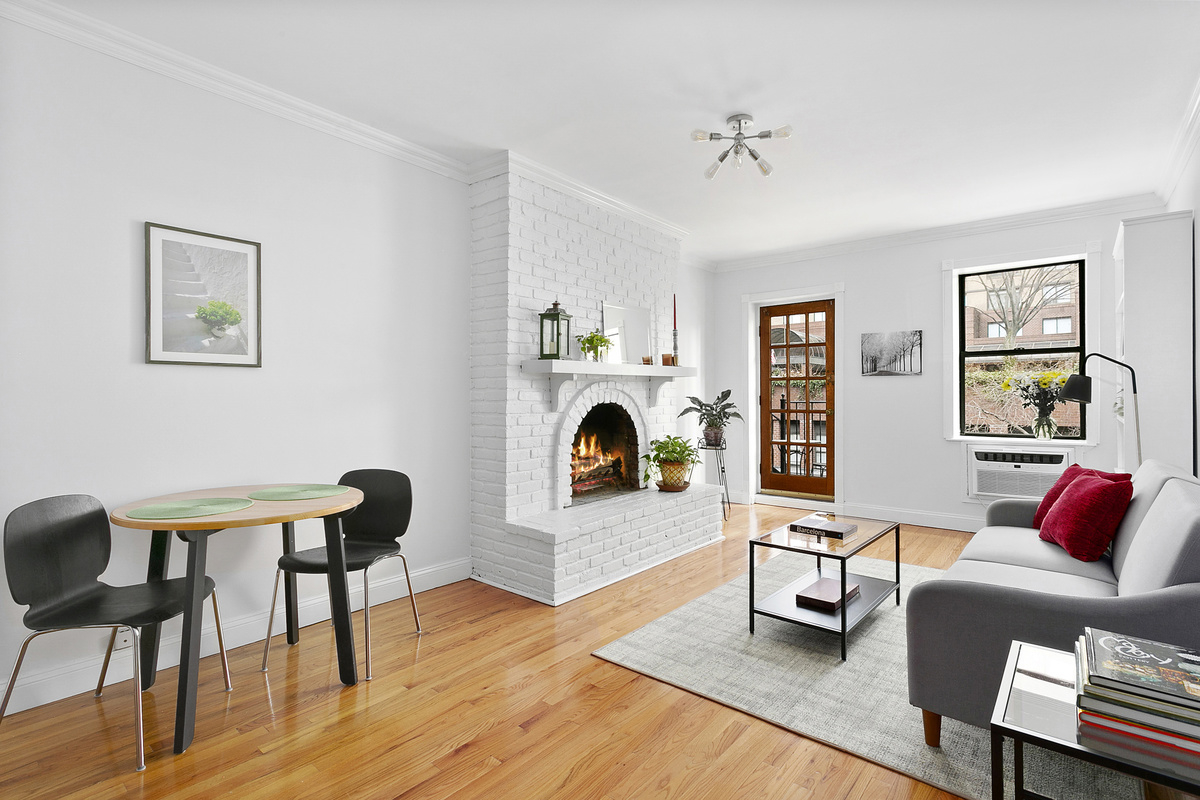 If having Central Park and Museum Mile right in your backyard sounds like your NYC dream, check out Yorkville. This homey Upper East Side neighborhood has residential amenities galore, like restaurants, gyms, and grocery stores — plus, there are deals to be had. Like our Deal of the Week: 226 E. 95th St. #302 is a Yorkville 2-bedroom with a wood-burning fireplace and a balcony, for well under typical UES prices.
The Price: $699,000
The median sale price for a 2-bedroom apartment on the Upper East Side is $1,775,000. That puts our Deal of the Week at more than a million dollars under the median asking price for the nabe!
Buyers who put down the 20% minimum down payment of $139,800 can expect to see monthly payments of $3,483. This includes a mortgage payment of $2,474 and a maintenance fee of $1,009. By comparison, the median rent for a 2BR on the UES is $3,608.
Why You'll Love It…
This apartment is a true 2BR, not a 1BR with an extra wall built to divide the living room. The master has two big windows and two closets, while the smaller bedroom has one of each. In between the two is a newly renovated bathroom, outfitted with white tile and a modern wood vanity. Also new? The kitchen, with gleaming white cabinetry, quartz counters, and a dishwasher.
The star of the living room is a charming wood-burning fireplace in whitewashed brick, which provides a great focal point. And there's also something New Yorkers want more than ever these days: a balcony. It's small but perfect for a reading nook or just a spot to sit and enjoy some sun and fresh air.
The five-story co-op building has an elevator and a laundry room, and is located just a quick walk away from the Q and 6 trains. Co-purchasing, pied-à-terre use, and gifting are all permitted.
Manhattan 1-2BRs Under $800K on StreetEasy Article continues below
… And Why You Might Not
With two bedrooms, a bathroom, a kitchen, and a living room squeezed into 750 total square feet, all the rooms in this apartment are on the small side. The second bedroom is especially tight, with a cut-off corner creating a slightly awkward layout. But this Yorkville 2-bedroom is well-appointed, and extremely well-priced. If you're looking for an Upper East Side home, it's worth a serious look — don't miss the video walkthrough on the listing!
Check out the listing at 226 E. 95th St. #302. Listed by owner; contact information can be found on the listing.
—
Whether you're looking to rent or to buy, find your next NYC apartment on StreetEasy.