What a huge loss in the world of international architecture: Zaha Hadid has died from an apparent heart attack in a Miami hospital where she had been being treated after falling ill with bronchitis. It is shocking news and especially here in New York, where Hadid's "iconic new landmark" is being prepared for completion.
Hadid's unusual NYC masterpiece at 520 West 28th Street (above) sits famously on the High Line in the heart of West Chelsea. With 39 units, the curvaceous building is a signature Hadid design and outfitted with "highly curated amenities." So far, it appears as if 11 of the 39 units in the 11-story building have entered into contract.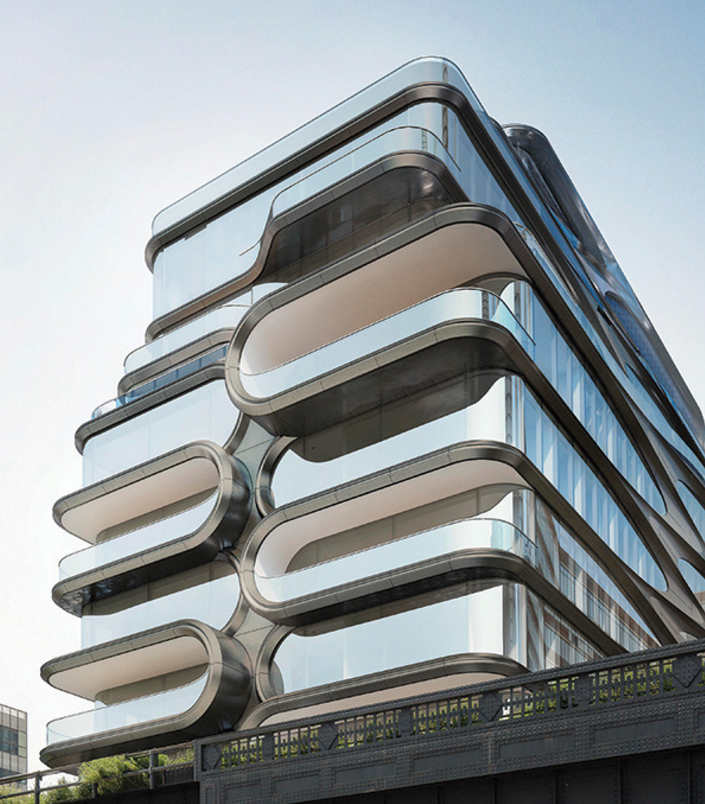 Just this week, in anticipation of the building's completion, Business Insider carried a story that boasted about six design and amenity elements special to Hadid's first and only NYC residential building. Architectural Digest also extolled the design marvels of 520 West 28th Street in December. Among its notable features, including interlocking floors, filtered air, individual garages and specialized microwave ovens that can cook meat, the building itself includes an unprecedented, private IMAX theater that seats 12, a private hammam-style spa, a 75-foot sky-lit swimming pool and a juice bar.
"Zaha Hadid's international body of work is largely defined by graceful curves inspired by nature. She brings this sensibility to 520 West 28th, marking a dramatic shift away from the hard angles that dominate standard residential architecture,'' the 520 West 28th Street website touts, adding:

"The building's elegant hand-rubbed metal façade is driven by one continuous line, which loops its way skywards. These dynamic curves create a distinctive chevron pattern that embraces interlacing levels, maximizing privacy and security between residences. As the chevron weaves up from the ground, its folds create a multi-level design that links residence exteriors and interiors together in one sweeping movement. The result is a vertical landscape sitting directly on the High Line, comprising 39 unique residences."
Hadid, who was 65, was the only woman to ever win the Pritzker Architecture Prize, which she claimed in 2004. She was born in Baghdad in 1950 and studied mathematics at the American University of Beirut and then later at the Architectural Association in London.
While the history of women who influenced New York City's architecture and design hardly gets the attention it deserves, there's no doubt that Hadid's legacy and imprint on this city will be bold and everlasting. Her one-of-a-kind condo tower at the High Line will make her immortal.
> See more photos of 520 West 28th Street