What is a Pied-à-Terre?
Technically, as in linguistically speaking, a "pied-à-terre" literally translated from French means "a foot on the ground." What it means in New York City, or any place someone wants to own a second home, is a pied-à-terre is not a primary residence and is intended to be used on weekends or short periods as a vacation home, or a "non-primary residence."
The real issue in NYC isn't about what the word means, but rather the quasi-legal interpretations used by co-op and some condominium boards. "Pied-à-terre" is not a legal definition of a class of apartment. Its meaning is subjective, which creates some issues when it comes to searching for a second home in New York, or closing on such a property.
Why does someone want a pied-à-terre?
When it comes to fulfilling a fantasy so many of us have about owning a little piece of a city we love to play in, a pied-à-terre invokes all kinds of magical thinking, since owning one means the city is at your doorstep, even for only a few days and nights a week or month or year.
In a city of nearly 8.5 million people, which is also a city that never sleeps, which is also one of the world's biggest urban playgrounds, there's hardly only one or two reasons why people would choose a NYC pied-à-terre. Likewise, there isn't one class of apartments that can be used as a pied-à-terre.
While the hype and prices and influx of foreign investors in the New York real estate market these days shines the spotlight on super-slick, high-end luxury condos in buildings riddled with all the bells, whistles and amenities, there are still pied-à-terre buyers of more modest means who are just looking for a place to sleep or chill between urban adventures.
In other words, while the idea of pied-à-terre sounds terribly luxurious and high-end, there are many units that can be considered a pied-a-terre without a seven-figure price tag.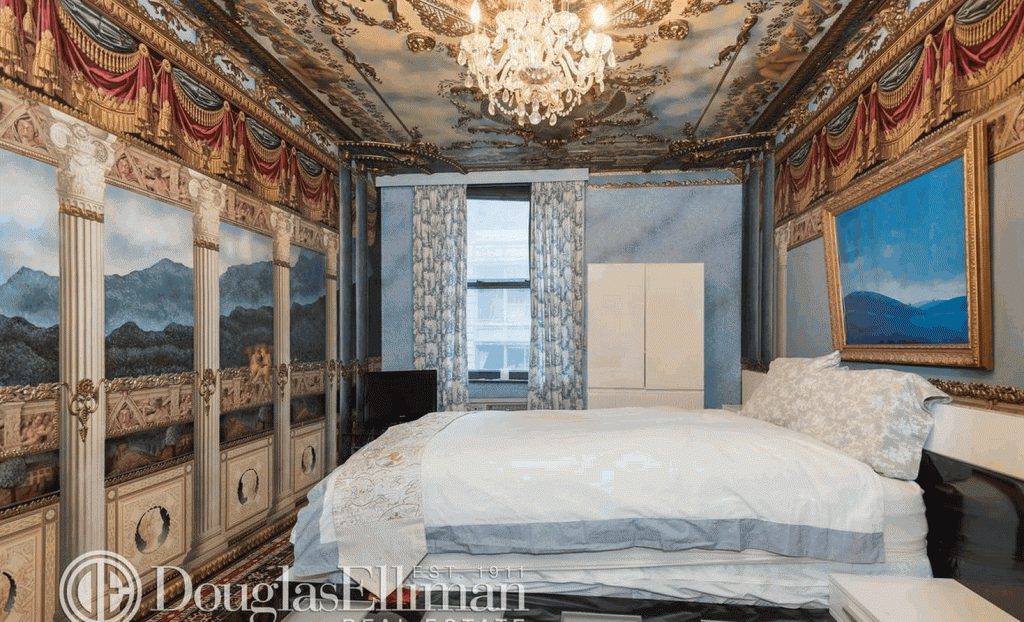 Where do you buy a pied-à-terre?
At Corcoran Group, real estate experts there say "three Manhattan neighborhoods consistently attract pied- à-terre buyers." These neighborhoods tend to be the places where foreign investors or more wealthy buyers can locate themselves in the heart of NYC's most culturally bejeweled ZIP codes.
Real estate brokers these days say that four amenities "consistently top the wish-list of pied-à-terre buyers" at the high end of the scale:
Concierge services
Spa and fitness centers
Residents' lounges (as extended living spaces beyond the owner's apartment)
Rooftop clubs with 360-degree skyline views.
"Hotel affiliations are perhaps the best of both worlds for pied-à-terre buyers, offering complete ownership coupled with the services of a Manhattan hotel at their 24/7 disposal,'' Corcoran Group suggests.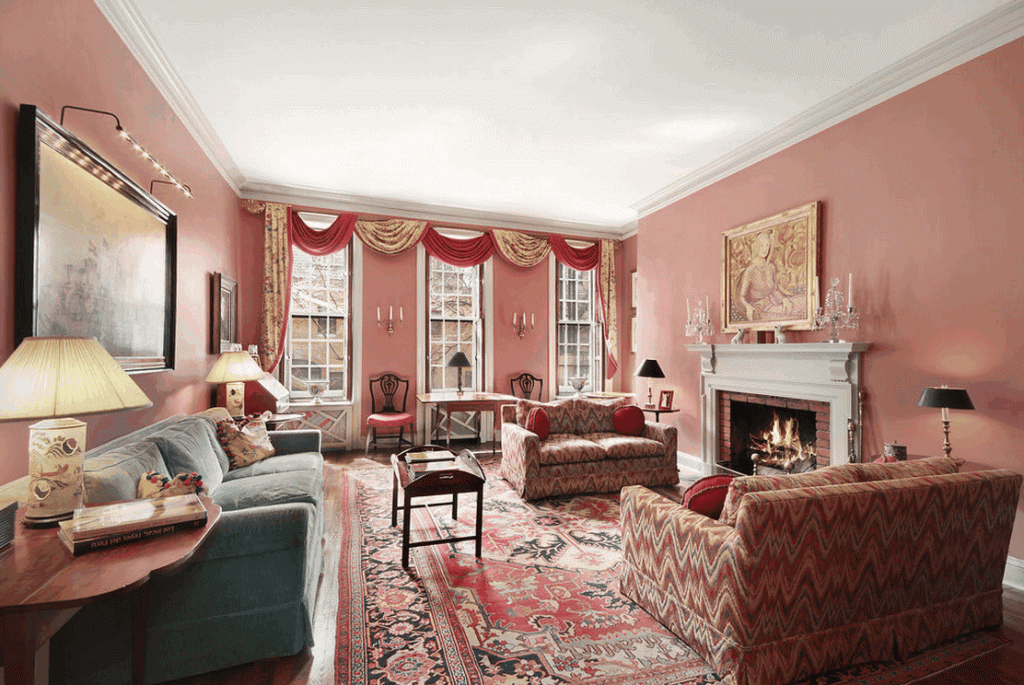 NYC real estate market standards tend to mean that co-op buildings have stricter rules about pied-à-terre use. Many explicitly rule them out. Others may allow the co-op board to approve pied-à-terre use on a case-by-case basis.
If a co-op unit is available for pied-à-terre use, it is therefore generally well-publicized in the marketing material, since co-ops are an attractive option due to generally lower prices. Still, an abundance of caution and due diligence must be done by buyers and their agents if they are looking to make an offer on a pied-à-terre in a co-op building.
For the most hassle-free purchase process, however, most pied-à-terre buyers will be looking at condo buildings, since, generally, the only criteria needed to be met by buyers is verified financials.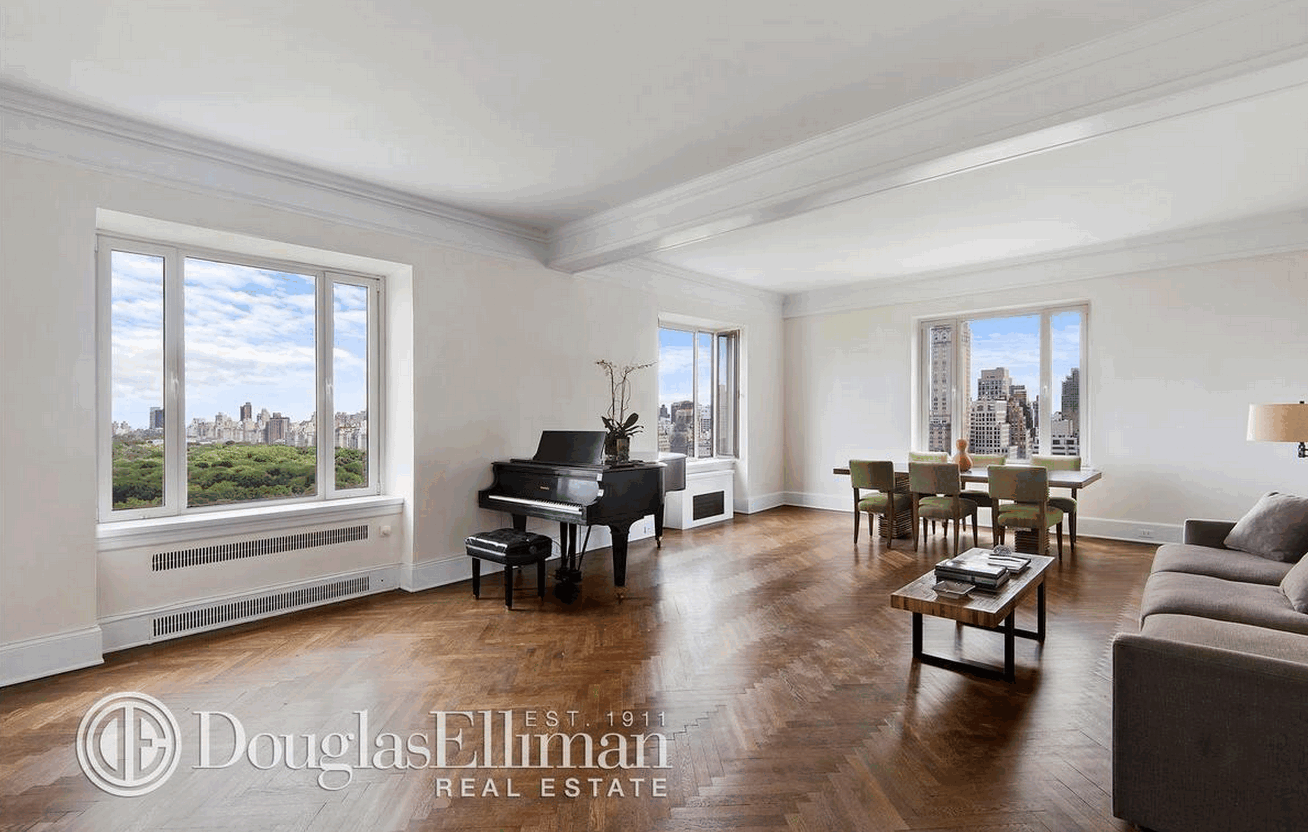 'Foreign purchasers, pied-à-terre and pets allowed'
Everyone can appreciate truth in advertising, especially NYC co-op buildings that allow units to be sold to buyers whose intention is to only use the apartment part time. The Hampshire House at 150 Central Park South has a 2-bedroom, 2-bathroom unit listing that seems eager to call attention to the co-op board's willingness to accept a pied-à-terre deal:

Originally listed for $13.7 million in late 2014, the price for unit #2301 at The Hampshire House was reduced to $11.5 million. A little less cash required for what is called an "all-cash building." NYC real estate standards tend to mean co-op buildings with strict rules about approving buyers who will use their unit as a pied-à-terre, so when a building does allow such a thing, it is generally well-publicized in the marketing material.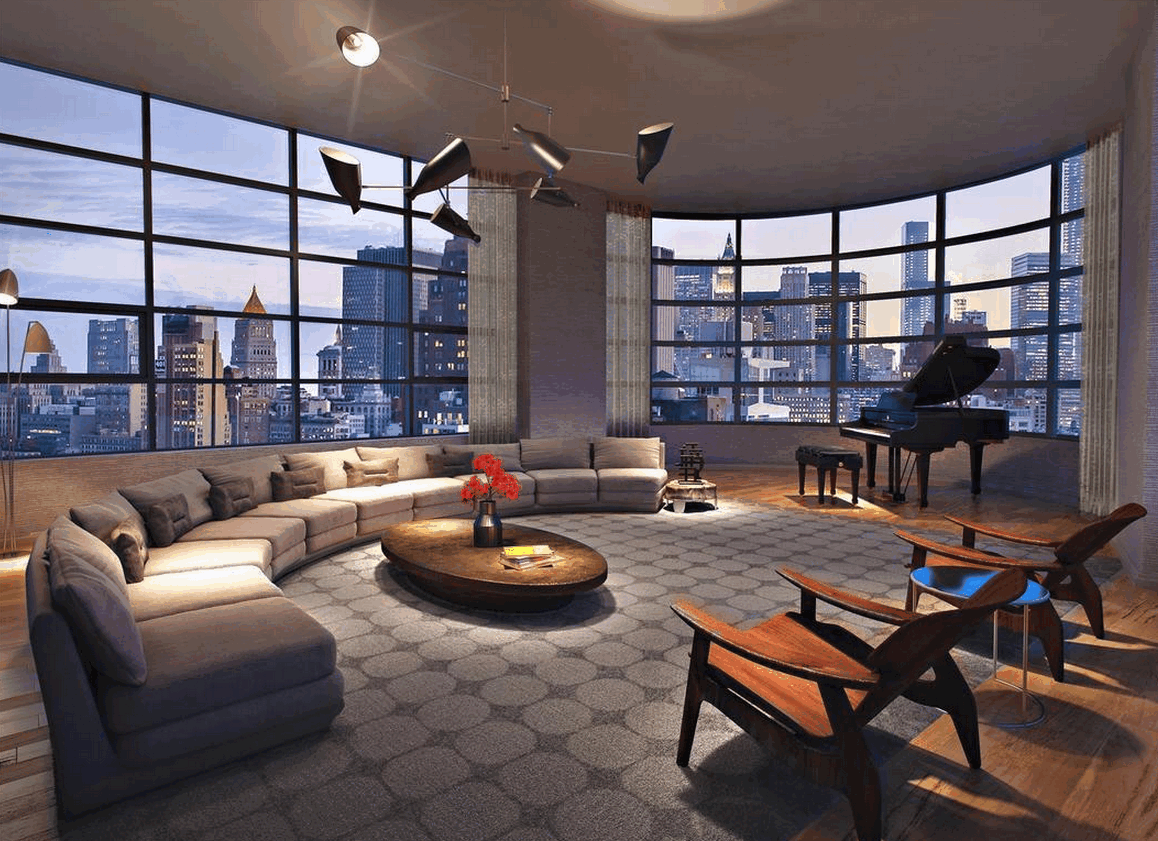 High rollers galore for SoHo 'pied-à-terre NYC'
One of the most dramatic new developments in SoHo is 10 Sullivan. It is a brand-new luxury building designed by architect Cary Tamarkin, but the marketing for this impressively curved beauty has reached out to any and all kinds of well-heeled buyers.
How much do 10 Sullivan developers want to reach potential pied-à-terre buyers? If you do a Google search for "pied-à-terre NYC," and you will see this ad pop up on your search results page.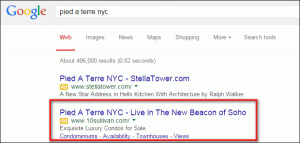 The marketing and potential clientele for 10 Sullivan shatters the conception of what a pied-à-terre is. When a building boasts units priced at $25 million (Duplex) and $45 million (stunning penthouse) you know you're not dealing with your basic studio or one-bedroom escape hatch. Not that there aren't a few smaller units available at 10 Sullivan that fit a less extravagant budget, like #4C — a 2-bedroom, 2-bathroom, 1,269-square-foot unit priced at $3.36 million.
The 'problem' with increased numbers of 'under-taxed' pied-à-terres in NYC
As more investors, especially from overseas, use New York City real estate to park cash in what is seen as a stable if not growing asset class, the city has seen an increase in the number of vacant units.
Census Bureau numbers suggest that a pretty significant percentage of apartments in particular areas of New York are not inhabited for any real number of days. The New York Times in 2014 investigated and found vacancy rates to be startling. By some estimates, about 89,000 NYC apartments are vacant.
Likewise, tax abatements and tax laws have generally shielded owners of investment or second homes from contributing real estate tax dollars to the city. NYC real estate experts note that condo and co-op valuations are based on the value of nearby rental properties, rather than comparable sales, leading to systematic undervaluation. However, developers keep earning tax abatements by arguing that pied-à-terre owners are rarely in need of city services, so taxing such properties would unfairly burden the market from selling to these kinds of buyers.
The issue has led to calls for raising a pied-a-terre tax. In the New York State Senate, there have been calls for legislation that amend the Real Property Tax Law, allowing the city to tax pieds-a-terre at escalating rates depending on the value of the property.
At the low end, homes owned by non-residents worth between $5 million and $6 million would be subject to a surcharge equal to half a percent of the value of the unit. Condos and co-ops valued above $25 million would be charged $370,000, plus 4 percent on excess over $25 million.
The estimates are that $665 million in tax revenue would be generated under such an amended law. About 83 percent of that money would come from pieds-a-terre are in the top bracket.
Related: