What: Lottery for affordable rentals: $833 to $1,458 per month
Who qualifies: Annual household earners from $29,898-$72,480
Deadline: Nov. 1, 2016
>> Learn how to apply
10 Freedom Place Housing Lottery
10 Freedom Place South is a new residential tower, which is part of the eight-acre Riverside Center complex on the far Upper West Side of Manhattan between West 59th and 61st streets.
Among the five towers in the complex are 1 West End and 21 West End Avenue. 10 Freedom Place will have 365 units in total when it's complete, 116 of which are being offered up in an affordable housing lottery starting today.
The apartments available are a mix of 27 studios, 28 one-bedrooms, and 61 two-bedroom units. Rent ranges from $833 to $1,126 for studios, $895 to $1,208 for one-bedrooms and $1,082 to $1,458 for two-bedrooms. Depending on the size of the apartment and the number of people who will occupy the household, the income for the households can range from $29,898 to $72,480. More details can be found on the advertisement through NYC Housing Connect.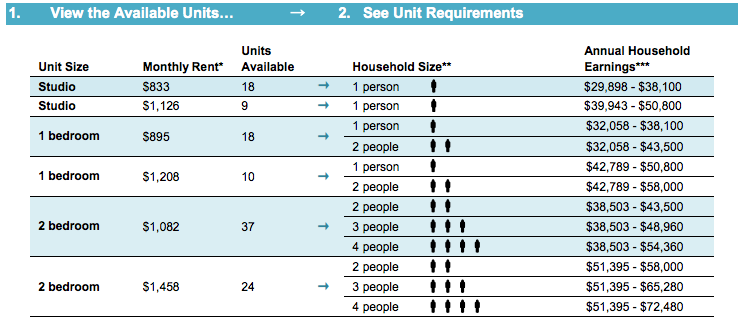 The affordable housing units will take up the lower eight floors of 10 Freedom Place, with the other 249 market-rate units taking up the building's upper floors. The building offers amenities such as a fitness center, bicycle storage, in-building laundry, roof terrace and children's playroom. It is convenient to the A, B, C, D, and 1 trains at 59th Street Columbus Circle, as well as the M57 bus line.
The housing lottery is open until Nov. 1. Applications can be sent in by mail or online via NYC Housing Connect.
Related: