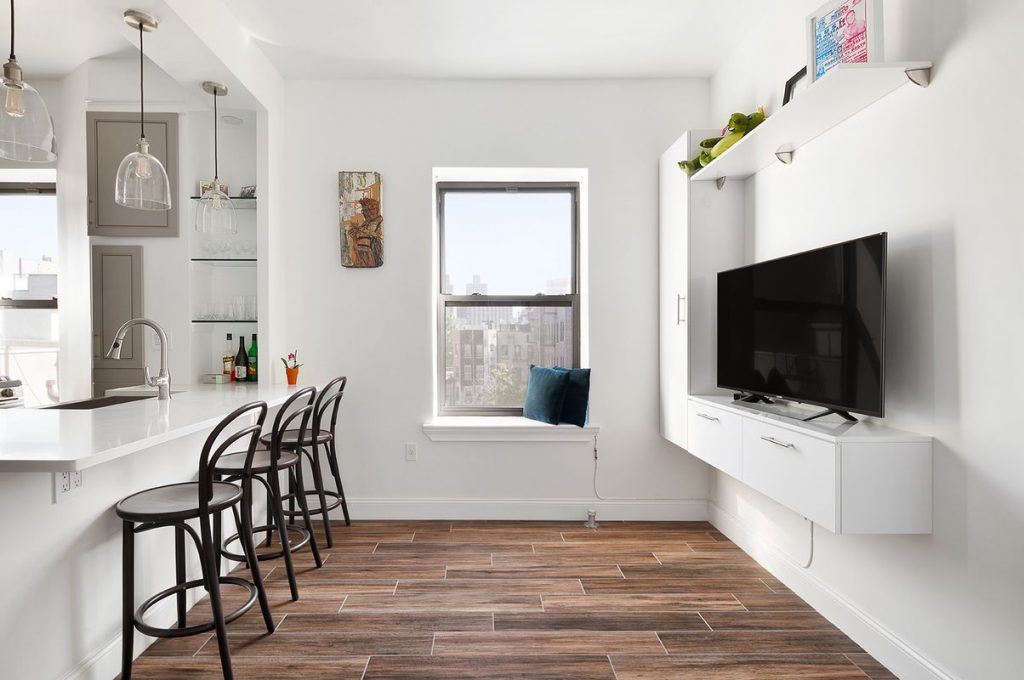 As crazy as it sounds, almost any 2-bedroom apartment in Downtown Manhattan asking less than $1 million is notable. But this unit, at 309 East Houston St., ups the wow factor, clocking in with a cool $765,000 asking price. With a good layout, a great location, and an almost unheard-of price, this new-to-the-market 2-bedroom co-op has Deal of the Week written all over it.
The Price: $765,000
Listed for $765,000, this 2-bedroom co-op is priced far below the going rate for 2-bedrooms on the Lower East Side. According to our numbers, the median asking price for 2-bedrooms in the area is $2 million. With a 20 percent down payment of $153,000, the monthly payments here would come to about $3,503, or about $400 above the median asking rent for 2-bedrooms in the neighborhood.
The building, however, does offer flexible purchasing options, including down payments of 10 percent. Although this makes for easy financing, applicants will face strict financial requirements. The property is designated as an HDFC unit, with income restrictions set at $250,000 for two people and $200,000 for an individual. If your income qualifies, though, this place is worth a look.
Why You'll Love It …
The price is a big plus, obviously, but there's a lot more going for this apartment. For starters, there's the location: You couldn't ask for a more central Downtown Manhattan spot. Located on the corner of East Houston and Clinton streets, this place puts you in the thick of everything that makes the Lower East Side one of the city's liveliest and most exciting neighborhoods.
Two classic local haunts, Katz's Deli and the Nuyorican Poets Café, are just around the corner, and numerous community gardens, quintessential features of the LES, dot nearby side streets. You've also got the full gamut of the Lower East Side's nightlife options at your fingertips.
Although the apartment is on East Houston, it's a rear-facing unit, so sound pollution shouldn't be too much of an issue. Aside from the prime location, the apartment has a solid layout, with each bedroom on either side of the apartment and both offering large, south-facing windows and decently sized closets.
The apartment gets great light and has an airy feel created by the unobstructed southern views and a recent renovation. The kitchen features a breakfast bar, stainless-steel fixtures, and a dishwasher. Additional perks include a washer and dryer in the unit, low monthlies, and a pet-friendly building policy.
… And Why You Might Not
There are a couple potential deal-breakers here. First, the income restrictions will make this property a no-go for some buyers. Second, there's the location: East Houston is a lively thoroughfare, but it's also loud and hectic. If you prefer quiet residential streets to the bright lights and blare of downtown avenues, this place is probably not for you.
There's one other major flaw: This place is a fifth-floor walk-up. But hey, trade-offs are the name of the game in NYC real estate. And you could think of the place as having an in-building gym — one you just have to visit every time you go in and out.
—
Hey, why not like StreetEasy on Facebook and follow @streeteasy on Instagram?