What: Lottery for affordable rentals: $833 to $1,247 per month
Who qualifies: Annual household earners from $29,898-$63,060
Deadline: Oct. 14, 2016
>> Learn how to apply
American Copper Buildings Housing Lottery
In a city that is busting upwards with a slew of interesting new residential towers, something completely different is going up on the east side of Midtown Manhattan that is turning heads. A new residential property called American Copper Buildings is underway in the Murray Hill/Kips Bay neighborhood. The modern, angular towers are located at 626 First Avenue, next to the East River and when they're complete, they're expected to make their mark on the city's skyline.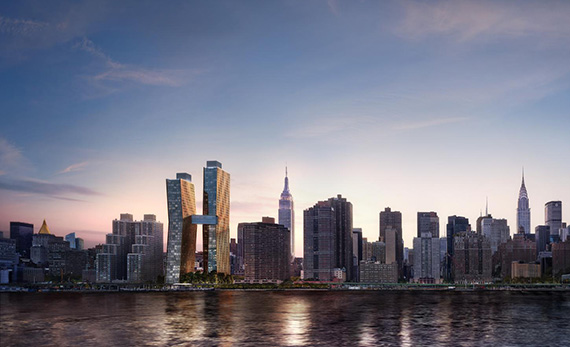 The bent tops of the towers are so startling that city emergency officials once alarmingly wondered if something was going wrong with the construction process. But the off-kilter look is intentional — and impressive. Standing at 41 and 48 stories, the buildings are connected by a three-story skybridge about 300 feet off the ground. The designers at SHoP Architects and JDS Development are busy bringing the impressive 761 rental units to life, and the building is expected to open its doors to residents as early as the end of 2016.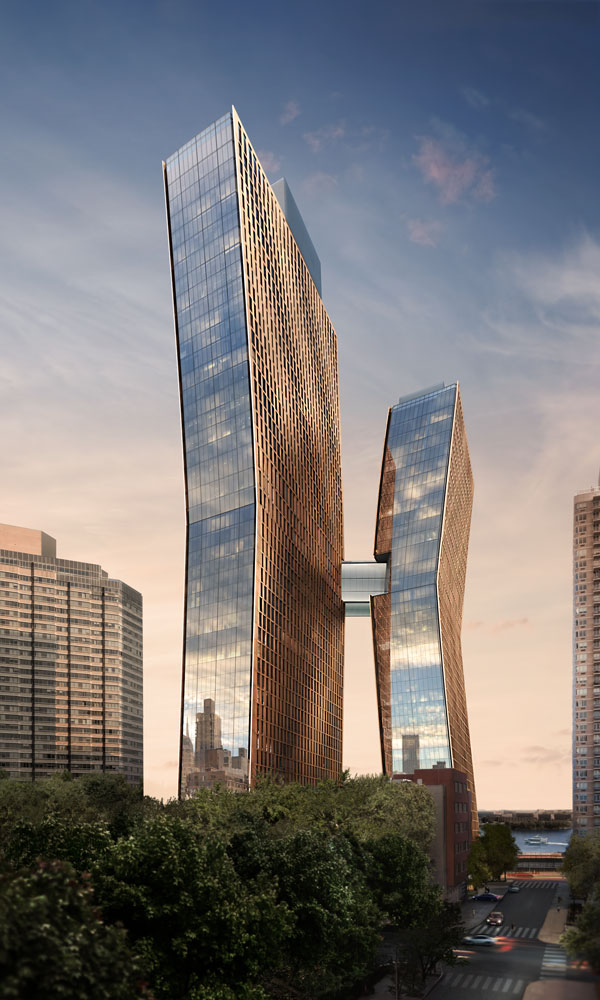 Of the huge number of units available between the twin buildings, an affordable housing lottery has opened up for 160 of them. Among these low-cost units are 43 studios as well as 66 one-bedroom units, 41 two-bedrooms and 10 three-bedrooms. Rents range from $833 for studios to $1,247 for three-bedrooms. These buildings don't have any units available for sale, but if you meet the annual income requirements, are looking for a place to rent, and you're feeling lucky, you can apply for the lottery via the NYC Housing Connect site. View more details about the American Copper Buildings lottery here. The deadline to apply for the housing lottery is Oct. 14, 2016, and interviews for the lucky chosen few will likely take place a few months after that.

In addition to the pretty building design and that impressive skybridge, residents can expect to enjoy amenities including a gym, pool, resident lounge, bicycle storage, and a rooftop pool and lounge area, as well as washers and dryers in-unit. The monthly rent for these affordable units also includes gas.
Amenities at American Copper Building include a large public park, lounge, roof deck, fitness center, spa and underground garage for over 200 cars. This notable new complex will land residents near the 4,5,6 subway line along Lexington Avenue, as well as access to the East River Park along the FDR Drive.
Related: