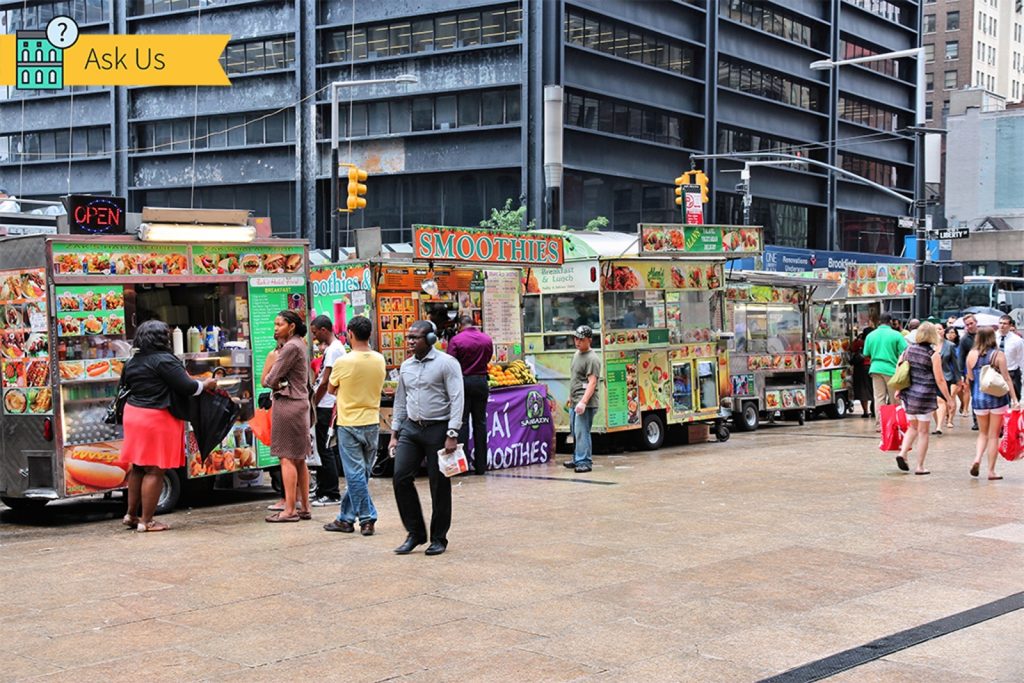 Question: There are at least five food carts selling everything from hot dogs to gyros between my apartment and the subway. And at night there's often at least one big food truck on the block. How safe is it to eat the food? Are they regulated?
— Hungry But Cautious in Canarsie
Dear Hungry:
Don't worry. Enjoy.
One of my life's greatest pleasures is a steamy New York hot dog with Gulden's brown mustard and sauerkraut on a fresh bun served up by a cart vendor far enough away from a major tourist spot that he doesn't rip me off.
Food carts are as much a part of the New York street scene as yellow taxis.  People here were probably eating from food carts when Peter Stuyvesant was a person and not just a high school. They certainly have been enjoying street food since the invention of photography.
And this being New York, of course the carts and trucks are heavily regulated. Although they don't have the familiar A-B-C grades of restaurants (members of the legislature are trying to get a grading system set up), street vendors have a long list of official dos and dont's, and they are closely watched by health and safety officials.
Cart locations and the number of street vendors are also regulated. An effort to increase the vendor population died in the City Council late last year.
That said, there is a strata of the populace that remains wary. But some food writers swear that certain city street eats are a culinary wonder. Here's a list to get you started.
Bon appetit!
David Crook is a veteran journalist and author of The Complete Wall Street Journal Real-Estate Investing and Homeowner's Guidebooks. Do you have a question about anything real estate-related in NYC? Write him at askus@streeteasy.com. For verification purposes, please include your name and a phone number; neither will be published. Note: Nothing in this column should be considered professional legal advice. If you have a legal issue, consult an attorney.
—
Hey, why not like StreetEasy on Facebook and follow @streeteasy on Instagram?