Visiting microbreweries and brick-and-mortar hops shops has lately become a default weekend activity for the bearded Brooklyn set, but New York City has a rich brewing tradition. Back when the city was still referred to as New Amsterdam and the water wasn't clean enough to drink, beer was often the safest beverage choice, since the process of boiling water and the preservative powers of hops reduced the chances of contamination.
The double-whammy of Prohibition and a hops blight in the early 20th century, however, put a damper on New York's celebrated brewing culture. The last two great breweries of the city's early heyday, Schaefer and Rheingold, shuttered in the 1970s.
So can we say that the recent proliferation of craft breweries is a hipster fad? Not really. These new-on-the-scene brewmasters aren't chasing a passing trend, but revitalizing New York's reputation as a top-notch region for beer production. Some might say the city even rivals Vermont and Colorado for independent, original and delicious craft beers. Here, we bring you a roundup of some of the best local breweries in NYC.
1.Big Alice Brewery
You've heard a whole lot about microbreweries, but have you heard of a nano brewery? Big Alice Brewery in Long Island City claims to be just that, brewing super small batches and using only locally grown ingredients. The results are some highly creative ales, stouts and IPAs. Past brews include Yellow Birch Aged Barleywine, Jalapeño Rye and Mango Orange Multigrain Ale – yowza! If you're up for a beer tasting adventure, head to their taproom on 43rd Street off of Vernon Boulevard in the heart of LIC.
2. Interboro Spirits and Ales
Run by the former head brewer at the renowned Carton Brewing Company in New Jersey, Interboro Spirits and Ales not only brews beer, but also distills the hard stuff. Its Goodwin Hill gin is an artisanal favorite. There's a rotating roster of beers on tap at its East Williamsburg tasting room, including collaborations with other local breweries Threes, Transmitter and Other Half.
3. Kings County Brewers Collective
Kings County Brewers Collective has given Bushwick a brewery for the first time in 40 years, and is even operating out of a pre-Prohibition space. It serves a steady rotation of seasonal beers, from IPAs (with names like Dangerous Precedent and Short Term Goals) to sour beers infused with strawberries and guava.
4. Folksbier Brewery
Folksbier serves German-inspired lagers and ales out of its tasting room in Carroll Gardens. Owner Travis Kauffman grew up on a farm in Northern Michigan, which he uses to source some of the hops for his Brooklyn-bred beers. Does your pooch like a good pilsner? Bring Fido along — dogs are welcome at the bar.
5. Other Half Brewing Company
Other Half is the hippest, hottest brewery on the block right now. Serving mostly IPAs (and a few other styles) in stylish iridescent cans, Other Half is where to go if you really want to embrace hardcore beer culture. The tasting room is on the south side of Carroll Gardens, right near Folksbier, so you could visit both breweries and make a day of it.
6. Rockaways Brewing Company
Rockaways Brewing Company represents Queens well, with one location in Long Island City and another summer spot out in the Rockaways. The LIC taproom is great if you want a brewery tour or a weather-proof location, whereas the Rockways location is perfect for summer weather, with live music industrial meets surf shack vibe. Rockaways ESB is their signature beer, known for its malty, sweet flavor, and perfectly pairs with a fish taco or another salty snack after a long day at the beach.
7. Gun Hill Brewing Company
Although the Bronx can't compare with Brooklyn when it comes to density of microbreweries, Gun Hill is bursting with local pride. The brewery's character shows up in beers like the Frosted Hop Strong Ale, which is made with the brewer's own hops from the Catskills. With a tap room located in a former auto shop, Gun Hill pays homage to its deep Bronx location with its name (taken from a nearby thoroughfare). It claims to be the first brewery to open in the borough since the 1960s.
8. Brooklyn Brewery
The old madam of the Brooklyn brewing scene, Brooklyn Brewery was one of the very first breweries to open in New York after the long, dark days of declining beer production. Brewing began in the 1980s, the taproom opened in its current Williamsburg warehouse in the '90s, and the rest is history. You can now find Brooklyn Lager, the English-style East IPA, and Brooklyn Brown Ale in barroom taps all over the world.
9. Sixpoint Brewery
Sixpoint completes the trifecta of established Brooklyn breweries (along with KelSo Beer Co. and, of course, Brooklyn Brewery). It's been in its current Red Hook location since 2004. The brewery is probably best known for its Sweet Action cream ale, but all of its beers are hard to miss in their trademark packaging — the skinny, silvery cans that stand out on any shelf. Note to all hopeful tasters: Sixpoint plans to offer brewery tours and open a taproom starting in the middle of 2018.
10. Long Island City Beer Project
LIC Beer Project is a 5,500-square foot, 20-barrel brewery and tap house making a name for itself in Queens. Their delicious IPAs and lagers have been spotted at hip restaurants and bars all over town.
11. Greenpoint Beer and Ale Co.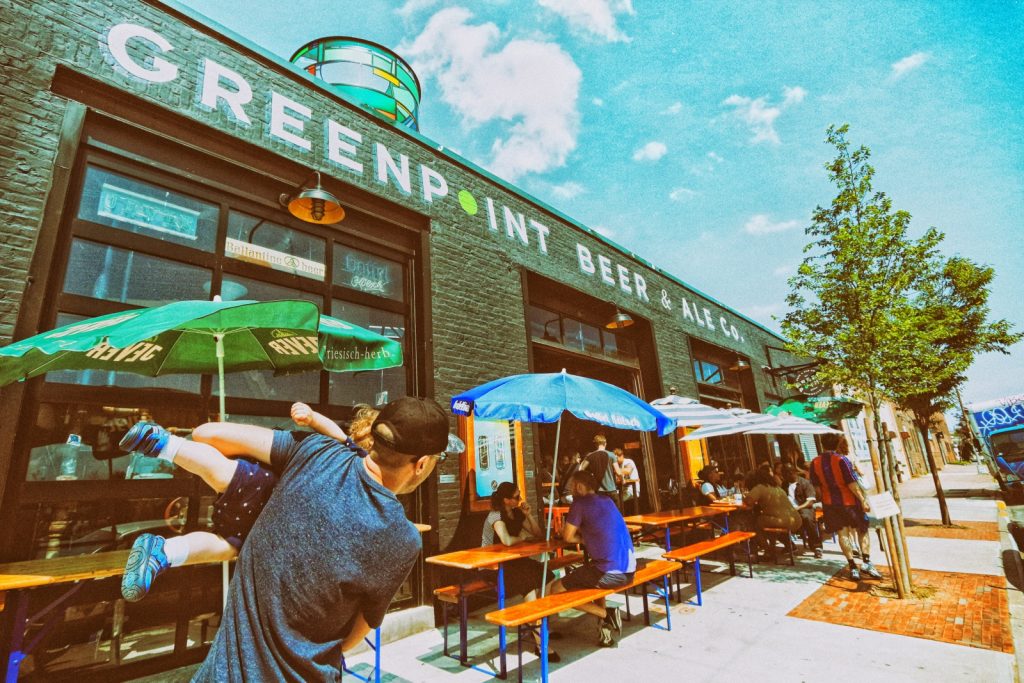 Located in a former garage where Williamsburg transitions into Greenpoint on the Brooklyn waterfront, Greenpoint Beer and Ale Co. produces small-batch ales, lagers, and Brett beers. Because they only produce five barrels at a time, the selection is always changing. With lots of food options and a wide-open space, the taproom and restaurant is a great place for big groups.
12. Finback Brewery
This 20-barrel brewhouse in Ridgewood is fighting the good fight by bringing brewing back to Central Queens. Finback serves an elegant selection of ales, with unexpected ingredients like ginger and chamomile. If you're into dark beers, sour beers, and beers with funkier flavors, Finback is for you.
13. Threes Brewing
Threes is a brewery as well as a bar and event space in Gowanus (it also opened a pop-up outpost in Greenpoint this year). The brewery partners with the Meat Hook and Ninth Street Espresso to bring customers excellent food and coffee along with its top-notch beer. And with that essential trifecta of human sustenance covered (beer! food! caffeine!) you can find an excuse to visit Threes Brewing just about any time or day of the week.
14. Flagship Brewery
Thought Staten Island didn't have anything to offer by way of local breweries? Wrong! Flagship Brewery is one of Staten Island's most popular breweries. The HQ is in Tompkinsville and offers growlers and pints of their signature American Pale Ales, IPAs and a whole more. You can take a tour of the brewery of just hang out in the tap room, where there's live music and other events. PSA: Flagship does offering free parking, but we recommend taking the ferry – it's a whole lot more fun and a whole lot more safe. The brewery is 10 minutes from the dock.
Related: