You won't find graffiti at the Met, but tagging is as old as ancient Rome and the Great Pyramids of Giza. Public spaces in cities have long been templates for underground artists and layman to creatively express themselves, and 21st-century New York City continues this tradition.
Here, we've rounded up the best neighborhoods in the city to spot street art: image-based works made with permission. No ticket to the Met necessary!
Lower East Side
The Lower East Side's narrow streets and tenement buildings, once home to the city's largest population of immigrants, has become the backdrop for some of the city's most vibrant examples of street art. It's not just one-off artists tagging up the backside of buildings, though. Recently, street art here has become more organized, in large part thanks to the 100 Gates Project. This grassroots initiative aims to encourage the proliferation of street art across the city by connecting merchants and artists to create murals on roll-down security gates.
The project got its start in 2014 with the goal of painting murals on 100 roll-down security gates. Two years later, the 100th mural was painted at Katz's Delicatessen on the corner of East Houston and Ludlow Street. Now, the organization is taking their project across the city, and it's currently taking off in Staten Island.

Williamsburg
Sure, Williamsburg is now a hotspot for trendy restaurants and fancy condos, but for the last 30 years, the neighborhood has been home to an energetic, edgy community of artists who gained popularity for their non-traditional, non-conformist approach. As such, the streets are bursting with colorful displays, irreverent designs and painted advertisements. Unlike other neighborhoods, underground artists, mainstream names and advertising agencies all vie for space in Williamsburg. 
The areas closer to the Williamsburg waterfront along Kent Avenue and Wythe Avenue are particularly good spots for finding vibrant displays. Although the neighborhood has seen a lot of change, street artists still love Williamsburg for its industrial vibe and warehouse walls, which make ideal canvases for large-scale murals. Tourists love Williamsburg too, seizing every opportunity to use those murals as Instagram backdrops.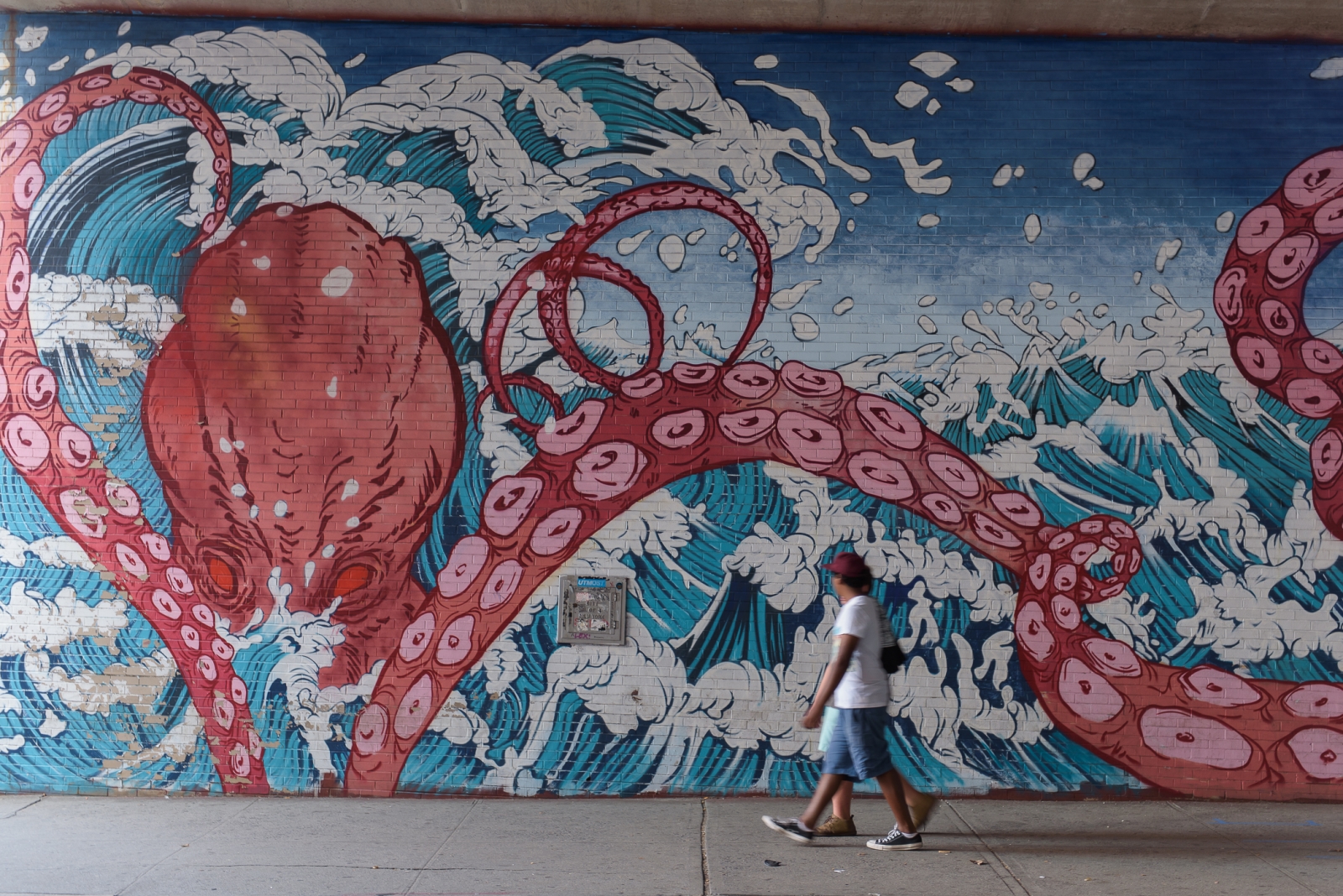 Dumbo
Once a gritty outpost where artists flocked for cheap rent and large studio loft space, Dumbo is now one of the borough's most expensive places to live and is dense with interior design stores and galleries. Despite the changes, all kinds of artists still work in the areas, including studio artists, street artists, graphic designers, and more. A favorite mural to spot is Japanese illustrator Yuko Shimizu's collaboration with designer Stefan Sagmeister. Together they decorated the Jay Street underpass by creating the vibrant octopus, whose tentacles spell out the word "yes!"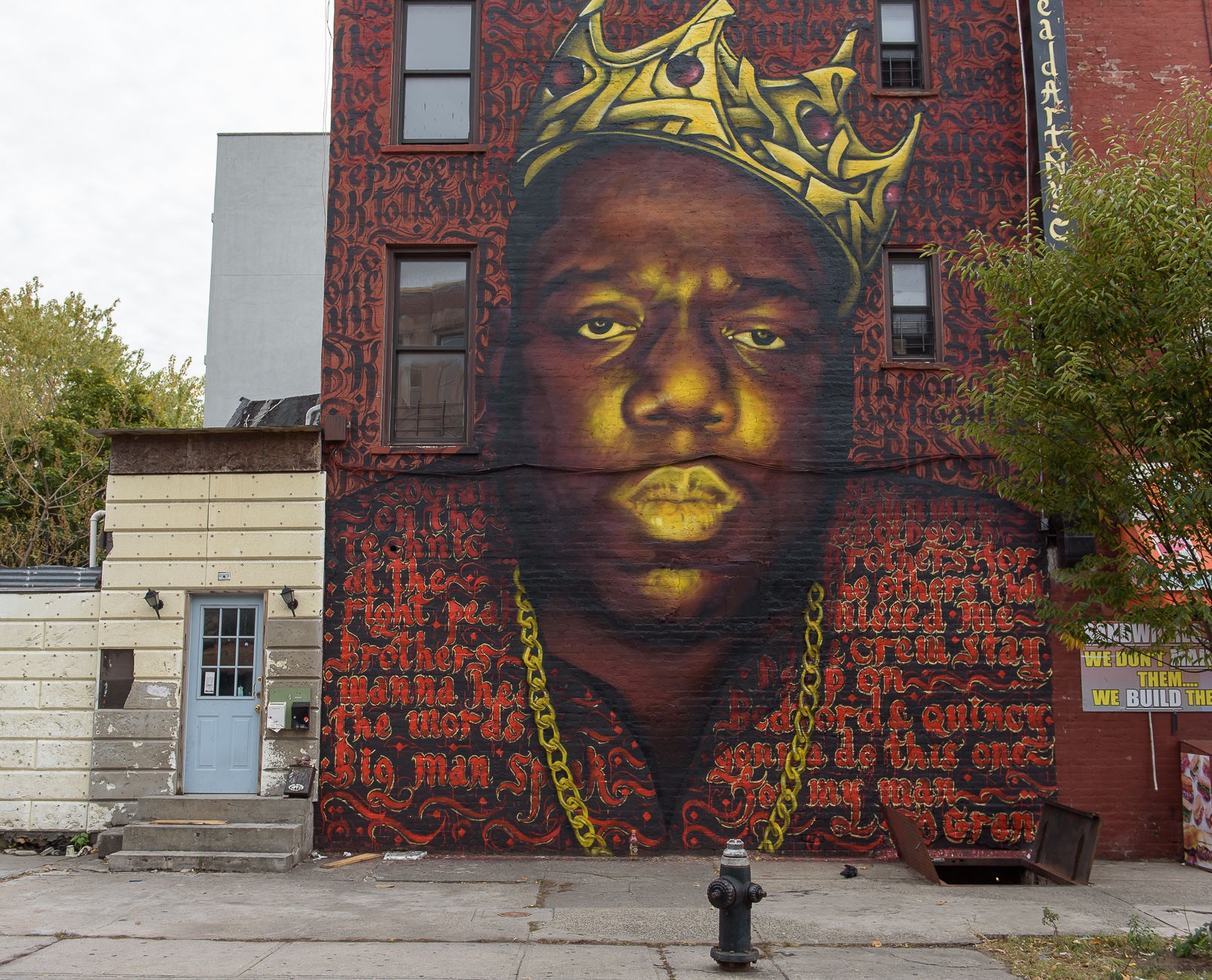 Bed-Stuy
There's a collection of Notorious B.I.G. paintings on view in Bed-Stuy, a trend that gained traction after the artist's death in 1997. These monumental portraits proclaim the hip-hop legend as the undisputed king of the borough where he was born, raised, and made a name for himself. In 2017, there was talk of the beloved two-story mural of Biggie Smalls, located on the corner of Bedford Ave and Quincy street, coming down. But after public outcry, the work was protected; landlord Samuel Berkowitz shifted sides and saved the cultural landmark.
Bushwick
From the moment you step out of a subway station in Bushwick, you're peppered with street art. But the biggest highlight this neighborhood has to offer is the Bushwick Collective, comprised of more than 50 colorful murals and anchored at the intersection of Troutman Street and St. Nicholas Avenue. What began as a 2011 fundraiser for children with brain tumors has blossomed into an enduring project, headed by Joe Ficalora. An Instagram favorite is Till Death Do Us Part, a melange of humor and heft, located at the intersection of Troutman Street and Wyckoff Avenue.
Coney Island
Coney Island has long been a place to experience the unexpected. And the 2015-founded exhibition space, known as Coney Island Walls, is no exception. The dozens of murals lined up at 3050 Stillwell Ave. transport visitors to another time and place. Curated by Joseph Sitt and Jeffrey Deitch, the outdoor museum has quickly become one of the city's largest showcases of street art. While the art is worth a visit in and of itself, a new partnership with Smorgasburg and an ongoing music program make an excursion to the Walls a great weekend activity.
East Harlem
The backgrounds of East Harlem's street artists are a reflection of the neighborhood's rich amalgam of cultures. Though, the majority of these painters are Puerto Rican, and a favorite is De La Vega, well-known for his Picasso-esque masterpieces. Be on the lookout for his Guernica-inspired painting—tweaked to reflect the religious nature of the community. This work is located on the southwest corner of East 124th Street and Lexington Ave.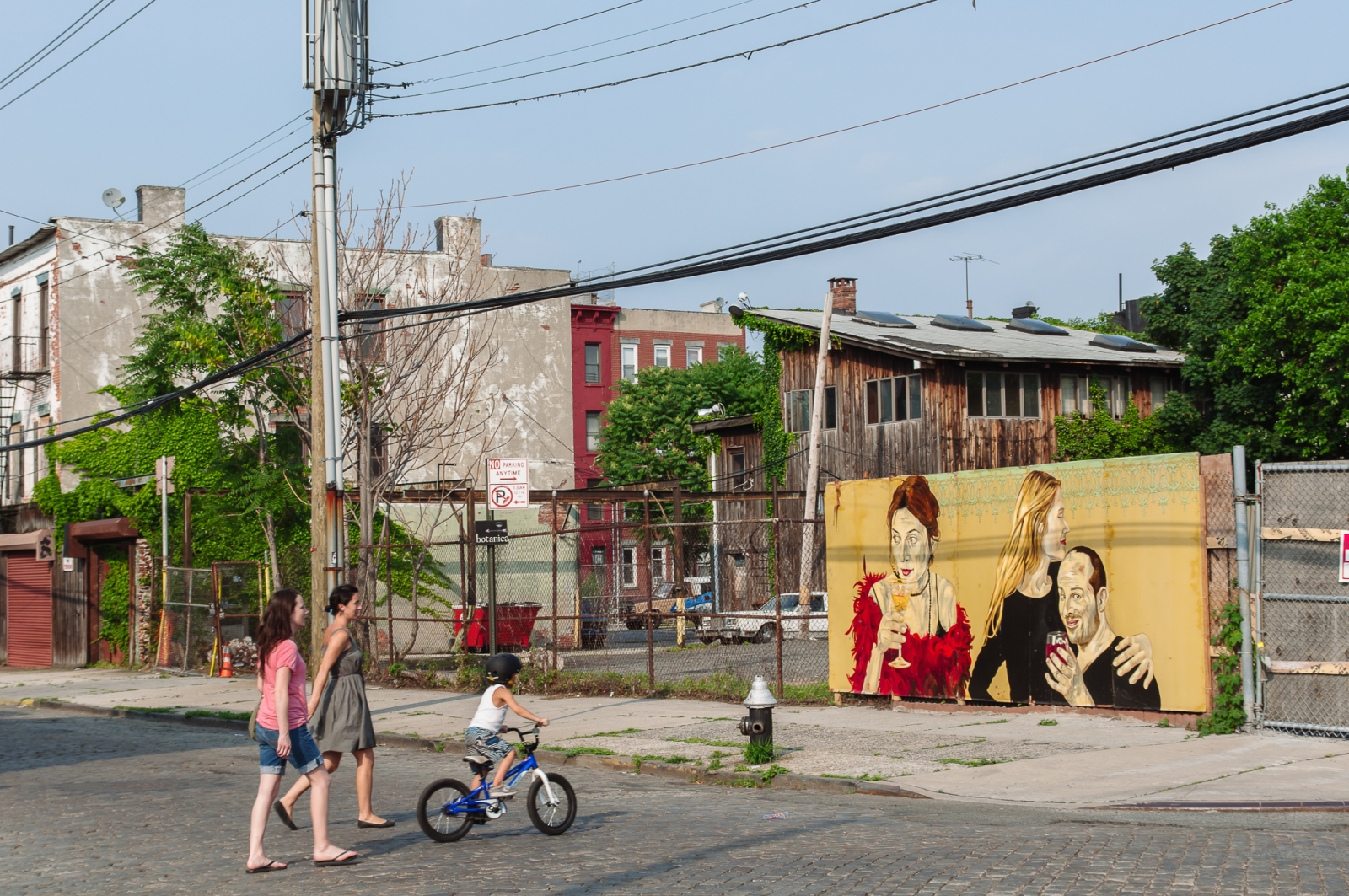 Red Hook
Don't let dreaded trips to Ikea define your relationship with Red Hook. Over the past few years, more design-focused businesses have formed in the area, bringing a fresh vibrancy to the neighborhood damaged by Hurricane Sandy in 2012. In between the neighborhood's carefully curated boutiques and galleries, beautiful, eerie works of street art and murals can be found splashed across aging industrial buildings and empty lots. 
South Bronx
Street art found in the South Bronx promotes the debate: what is street art vs. graffiti. The area has a history with the latter, as it was a hub for tags made by risk-taking teens in the 1970s and 1980s. But more recently, the presence of street art has grown there, thanks to the 1,500 square feet of space that the courtyard of Gustiamo, located on West Farms Road, provides.
No NYC Street Art List Would Be Complete Without 5Pointz
Returning to our Pyramids of Giza analogy, 5Pointz in Long Island City is akin to one of the lost great wonders of the street art world. The iconic graffiti-covered warehouse was a site of pilgrimage and awe for locals, artists and lovers of New York City culture and history. In 2013, however, 5Pointz was demolished and like so many other abandoned industrial sites, it was replaced with condos. The site, however, lives on in the cultural memory of the city and stands as a testament to the transient nature of street art and the city's constant development. Recently, the artists behind 5Pointz had a small victory. A judge ruled that the developer behind the condominium would have to pay the artists a collective $6.75 million in damages for destroying the art.