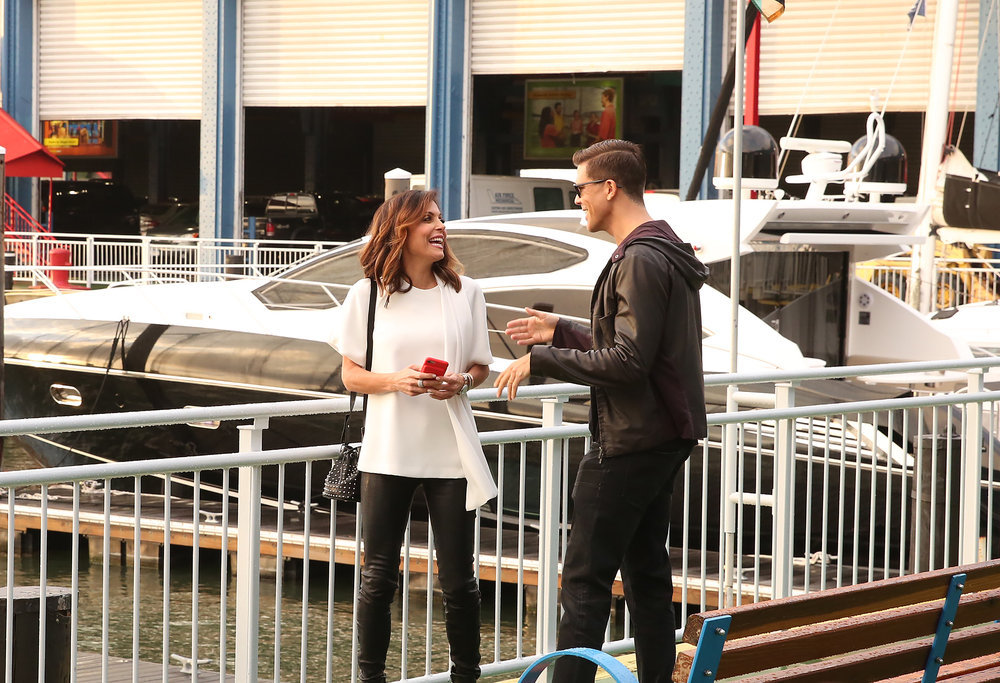 In episode five of "Bethenny and Fredrik," we're given a respite from weeks of urban stress and conflict in a dispatch spent nearly entirely away from home. After the last show closed with Bethenny inviting Fredrik out to her Hamptons house, with the hopes of moving their partnership to the beach-home sphere, we see him arrive on her Bridgehampton doorstep, flowers and pie in hand. Sooner than Bethenny can fill him in on her dating life (she lets drop that Dennis, her on-and-off love, will be stopping by), they're off to look at homes. (Naturally, Bethenny is driving a custom Ford convertible done up in the colors of her Skinnygirl brand.)
Bethenny is excited by the fact that she's seen a lot of price reductions in the area, while Fredrik is hesitant about doing business in a territory that's wholly unfamiliar. While his professional knowledge offers him a one-up on Bethenny back in the city, here on her turf, that may not be the case. Stop one is Sagaponack, which Bethenny classifies as "baller, shot caller" territory. A broker shows them a 1700s farmhouse that's recently been relisted for $1.83 million. The 4-bedroom, 2,000-square-foot home has a cozy charm, and is one of the first properties they've actually shown interest in. That it's a bit dated is a plus — there's plenty of room for them to add value through a renovation.
Bethenny has a hard time hiding her enthusiasm from the broker, Jane, and Fredrik is shocked that they've found something he likes so quickly. They offer the broker $1.2 million. It's significantly under asking, but they're emboldened by the fact that the place was already listed once unsuccessfully, and that the market in Sagaponack, which seems to have endless homes for sale, has slowed. They're sure there's some wiggle room in the price tag. Unlike Bethenny, the Wasp-y broker has perfected her poker face, so they're left without a clue about the odds of the seller accepting their offer, and head home to anxiously await further word.
That evening, Fredrik and Bethenny play host to a crowd that includes Bethenny's coworkers Bailey and Julia, Fredrik's assistant Jordan, and Bethenny's who-knows-what Dennis. After a few drinks, Jordan's touting his dance skills (it's a "club bump and grind" type of thing), and Dennis, who clearly got the memo from Bravo HQ, has offered $10,000 to the winner of a dance-off. "Shake your moneymaker, bitches," Bethenny advises. Neither Fredrik nor Bethenny is willing to throw a bone to one of their likely underpaid staffers, so after a series of increasingly frantic routines it's inevitably Fredrik that ends up with the pile of cash.
The next afternoon, Fredrik calls Jane and learns that the seller, who lives in Greece, is adamantly unwilling to counter their bid of $1.2 million. The pair are taken aback to learn that the owner seems to have no interest in even engaging with them, and the broker seems to echo their concern. Bethenny thinks she knows what's going on. "In the Hamptons, there are people that aren't real sellers. I can't figure out what their motivation is. They sort of just throw their house on the market to see what happens. See if they get a bite for full ask, and then they still won't take it," she explains.
Fredrik is really frustrated by the fact that after seeing a string of disappointing and overpriced Manhattan homes, they've finally found what they're looking for, and yet it seems to be a no-go. But Bethenny's not letting it slow her down, and instead moves ahead with 10 Madison Square West by bringing Dennis, whom she describes as "a new-construction kind of guy," over for a look. Dennis thinks Fredrik's proposed listing price of $4.995 million is high, but trusts that Fredrik has a decent sense of the landscape.
The episode was light on money conflict, but it makes sure to pick that thread up in the final minutes. With Bethenny thinking that listing the Madison Square 2-bedroom close to $5 million might not be feasible, she's more motivated than ever to make sure the renovation stays entirely on budget. Asking the contractor James whether he's still on track to finish under $300,000, he assures he that he totally is — except that they may not have included the pricey closets in the final tally. Or the costs of paying the designers.
Fredrik seems to remember the budget limit being set at $350,000, but the video reel backs up Bethenny's insistence that it's always been 300K. It seems that one week of tranquility was enough, and we'll soon be back where we've always belonged — in the well-trod world of furious phone calls, hurled insults and thrown drinks.
—
Hey, why not like StreetEasy on Facebook and follow @streeteasy on Instagram?